Wind whipped across the patio, but the rain held off long enough for Weekly Standard Editor and conservative icon William Kristol to introduce Josh Mandel as representative of the hope for the Republican reformation of America.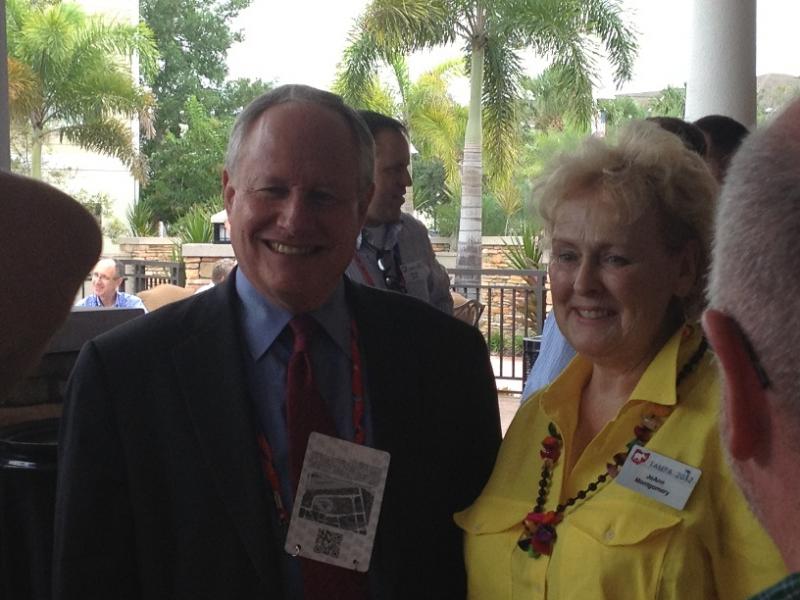 "If Mitt Romney is the next president, as I hope he is and I really actually expect him to be, it will make an awful lot of difference if Republicans have a majority in the Senate. So in electing Josh Mandel, … you're not only doing a good thing for Ohio, you're doing a good thing for the nation, honestly. It will be very, very important to have that Senate majority to really pass the kinds of big bold proposals that the Romney Ryan ticket is correctly campaigning on."
For his part, Mandel was celebrating a new Columbus Dispatch poll showing the race with incumbent Sen. Sherrod Brown a dead heat.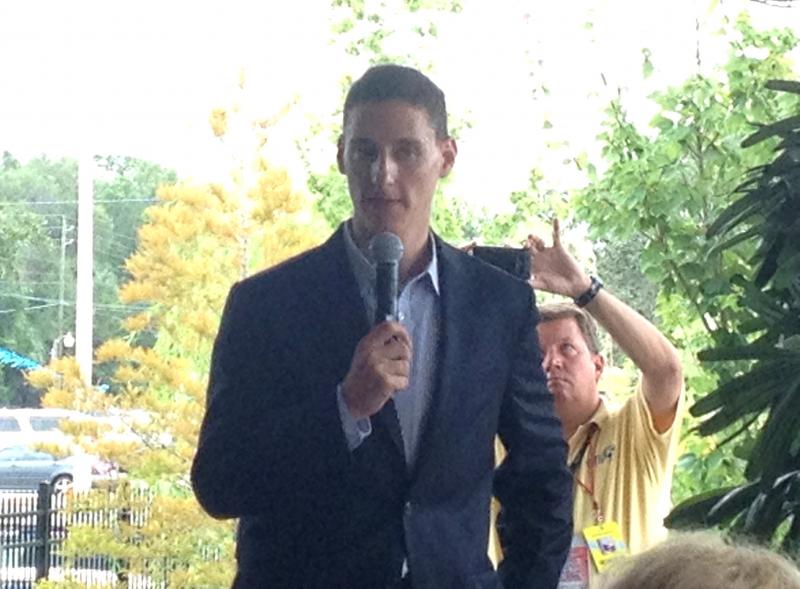 "Ladies and Gentlemen. Throughout the state of Ohio throughout the United States of America, people understand the only way to change Washington is to change the people we send there."

Big money and claims of big lies
The speech didn't allow much time for details. Mandel provided a few more in an interview shortly before he took the stage.
We began with a question the expense of the race – the highest in Ohio history and one of the highest in the country. As a whole, the Mandel campaign and super PACs supporting him have an estimated $7 million edge over Brown. But Mandel doesn't see it that way.
"Both the left and the right, there's a lot of dollars being spent. The last time my staff did the tally, the SEIU union and Harry Reid – a politician in Washington – one of his PACs and some of these other groups had spent more money on me than any Senate candidate in America. So there's definitely arrows flying both ways. … With the dollars we're controlling, we're trying to keep our message as positive as possible, project a positive message of how I'm going to change Washington."

References to the record
He accuses Brown of going negative, a charge Brown has lobbed the other way.
"For someone whose been running for political office since Richard Nixon was president and who's been in Washington for two decades, doesn't he have even a few good things to say about his own record?
"He talks about his own record. He talks about it as defending the middle class.… He's supported education, he's supported healthcare, he's supported Medicare. He's supported Social Security. How is that not talking about his record?"
"We've only seen Sherrod Brown run one positive ad… and the one positive ad he ran he actually lied in it, lied about where some manufacturing was done. He said it was done in Ohio, it was actually done in Europe."
That's a reference to an ad that the Brown campaign ran touting Brown's support for the auto rescue, largely credited with saving thousands of Ohio jobs and regarded as a political plus in Ohio. The ad features Chevrolet Cruze LTZ alloy wheels. The Cruze is assembled in Ohio. But that model wheel is made in Europe.

Mandel says Politifact is right about Brown, but not him
The Plain Dealer revealed the error. And it's Politifact Ohio has criticized the factual accuracy of claims Brown and his supporters have made that Mandel is ducking all debates, that Republicans want to end Medicare and that the GOP wants to give a $700 billion tax cut to millionaires and billionaires.
It also gave its worst rating – pants on fire – to an ad from an AFL-CIO affiliate backing Brown that investments a trust made for Mandel's wife are "betting against Ohio."
"His friends are going after my wife. … My wife has a degree in social work. She's an independent voter. She's not really interested in politics. Sherrod Brown and his friends should not be going after my wife, and I'll do everything I can to defendmy wife against these false attacks."
But Mandel himself has earned six "pants on fire" ratings for statements dealing with everything from jobs to executive pay.
"When you say you'll continue to tell the truth are you saying the ratings your ads have gotten are not true?"
"Correct."

A different vision
Mandel says he will lessen regulation that is costing Ohio thousands of jobs. That includes the mercury air pollution standards that Mandel says manufacturers can't afford and proponents say would save billions in health-care costs. He dismisses the proponents.
"About a month ago, Sherrod Brown had an opportunity to oppose this regulation, but instead he sided with fringe extremists in Hollywood and Washington and New York City instead of siding with the people of the state of Ohio."
Though Hurricane Isaac has delayed the main show of the convention by a day, Mandel was not the only speaker addressing the Ohio delegation. House Speaker John Boehner held a get together later Sunday afternoon that was closed to the press.
And when the national convention formally gets underway Tuesday, the Ohio delegation will be front and center.