In the beginning of 2010, Ohio had 18 congressional seats. Democrats held 10 of them.
"We had five very, very competitive races, and I don't think anybody thought all five of the Republicans were going to win," remembers Bob Gibbs. But Gibbs and those other Republicans did win. Even incumbent northeast Ohio Democrats – saddled with unpopular votes for Obamacare – lost to Republicans newcomers like Gibbs and Jim Renacci.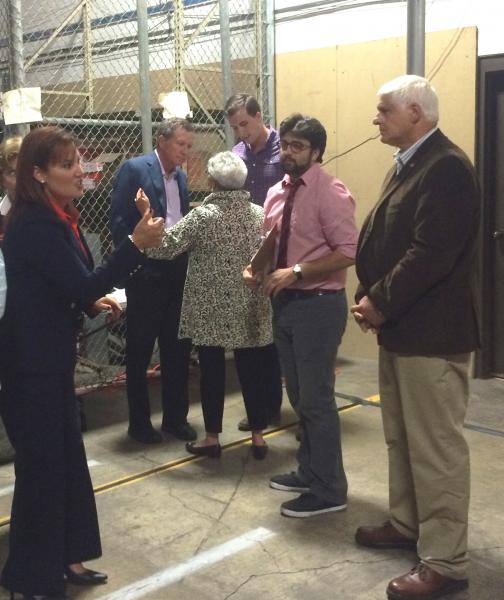 Then came the official Census, which showed Ohio's population-growth lagging. That whacked two congressional seats. And it was an overwhelmingly Republican Legislature – with the new Republican governor's blessing -- that got to draw the new congressional maps.
Kaptur vs. Kucinich
Jerry Austin is a Democratic consultant. But he admires a political job well done.
"We didn't win the pencil, and if you don't win the pencil, then it gives the Republicans a chance to draw as many districts as they can, evidenced by having a road that went from Marcy Kaptur's District to Dennis Kucinich's district to join them, so they took Kucinich out."
That district – a narrow strip from Cleveland to Toledo hugging Lake Erie – is strongly Democratic. So are three others. But the rest are anywhere from "leans" to "solidly" Republican.
Across the aisle
Marcia Fudge sits in one of those safe Democratic districts, stretching from Cleveland down to Akron. In a Q&A with the Akron Press Club, she acknowledged it's good for her own job security. But she says it's bad for democracy and for working across the aisle in Washington.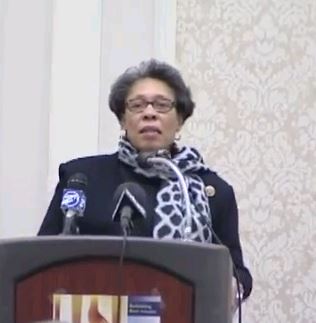 "I am fortunate that my district has always been fairly moderate. But I still try to work with my colleagues to get something done. But there are so many who don't even want to hear what you say because they know what sells at home is for them to be the worst son-of-a-gun in the House."
Republicans and reform
Even some Republicans are critical of the process that tilts so red in a state that voted for President Obama twice.
Count Secretary of State Jon Husted among them. He's calling for state lawmakers to come up with a new process or face voters. "If they don't get something done soon, I foresee down the road a ballot initiative taking it out of the hands of the General Assembly. And I'm willing to be part of that if the General Assembly fails to act."
Republican state Auditor David Yost is offering his own proposal requiring all state lawmakers to work together on a plan "and requiring some portion of participation from the minority party – whether it be the Rs or the Ds – and then the politicians' death penalty for failure to perform."
That death penalty? If Ds and Rs can't agree on a map, they're barred from running for re-election.
Referndum may be needed

Like Husted, Yost says voters may have to force the issue through a ballot referendum because both Democrats and Republicans have a stake in keeping things as they are.
Democratic consultant Austin sees that point. He notes that Republicans – then largely in the minority – were calling for reform back in the mid 2000s.
"One of them was to take the politics out of drawing the districts. And the Democrats and labor were against it because they thought they'd win the pencil in 2010 and draw the districts – and look what happened."
Bob Gibbs was one of those GOP lawmakers back then. He says Democrats tried to change things after the fact.
"They actually came, tail between their legs after the November 2010 election because they gambled and thought they were going to win the statewide and they didn't."
This time, it was Republicans who said 'no' to change.
So Ohio heads into next week's general election with 16 congressional districts. At least two – Republican Gibbs and Democrat Tim Ryan -- are virtually uncontested. And none is considered competitive among Democrats or Republicans.
A closer look at 2010, 2014 and that the thing called an Apportionment Board
Other options:
MP3 Download
(1:33)
There's another way the 2010 election is playing out in the 2014 election. To understand how, you have to dig even further into the inside-political-baseball world of redistricting.
Remember those state lawmakers who drew those congressional lines? Well they have their own maps to worry about: 33 state Senate districts and 99 State House. And the group drawing those lines is something called the state Apportionment Board. That's made up of the governor, auditor, secretary of state, and a Democratic and a Republican designee.
At the start of 2010, that looked like a good thing for Democrats: Gov. Ted Strickland, a Democrat; Secretary of State Jennifer Brunner, another Democrat. Even with the auditor being a Republican, Democrats would still hold sway.
But by the end of the year, four of the five Apportionment board seats would be in the hands of Republicans. Democratic consultant Jerry Austin: "Democrats can complain all they want. But they had a chance to win that election and they didn't."
Austin says the loss is tied to some internecine warfare in the Democratic party:
Governor Ted Strickland was running for re-election. But his lieutenant governor, Lee Fisher, decided to run for the U.S. Senate instead of sticking to the ticket. Fisher was a big draw among Cleveland-area Democrats. Strickland still won the Northeast Ohio region in 2010 as he did in 2006 – but by about 110,000 fewer votes. And he lost the election overall to John Kasich.
By the way – Fisher had an opponent for his Senate run in the Democratic primary: Then-Secretary of State Brunner. She lost the primary, and was out of her job as secretary of state as well. And that's another of the Apportionment Board seats the Republicans picked up.