Akron is now home to thousands of refugees from Nepal and Bhutan, as well as those from Afghanistan, Burma and other countries in the middle of conflict. Those refugees pushed Akron City Council to adopt the "welcoming city" resolution six months ago. But Councilman Russ Neal says council already understood the difference the immigrants have made to older, shrinking cities like Akron.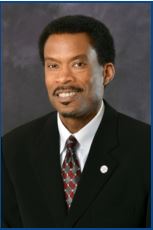 "Cities that are on a comeback and that have become thriving cites with growing entrepreneurism and growing economies, it's been documented the immigrant populations that come to those communities contribute greatly to that economic growth."
Neal says nothing has changed his mind about that in the months since the resolution passed.
"And I can honestly say it hasn't been a topic of discussion amongst my colleagues on council either. … My business is on North Hill, the bed of diversity in our city. And I see the benefit of being able to look out my window and see the world walk past, … and (of) having a chance to form a relationship with them and talk and learn a little bit about their culture, their struggles of trying to become a part of this community and learning more about them and them learning more about me."
Where are the limits?
Ohio Gov. John Kasich is among those pushing President Obama to reverse or at least put on hold his decision to allow as many as 10,000 Syrian refugees into the United States. Some other governors have called for keeping out all non-Christians among the refugees.
Neal says that "gives me great pause because I can just compare it to other parts in our country's history" including rounding up Japanese citizens into internment camps in World War II.
And "It's not an immigrant population, but the struggle we've had in our own community when people are dressed a certain way wearing a hooded sweatshirt and how we typecast and stereotype them. That's a dangerous mindset.
"I can understand people's fears when we see what's happening across the globe, But when we look deeper, if we're really concerned, we will look what's happening right there (in Syria) with the folks that are being massacred.
How far does concern extend?
He says he's spoken with Syrian friends who have lost family members in the conflict there "and they're wondering, are we just now interested in this situation because it's happening in Paris."
Neal says he thinks the balance between protecting the U.S. against terrorism and offering refuge to people who need it is education.
"We have to get the full story. We can't just get it from one cultural perspective."
"We need to do our best to educate ourselves to everything that's going on and not live in fear. And when we can be of assistance to our brothers and sister, like we have in the past, we need to continue to do that.
Last spring, council unanimously passed a resolution that made Akron a "welcoming city" for immigrants and refugees. The "welcoming city" initiative was launched nationally in 2013 to help local governments and communities share ideas to create immigrant-friendly environments and improve trust and relationships between long-time residents and newcomers.