Watching dragonflies from the outfield
It's a calm summer afternoon on the Cuyahoga River near downtown Kent. Museum naturalist Larry Rosche is by the water, observing the actions of a brilliant black and green insect, a damselfly. Rosche is patient. He says the female ebony jewelwing has perched on a stick for an hour, depositing one egg at a time on a wet spot in the wood. He notes that when the water rises and the branch dips in, "the eggs come out."
Rosche's powers of observation have been honed over a lifetime. He says he developed his love of nature on the ball field as an outfielder with plenty of time on his hands… "When there's a good pitcher, what are you going to do but look around?"
Rosche first learned bird identification, and later worked on the famous Peterson guide books, developing distribution maps not just for bird species but for butterflies, reptiles, and trees.
Then came a fascination with dragonflies, like the small red and gold one basking on a leaf… It's an American rubyspot.

Pondhawks, dashers, and darners.
Rosche says he soon discovered the same thrill watching flying insects that he had from feathered flyers, as we watch a common amberwing search for the proper spot to lay its eggs. He says, "It just never gets old for me."
Dragonflies, according to Rosche are named pretty well. He says dragonflies don't have, "the funny names like the birds do."

He lists a few of the well-named winged predators, like the Eastern pondhawk which, "eats everything." Then there are dashers and meadowhawks, and amberwings - named after their honey-gold wings.


Young dragonflies, called nymphs, are aquatic hunters, but Rosche says they do best in fishless ponds because the nymphs occasionally become food.
Naming bugs on the fly
Rosche suddenly picks up his binoculars, and calls out the name of a grayish dragonfly skimming across the water. It's a fawn darner. Rosche says experience allows him to identify what to the untrained eye is just a winged blur.

Dragonfly spotting is a hobby Rosche wants more people to take up. He and collaborators Judy Semroc and Linda Gilbert worked for nearly a decade to produce a detailed guidebook to Northeast Ohio's dragon- and damselflies, so that others can begin to learn the 140 species that live here.
Rosche says one of his favorites is also one of the rarest, the river jewelwing. It's on the endangered species list, and Rosche estimates there's probably only 20 river jewelwings in all of Ohio.
It's Rosche's, and the other museum naturalists' job to monitor the fragile habitats of rare animals like the river jewelwing.

The green darner and one way migrations
But even common dragonflies can fascinate. One of the biggest, and most widespread is the impressive green darner, harmless to humans, but lethal to mosquitoes.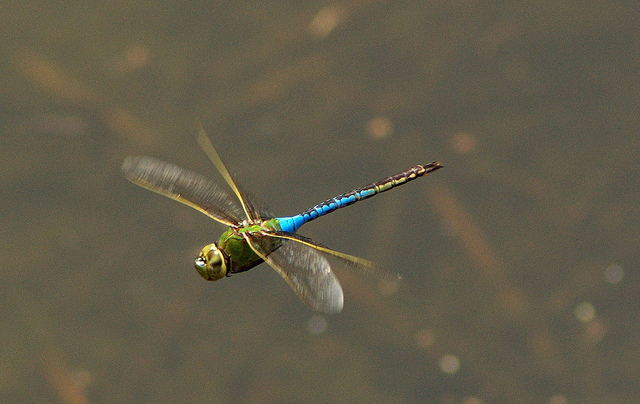 Rosche relishes watching the impressive green darner munch mosquitoes on summer evenings - "They fly real close to you; you can actually hear them go by you…"
Rosche says Green darners and many of the larger dragonflies are migratory.
"They've actually tagged them with electric, little radio things. On the East Coast, they've done a study and they can travel up to 110 miles in a single day."
The life, death and ephemeral beauty of these insects is a source of inspiration for Rosche.
He calls the one-way migration of these insects, "noble."

Larry Rosche is co-author of "Dragonflies and Damselflies of Northeast Ohio", a guidebook published by the Cleveland Museum of Natural History.