A new cathode factory in Elyria
We're inside a brand new factory at the 120 year-old site of former Harshaw Chemicals in downtown Elyria. German chemical giant B-A-S-F opened the $50 million facility last month to produce a special mixture of metals that will power the next generation of electric-car batteries.
Operations Manager Gary Yacobian points to a ceramic tray moving through an enclosed conveyor. It contains a tiny mountain of black powder headed for a 50 meter computer controlled kiln where it will be heated and cured.
As a final step before shipping, a magnetic separator checks for any stray contaminants in the powder. Workers dressed in spacesuit-like protective gear package the powder into blue plastic barrels to be shipped to battery manufacturers around the world. The powder is a high-tech mixture of metals that will become an electric car battery cathode.

The Elyria plant can crank out 25 metric tons per year, and plans are under way to double that capacity.

Developing a bettery battery

Forty miles east, at BASF's research lab in Beachwood, Stephen Sheargold holds up a jar of the stuff. He notes that althouhg it's, "just a fine black powder," the material is the result of years of research and $1.5 billion in federal stimulus funds, which included $24.6 milllion toward the Elyria factory. The material was invented at the Argonne National Lab, licensed to BASF for refinement, and then scaled up for production under Sheargold's direction in Beachwood. A Michigan company also holds a Department of Energy license to produce the powder.

Batteries are nothing new. Benjamin Franklin experimented with them. The lead-acid battery that starts your car was invented in the 1850's.
But powering an all-electric car with lead is… heavy. Today's electric cars run on lighter and more powerful lithium-ion batteries. Problem is they're expensive. That's because of the key ingredient, cobalt oxide.
And that's where Sheargold's black powder comes in. This tweaking of the chemical recipe inside the battery improves performance. He says in order to go the next step, "you want a battery that's equal or better than lithium cobalt oxide but a lot cheaper. And that's where manganese and nickel can replace a large part of that cobalt and give you similar properties."
The best formula for the next generation
The new battery contains varying portions of lithium, nickel, manganese, and cobalt. It's the high water mark of battery materials because it provides a lot of juice per pound and be quickly recharged. Sheargold says that's why BASF is putting its weight behind that combination to power the electric cars of the future.
"You can put your foot down and you can accelerate because you're discharging when you accelerate, you're going faster. Then you want to charge up and you want to charge up fast, too. This ability to charge and discharge fairly rapidly is important."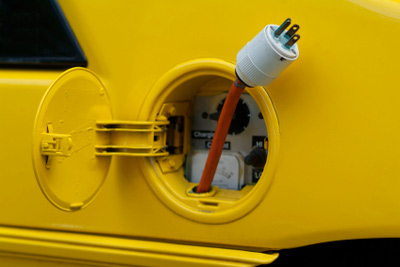 We likely won't see the new battery-powered cars in the showroom for another five years. By then, BASF estimates the all-electric car market will be worth $5 billion. Its goal is a modest 10 percent of those sales, or 500 million dollars with material produced and tested in Northeast Ohio.