Applying the top electrode
Custom paint artist Jason Gray sprays the final coat on a test panel inside the downtown Medina garage/slash/ laboratory of Darkside Scientific.
Next, Gray waves a heat gun over the wet paint as inventor Andy Zsinko describes the final step.
He says as the clear electrode sets, it begins to conduct electricity, the field develops between the two electrodes and … "Let there be light.'"
And the small plastic panel begins to glow with a warm light.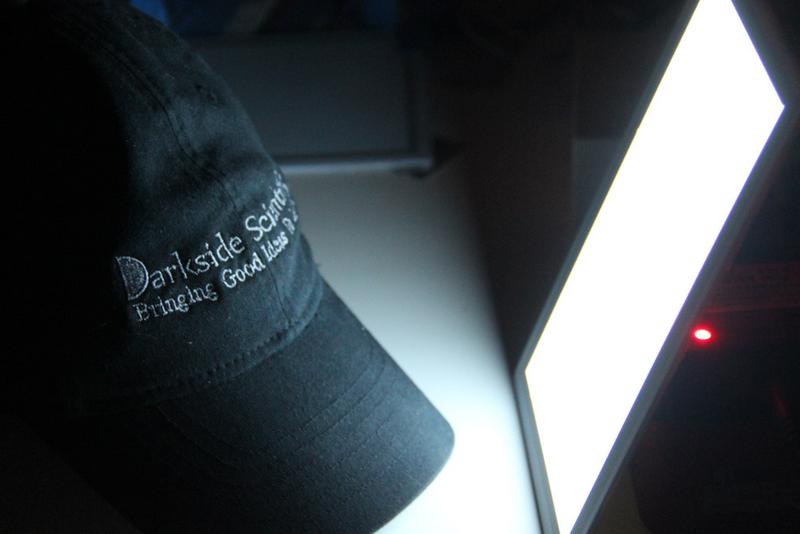 Zsinko hopes to soon license his electroluminescent paint process to custom shops around the country.

He says one of the foundational ideas behind the technology was, "to make it simple enough to apply that a body-shop rat could apply it."

Gray says though he might not like the term 'shop rat', he and his co-owner at Sleeper Customs in Euclid don't mind being the first shop to test Zsinko's new glowing paint.

A new custom paint process

Gray recognizes that there's enormous potential in custom paint for higher end hot rods and muscle cars, "I think it's going take off."

Gray and the team at Darkside envision flames painted on hot rods that glow red and pulse in animated sequence down the side of the car.

He says pulsing paint could be controlled by an app, "where you can plug it into your iPhone or Droid and control your paint job."

Darkside founder Andy Zsinko says the idea for electroluminescent paint came to him three years ago, born out of disappointment in a friend's challenge to make a Yamaha glow.

Zsinko says inspiration struck while drowning his sorrows on his friend's porch, where he developed the base concept, "in about 15 minutes over the second six-pack."

He lays out the principles behind his invention on the workshop drawing board.

How to make electroluminescent paint in four not so easy steps

According to Zsinko, an electroluminescent device is actually a capacitor with four layers. On the solid surface there's a back-plane, then a dielectric layer, a Phosphor layer that contains the glowing material, and finally a top electrode, which we saw being applied earlier. Generally, a sealing coat is then applied to protect the ensemble.

Two tiny wires with a plug are soldered in to complete the circuit.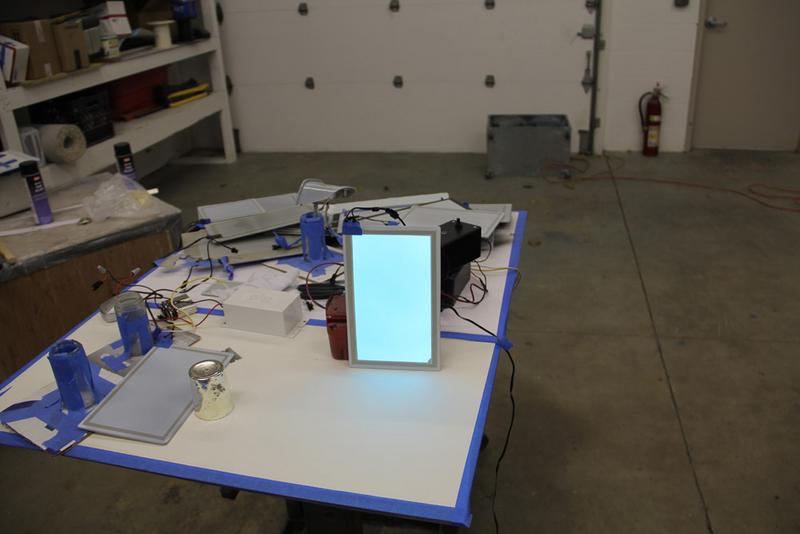 It took more than a year of trial and error, and presumably plenty of beer, until Zsinko had a workable, water-based, flexible, electroluminescent paint product.
He says, "once I honed in on what I called the secret sauce, the development went pretty rapidly from there." It's a patent-pending process that he continues to hone through experimentation.
From flames to glowing chrome
Zsinkio holds up a shiny chrome fender from a mini-bike and asks, "Have you ever seen chrome glow before?"
Darkside business manager Shawn Mastrian says glowing chrome, once the kinks are worked out, could point the way to a lucrative market beyond custom-car enthusiasts.
He says from wood paneling to glowing cup holders, today's car designers are paying a lot of attention on interior mood lighting. He says any surface inside a vehicle can have, "a premium look and feel to it, which has manufacturers all throughout the supply chain fairly excited about the possibilities there."
Scattered about the garage are glowing prototypes -- a light-up electric guitar, lighted chopper gas tanks and an eerily glowing plug-in bike helmet.
But Mastrian says the target for now is to tap into the nearly $40 million people spend each year on custom hot-rod paint jobs.
Darkside will lay out its patent-pending product this spring in Daytona by displaying the world's first fully illuminated motorcycle.

Local venture partner Jumpstart is behind the company. This summer it awarded Darkside Scientific a seed grant plus ongoing advice on how to build a business beyond the beer-fueled inspiration and development stage into the glowing prospect of profitability.