The next step in motion and control
Clevelander Arthur Parker began making high pressure connectors for cars and planes in 1918. Charles Lindbergh specified Parker fittings for his cross Atlantic trip. In 1957, Parker Appliance merged with valve maker Hannifin Corporation to become Parker-Hannifin. Today, with 142 divisions in 46 countries, Parker is involved in anything that moves or controls motion, from aerospace to air-conditioners.
And now, Ryan Farris, fresh out of Vanderbilt University's Center for Intelligent Mechatronics, is lead engineer of Parker's new human motion and control unit. Parker is partnering with Vanderbilt, where Farris co-invented what was originally called a powered exoskeleton. He offers to demonstrate how the newly dubbed Indego allows a paralyzed person walk again.

Walking with robots
Farris was the original test pilot for the wearable robot. It takes just a few minutes for him to strap a frame around his hips and attach what look like high-tech football pads with sturdy hinges alongside his legs. The whole package weighs 27 pounds.
Farris says convenience is one of the selling points of the Indego, "A paraplegic will easily be able to take the device out a duffle bag on their wheelchair, and snap the parts together while they're sitting in their own wheelchair, strapping on the device and then walking."
Grabbing a pair of long crutches, Farris is ready to go. The machine whirs into action lifting Farris out of his chair. He ambles across the lab with a methodical four-footed gait, "So long as I keep leaning forward, the device will move me forward."
Farris says the experience for spinal cord patients is liberating, "they're reluctant to give up the device at the end of the day."
With an elegant half-step he comes to a halt.

Talking with robots
The Indego works like a Segway, according to Farris, with accelerometers and gyroscopes, "and a host of other sensors to detect the user's posture."
Farris says the robot gives a gentle vibration when it senses the wearer wants to walk, sit, or stop. He says able bodied people have proprioceptive feedback that allows for the sensing of where the limbs are, "but individuals who suffer from spinal cord injuries don't have that anymore, so you have to have to in essence not only replicate their motions, but replicate their senses."
He says the Indego can be programmed for fully powered, or a partial-assist mode that provides therapy for stroke or MS patients.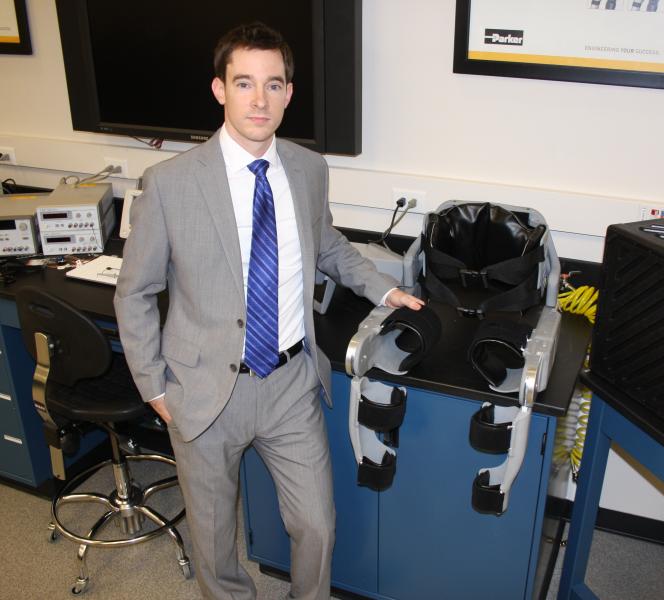 "And as they get stronger, as they get more capable and are recovering, the support that the device provides is weaned off. So it requires them to try a little bit more, a little bit more each time."
The robot can even supply electrical impulses to stimulate the wearer's muscles to walk on their own.
Walking with the competition
The Indego is Parker's first foray into what group leader Achilles Dorotheou estimates is a $3.5 Billion wearable robot industry.
"We are actually looking at other technologies in the prosthetics area, bionic ankles, and bionic knees."
Parker is competing with two other companies who are already selling wearable robots in the European healthcare market. Lockheed Martin's human exoskeleton is also being tested by the U.S. military to allow soldiers hike farther with heavier packs. Other devices are being developed to lessen the strain of heavy lifting for workers.
But engineer Ryan Farris is looking forward to learning how spinal cord patients adjust to increased mobility when Parker begins clinical trials this fall. "I think we're going to be amazed at what users of this device can do. I think they're going to teach us what the limits are of this technology."
With 95 years' experience making machines move, Cleveland's Parker-Hannifin is stepping into the realm of human motion, and perhaps ushering in the era of wearable robots.