The garden of traditions
Tucked in a corner of the NEOMED campus, you'll find a lush garden filled with dozens of medicinal herbs. It's sponsored by the Portage County Herb Society -- intended as a teaching tool for soon-to-be doctors and pharmacists. Professor Altaf Darvesh brings his students to the herb garden as part of his course on naturally derived pharmaceuticals.
"Every culture has its own ways of getting things done. Europe has had a very rich and ancient history of using herbs for therapy."
But Darvesh says, in general, his students, along with the American medical establishment don't see the value of nutraceuticals.
"In a room full of physicians I asked how many don't like natural products and about 1/3 raised their hands, and another third almost raised their hands."
He says, compared to countries who've embraced alternative therapies, "we've got a long way to go."

Basic research lays the groundwork
But Darvesh and other researchers at NEOMED are adding weight to a body of evidence that certain compounds found in fruits, spices and herbs can treat, and even prevent, a range of diseases.
For example, Darvesh studies the benefits of resveratrol, a chemical found in grape skins, peanuts, and dark chocolate.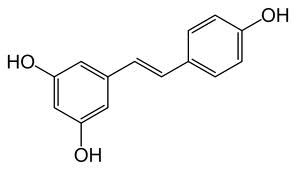 He says resveratrol is, "a very important molecule." Darvesh says numerous studies have shown resveratrol acts as an anti-aging agent, has cardio-vascular benefits, anti-cancer properties, and is a neuro-protective compound.
Darvesh and his team showed it also prevents liver disease. But he acknowledges that huge challenges remain in elevating therapeutic agents like resveratrol from the lab bench to the bedside.
"You need more clinical trials and you need a lot of effort to bring these products into the mainstream."
And that, he says, is hugely expensive, and there's little incentive for pharmaceutical companies to fund clinical trials for products you can buy in the grocery store.
Unlocking the anti-arthritis power of pomegranates
But the National Institutes of Health is investing a tiny portion of its $30 Billion budget on basic alternative-medicine research like NEOMED's Tariq Haqqi's work with pomegranates.
Haqqi is testing the pomegranate extract's ability to prevent osteoarthritis.
Haqqi induces inflammation in the cartilage cells and then adds the pomegranate extract. He's found that compounds in the extract stop the inflammation of arthritis by scavenging free radicals in the cells, and then prevent arthritis by acting on the genes that cause it.
"And we have found the components of the pomegranate extract are present in the synovial fluid, so they are reaching the joint. They can also inhibit the activity of transcription factors which regulate the expression of inflammatory genes."

Food as medicine
Haqqi's current work with pomegranates and his previous, groundbreaking studies of the many benefits of green tea have him convinced of the potential therapeutic uses of natural products.
"Some of these fruits and vegetables and herbs, they do play a role through the bioavailability of their constituents which connect at multiple levels inside the cell."
Haqqi echoes what Hippocrates wrote 25 centuries ago: "Let food be thy medicine."
Haqqi says, "Your health is what you eat."
Haqqi believes by studying how nutraceuticals work, and in what concentrations, we can perhaps improve on nature by isolating those beneficial compounds and use them to treat arthritis and other diseases. But again, he says, the clinical trials that may lead to the prescription of natural products as medicine are still a long way off.