Workers strip protective tape off huge sheets of Plexiglas as they rush to finish the new exhibit. The clear plastic panels are carefully fitted onto cases filled with strange skulls that seem oddly familiar, but not quite human.
Standing in the center of the new Hall of Human Origins, which opened Friday, is a small upright ape.
Her piercing brown eyes grab you with a look of startling realism. It's Lucy, all three and half feet of her, frozen in mid-stride.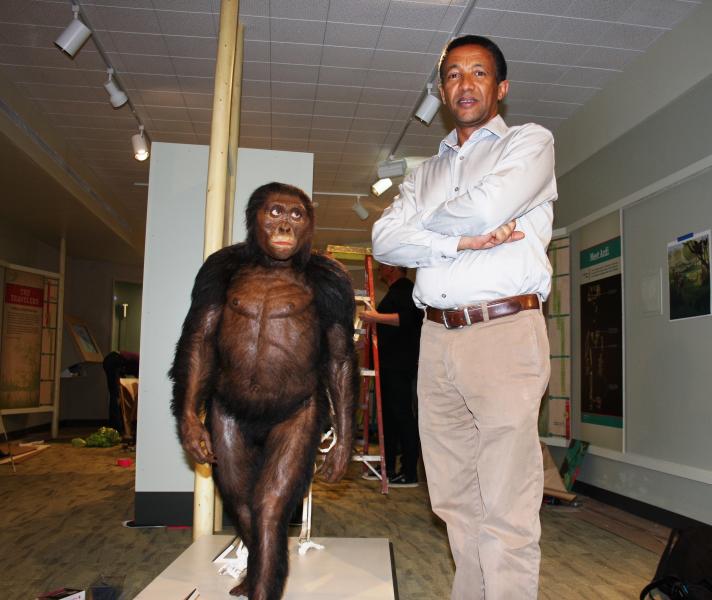 "When you look into her eyes it takes you back three million years ago in time…"
Curator Yohannes Haile-Selassie is the man behind the exhibit. He says the model is the world's most accurate representation of the diminutive hominid.
"We have made a lot of modifications to the skeleton of Lucy based on recent discoveries of fossils from different parts of eastern Africa," changes he says were made based on recent fossils finds.
Lucy gets a little help from her friends
Lucy has strong Cleveland connections. Back in 1974, a team led by former museum curator Donald Johanson recovered the fossils from the Afar region of Ethiopia. Haile-Selassie says remains from more than 100 individuals have since been discovered, but Lucy is still the most complete, and one of the smallest specimens of Australopithecus afarensis.
"She is still three and a-half feet tall, but not all members of her species were that small."
In 2005, Haile-Selassie discovered the bones of a much larger member of Lucy's species. 'Kadanuumuu' fills a corner of the gallery.
"The word Kadanuumuu is an Afar word which means 'big man,'" and at more than five feet tall, Kadanuumuu towers over Lucy. But his bones contributed to her reconstruction.
The new finds helped update the shape of Lucy's rib cage, which Haile-Selassie says, is, "not exactly like modern humans but not like chimpanzees either."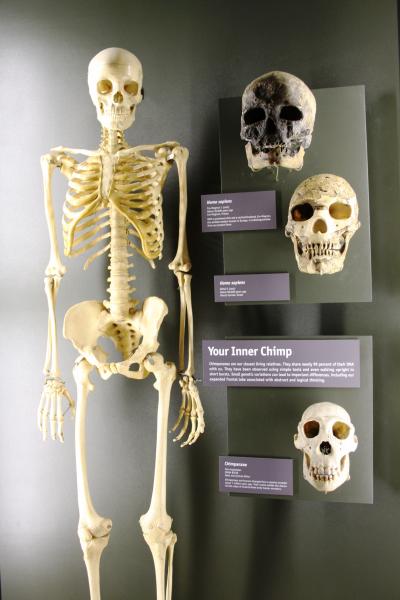 Lucy finds her place amid a menagerie of early humans
Forty years ago, Lucy became the oldest known human ancestor. It was believed her species, at 3.2 million years old, had only recently split from our nearest relative, the chimpanzee. Now, Haile-Selassie says, that's all changed.
"Now we've multiplied the number of species known from the fossil record not only by sampling more species from the time frame that was already known, but also by pushing the record back to six million years, so (we have) seven or eight species that we now know as older than Lucy's species."
Recent fossil evidence puts the origins of the human line at seven or eight million years ago. But nature rambled widely on the evolutionary path to human kind after Lucy's time, 2.5 to 3 million years ago. Haile-Selassie points to a case crowded with a menagerie of skulls.
"This panel here shows you all the Australopithecus species that we know from the fossil record. It includes some from our lineage, and some of them that are not."
From the neck down, these upright apes shared a roughly modern human frame, but their skulls reveal a variety of evolutionary adaptations.
"Some of those species who lived around 2.5 to 3 million years ago were so specialized in their own way, particularly in their dietary adaptations. Because of environmental change, they could not sustain the change (and) they went extinct."

The mystery of Lucy's human heirs
But one, he says, survived to become the ancestor of the human line. A species Haile-Salassie named Australopithecus garhi -- meaning 'surprise' in the Afar language. But, he says, its fossils are tantalizingly scarce "so we don't really have a full understanding of what they were, what they were doing, what their anatomy looked like."
The fossil record of human evolution is growing, but far from complete.
A fully fleshed-out Lucy stands at the center of the Cleveland museum's Hall of Human Origins, and the fossil timeline, but who her ancestors were, and which of her descendants led to us, are still misty branches of the human family tree.