Mane of white hair inspires retired proteins
Cleveland Clinic researcher Vincent Tuohy's inspiration for a breast cancer vaccine came from an unlikely source, "a man with a beautiful mane of white hair."
It was a true eureka moment, according to Tuohy, because while admiring the man's full head of hair he came up with his, "retired protein hypothesis."
Tuohy realized that as we age, specific tissues, like the pigment cells in the man's hair, stop making certain proteins.  "They become retired," according to Tuohy.
He theorized that if abnormal tissues like tumors produce these retired proteins, they could be targeted by the body's own immune system.
Having spent a carrier studying auto-immune diseases, Tuohy knew T-cells could be trained to recognized retired proteins that often occur in tumor cells, but rarely in healthy tissues, "That's what cancer vaccines are, they're auto-immune vaccines."
He soon found a protein in lactating breast tissue that is not expressed in post-menopausal women, or in women without children.  But breast tumors in the mouse models Tuohy studied do express it.  It's called alpha-lactalbumin.
Targeting alph-lactalbumin in the lab
In his lab, Tuohy gives the fifteen second version of how the lactalbumin protein is made while grad student Justin Johnson shows the proper technique to make vaccines to test in mice. Johnson says it takes around an hour to to get it mixed right.
"We take a gene, we cut the gene, we put it in the vector, we have the vector stuck in the bacteria, the bacteria grow, they make the protein, we purify the protein from the bacteria, and that's our target protein."

 The lactalbumin vaccine was tested on mice bred to develop breast cancer at an early age.  Tuohy says the results in the vaccinated mice were dramatic, "none of the mice had tumors at 10 months of age."  But he says in the control mice that were not immunized with the protein, "100 percent of them had tumors."

The discovery gained international attention in 2010 when Tuohy first published his results in the journal Nature Medicine.  But not all of it positive.

 

"There's been a lot of pushback."

Tuohy feels he got the cold shoulder from the cancer research community. He says his idea of targeting retired proteins in tumors was out of their box, "because nobody believed you could make a vaccine that could prevent breast cancer," and he was an from another field.

Tuohy had spent his career studying auto-immune diseases like MS. In his prior research he harnessed the immune system to attack retired cells in other organ systems.  But Tuohy's outsider status has made it hard for him to raise money from major breast cancer funders.  He's 0-15 in grant requests in the three years since his paper was published.  He says, "I'm doing the best work of my career and I get turned down.

Shield Biotech leads clinical trials

But local supporters, some anonymous, have stepped up to cover the $6 million needed to begin testing Tuohy's breast cancer vaccine in humans.  Last month the Cleveland Clinic's business creation arm launched Shield Biotech to manage clinical trials that could cost upwards of $100 million over the next decades.

Tuohy sees his work as the first step in filling a hole in our approach to age related diseases, the lack of a vaccine program for adults.  "It's ridiculous," says Tuohy.

He says the research establishment is so focused on cancer treatment, that the idea of cancer prevention has yet to take hold.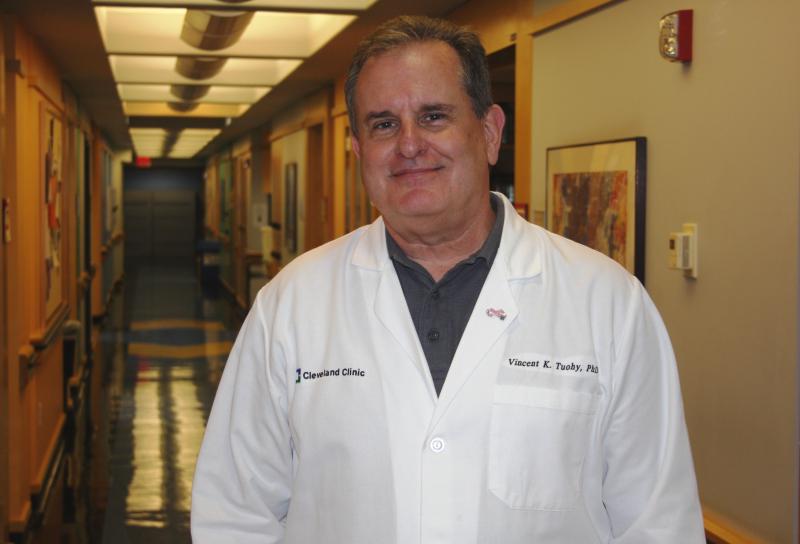 "The hardest thing I've had to do is not develop the vaccine, [but] convince people that what they thought was impossible is possible."
Tuohy and his team at the Cleveland Clinic's Lerner Research Institute are hoping their breast cancer vaccine will pave the way for treating and preventing other diseases. He's currently developing vaccines targeting retired proteins in prostate, ovarian and other cancers.