Merri Rosen studies the effects of hearing loss in her lab at NEOMED, the Northeast Ohio Medical University.
She introduces me to one of her test subjects. It's a very cute, but jumpy gerbil.
Rosen says gerbils are a great model for understanding the neural development of hearing because, unlike most rodents, "they actually hear in the frequencies that we all communicate with."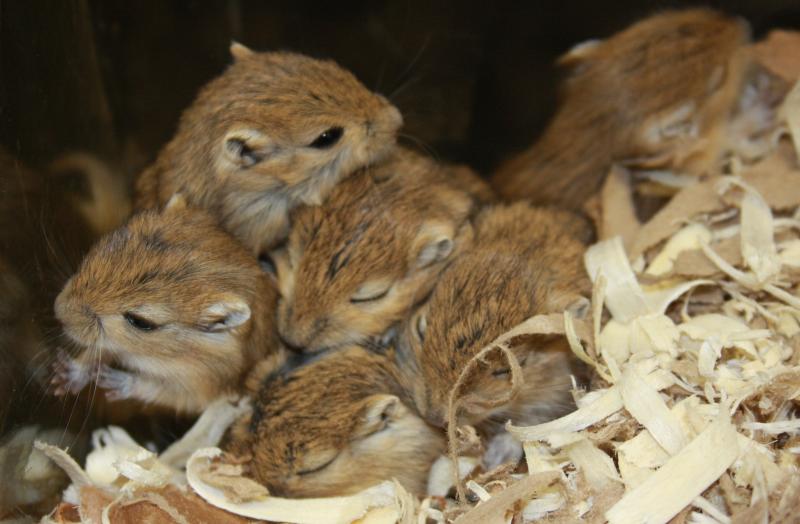 A mating call
In her work, Rosen places a specially trained gerbil in a cage inside a sound-proof room. She then plays a recording of a specific gerbil call, a sound they make during mating, and measures its reactions.
She wants to know at which point the gerbils detect subtle changes programmed into the sounds.
Some gerbils have a harder time distinguishing that difference. That's because at about 11 days old [this date was incorrect in the on-air version of the story] , she put tiny earplugs in their ears, mimicking the kind of hearing loss human children undergo when they have ear infections.
Rosen is comparing the response times of the gerbils who grew up with fake chronic ear infections to a control group.
Her experiments show animals that animals that had a normal development are able to make the discrimination in the sounds better than animals that had the early hearing loss.

We hear with our brain, not just our ears
She finds that even though the test gerbil's ears are perfectly fine, it still can't 'hear' as well as its cousins.

That's because, although our ears detect sounds, we actually 'hear' with our brain. And the brain's wiring is different for animals who weren't exposed to certain sounds over the few weeks they wore ear plugs.
Rosen is working toward a better understanding of how complex sounds are represented by the brain, and how that representation is affected by early hearing loss during a critical period of development. She is trying to determine what's happening on the cellular level to cause a gerbil with early hearing loss not to perceive certain vocal cues later.
"If you deprive the animal or the person of this kind of experience, then those perceptual abilities are degraded and the neural circuits that actually let those perceptual abilities happen are also changed."
Her work with gerbils helps explain why some kids, who at an early age suffered from chronic ear infections and temporary hearing loss, later on have trouble picking out certain sounds.
"Those children tend to have deficits in speech perception and processing of signals that are changing over time," she says, "processing complex signals and processing things that are relevant to just getting along in the world."


Lasting effects of short term hearing loss
Rosen says the parts of speech that 'come on slowly' are hardest for these kids to hear, sounds like 'Fa' or 'Wa'.
She say her studies indicate that these children "have deficits processing very slowly changing signals, more so than they have processing very quickly changing signals."
She says early hearing loss may cause brain cells to work slightly out of sync when processing these slower vocalizations, although they work fine for faster parts of speech.
Rosen explains that since these brain cells may be a little sluggish, "and when you have a sound that comes on slowly, they won't respond together the way they should."
She says that the brain cells in the auditory cortex are a little out of concert in some kids who suffered temporary hearing loss, and produce a smaller response to certain sounds. "And that smaller overall response seems to correlate with a poorer ability to detect these slowly changing signals."
It's all very new research. The hearing deficit she's studying doesn't even have a name as of yet.
But Rosen says therapies used to help kids overcome dyslexia could also help improve this yet-unnamed condition.
The National Institutes of Health this month awarded Rosen $1.8 million over five years to continue her work at NEOMED.