The importance of polymers
Look around right now. Nearly everything you see contains polymers - your tires, your car interior… your radio, computer, counter top, clothes, paint, food additives … even your body contains polymers, DNA, hair, fingernails.
A polymer is simply a large molecule made-up of smaller bits.
And all of the synthetic polymers you see were at one point or another developed in a polymer lab.
At the University of Akron, Dean Eric Amis is now in charge of the country's largest university-based polymer research effort.
Eight percent of the polymer industry in the United States is in Northeast Ohio, "that's a pretty impressive statistic," according to Amis.
Amis oversees more than 300 graduate students and faculty and five separate research centers. But he says his goal is not to invent the next miracle plastic.
"The world really doesn't want new materials, the world really wants new material properties," says Amis, "we always want better performance, higher reliability, good quality, at a low cost."
To illustrate that point Amis takes me on a tour of the National Polymer Innovation Center.

State-of-the-art innovation
The National Polymer Innovation Center is a four-year old, $20 million facility where engineers take new polymers created in the labs across campus, and study how to use them in real world manufacturing.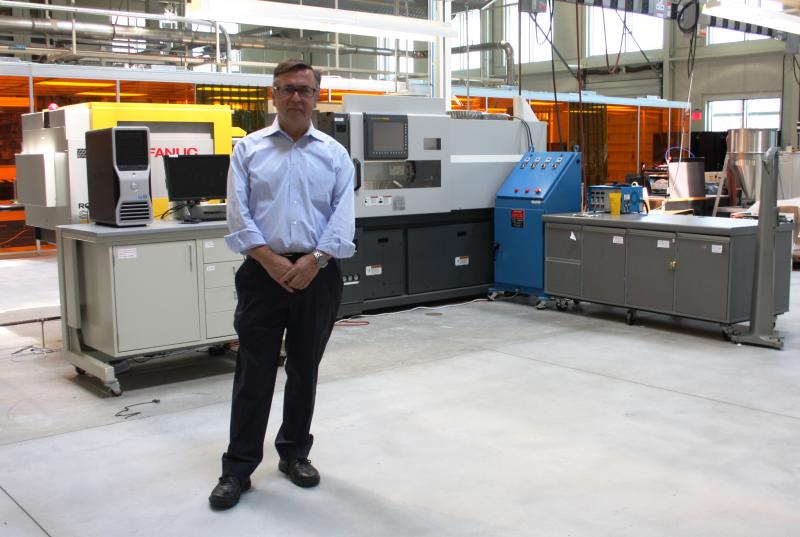 Center Director Miko Cakmak shows off his state-of-the-art equipment. He points to a piece of machinery stretching across the shop-floor, one of the center's roll-to-roll manufacturing lines. "These are one-of-a-kind instruments specifically geared toward the future of polymer processing," according to Cakmak.
Cakmak says the innovation center allows companies to test processes for making new products before going into full-scale production.
But even with all this research going on, does Akron really live up to its nickname , the polymer capital of the world?
Mark Krohn thinks so.

Bringing investment capital to the polymer capital
Krohn is managing partner and co-founder of Akron-based Aquire Investments. The new firm is raising capital to fund polymer start-ups in Northeast Ohio.
He says, "We've got the research, we've got the commercialization, and we've got the success to indicate that we are that capital."
Aquire Investments is more than half-way toward its goal of raising $20 million in capital. At that point, the Ohio Third Frontier program will kick in another $10 million toward the company's polymer commercialization project.
Krohn says that state funding is part of a unified effort by public and private partners to grow the the industry.
"I don't think there's anywhere else an entrepreneur or a company can go to get the A-Z support they need in the polymer space than right here in Akron, Ohio," says Krohn.

Northeast Ohio's polymer cluster
Three-fourths of the state's 2400 polymer-related companies are located in Northeast Ohio, along with the headquarters of some of the world's largest firms. And with $5 billion dollars' worth of annual production, Ohio leads the country in total polymer output.
"There is a huge cluster of activity in the Cleveland-Akron area," says Bruce Fawcett, head of the Columbus-based trade group Polymer Ohio.
He says, "It can be everything from the big Sherwin-Williams facility, but it's also the … 1,000 small factories where someone's making automotive parts."
Still, the University of Akron's new polymer science dean Eric Amis is not quite ready to claim the title of polymer capital for Akron, but he's committed to that vision.
"A lot of making that true," says Amis, "is starting with the belief that you can and that you will."
With broad expertise, substantial manufacturing capacity, and new investors coming to town, the former rubber city seems to be well on its way.