"Soul food is about cooking from your heart and pouring your love into your food."
Chef Robin Blair's doing that today with fried chicken.
Not much fat or salt needed
"The oil is popping nicely, and as you see in the pan I only have maybe about 2 inches of oil. You can use something like canola oil, which is full of mono-unsaturated fat, which is healthier fat, or grape seed oil. So we're going to put our chicken in there and we're hearing that sizzle which is what we want."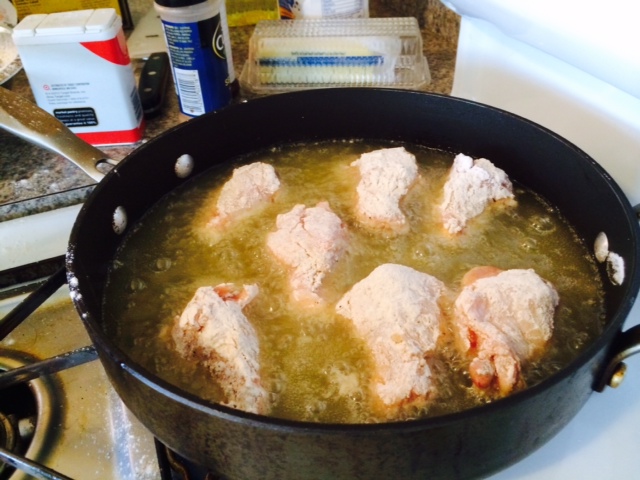 The little wing drummettes brown quickly. They're only lightly coated.
"To the flour, I just added a little bit of seasoning. I added a little bit of salt, like a lot of pepper and I add garlic and things like that to give it a little flavor so we don't have to have so much salt."
She fries the chicken in batches.
"As you see we have a lot of space here. One of the things that a lot of people do is they try to put so much in the pan, and that's another thing that causes the temperature of the oil to lower too much and the food begins to absorb the fat."
Chef Blair can use the terms soul food and health food in the same sentence.
"It's not typically known to be health food, but I think we can make it healthy. I think by making some small changes we can keep the essence of soul food and lose some of that extra fat that we all don't need, and the sodium."
Slave food transformed
The essence of soul food is part of the legacy of slavery. Slaves made the most of the tops of turnips and dandelions and discarded cuts of meat their owners would toss them.
"Pigs feet and pig's ears and tails, and all sorts of 'undesirable parts." They don't have a lot of meat on them. It's pretty much gristle and fat, which is part of the reason you see an ongoing trend of high blood pressure and heart disease in the African-American community -- because this is the food many people grew up on."
With modifications, she says, they can grow old on it.
"When you think of soul food, we think of fattening food. We think of fried chicken. We think of ham hocks. People want that, but they also want to be healthy. We're recognizing that some of the things we were doing before aren't necessarily the best for us."
Well ahead of the superfood trend
Other soul food traditions, though, were ahead of the curve, like plant-based cuisine.
"Greens, usually green beans and greens are always at the table. We always had kale, mustard and turnip greens, and those are known now, they're touted as super foods, and everyone's eating them.
"The only thing I will say is my grandmother used to cook them for 4 or 5 hours. So you do lose some of the nutrients there, but we would always get those greens, which are really good. We just tend to add a little too much salt to them."
Blair appreciates the ingenuity of the original soul food cooks.
"We learned to take different things and make them delicious. Even if you have like a ham hock or something like that. People would throw that into their greens, and you get that nice smokiness and meatiness."
But health trumps tradition at her dinner table.
"My family does not eat pigs feet, and that's because it has no nutritional value. People ate it because it was given to them, and that's what I consider more slave food. And I think there are certain things that brought us down and continue to bring us down.

"We can't forget slavery, but we can attach it to a more forward thinking and healthier lifestyle. And I love what Michele Obama's doing with the Let's Move campaign, so that we can be a nation healthy and harmonious together."
Fried corn the natural way
"So I've got some fresh corn here." Shucking corn is a chore she assigns the little ones when the family cooks together.
"And I'm just going to rinse it off some and get the rest of that silk off." She stands the stalks on end and slices off the kernels into a bowl.
"And this also helps to save the natural juices from the corn. It goes right into the bowl with the rest of your corn as opposed to losing that. The more natural flavor from the food, the better."
She's making one of her family's favorites.
"Fried corn. One of those things that not everybody knows is traditional. We think of macaroni and cheese; we think of greens and green beans; but fried corn is something we have at my household all the time. And it's really a southern dish."
It's one of her grandmother's recipes. Too many others, she says, were lost.
Lost recipes
"She used to make a turkey hash the day after Thanksgiving, taking the leftover turkey. And I still don't know what she did to it, but it was the creamiest most amazing thing on the planet, and we would serve it over toast the next day and it was absolutely delicious. It was one of those things I miss and I think a lot of people miss that.

"That kind of goes along with the premise that soul food is going back to your family and talking to them. You know 'Mom, how did you make this?' 'Grandma how did you do this?' A wonderful pound cake recipe or however they did their biscuits. To pass that heritage before they're gone."
And pass on a few healthy tips as well, like the best way to do low-fat cooking.
No bacon in this corn
There's a whole lot of corn in her frying pan but very little fat.
"About a tablespoon of butter. And we're going to add our corn in, and you can actually see the juice coming out. Little bit of salt and pepper. Another thing you could do to this if you wanted to is add some fresh herbs like some basil or some parsley just to give it some extra color.
"Some people will add bacon to their fried corn and things like that. I'm just going to let the natural flavors come out."
In summer when the corn is juicier, nothing more is needed. But this is spring. "So I'm adding a little bit of half-and-half just to give it a little more creaminess."
A sprinkle of sugar might be needed, too. "A lot of soul food is just tasting and then kind of playing with it." She tastes. "OK, it's really good. I do want to add just a little bit."
Quick chicken
Meanwhile, the chicken's almost done. It took only 5 minutes.
"You want them to brown, but you want them to cook evenly on the inside. Nice crispy outside, nice juicy inside.

"Were just going to flip it over. So it's starting to get brown. And you hear we still have that nice sizzle, and that's what we want. Because that means that our oil has not gone down in temperature so it's going to cook really, really well."
Chef Blair's first cooking teacher was her grandmother, but she also trained at Cuyahoga Community College and worked as a sous-chef for many years at Shaker Heights Country Club. She has her own business now, cooking and teaching, and bringing families together with food.
A lesson for her own family
But she's glad she took a break to raise her son. "Being in a professional kitchen is very hard. And so I was missing a lot of his firsts and I didn't want to do that anymore."
Her son shows her the value of her culinary heritage in family matters.
"He's 18 now. But it's something about when we sit at the table. It's like he kind of opens up a little bit. Whereas after school if I just ask him, 'How was your day?' His response is 'fine.' Those one-word answers. But when we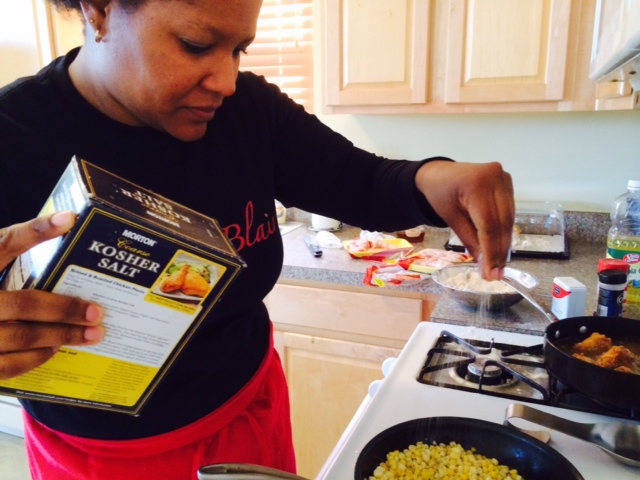 sit at the table it's like he'll just 'Oh, this happened in school today, and this person said this, and this girl likes me or whatever...' those types of things.

"And I think that is what soul food is about. It's not just about the taste and flavor of the food, but it's about everyone just coming together and enjoying everything together."
Soul food can tie diverse cultures together, too, like a Cleveland specialty with Eastern European roots.

"Polish boys. Which is usually a large sausage and you'd have French fries on it and cole slaw, and usually some sort of barbecue sauce, a thinner, smokier barbecue sauce. That's one of the things people love that comes from Cleveland. And I haven't really seen that at other places."
Cleveland's soul food enjoyed citywide
Other soul food regional varieties include, low-country cooking in the Carolinas like shrimp and grits, and creole and French-influenced crawfish and gumbo in Louisiana.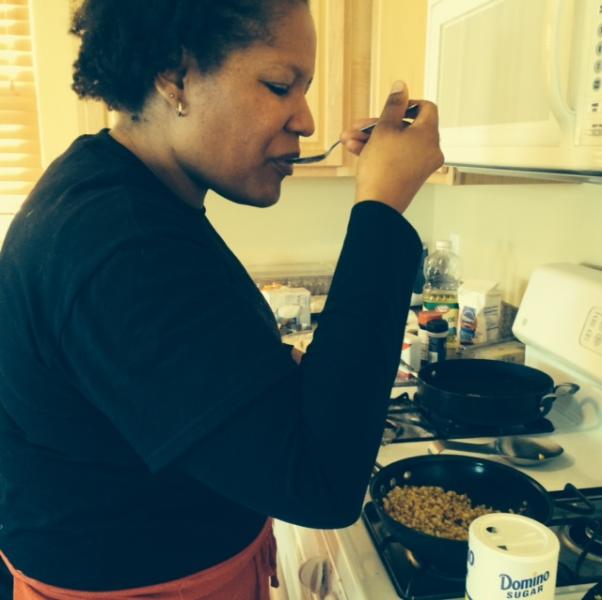 But Chef Blair says what varies most is barbecue.
"Someone from South Carolina may expect more of a mustardy-based sauce with their barbecue whereas my godmother's from Memphis, and she and I had a long talk about this, and she says their barbecue is not sweet. They do dry rubs and it's very smokey. But up north we tend to go for more of a sweeter sauce."
Sweetest of all for the Cleveland Heights-based chef is seeing the community come together to get more healthy food on the table.
"When I worked for Ohio State Extension, I actually worked in Northeast Ohio which was wonderful because I could give back to my community. And I'm seeing that. I'm seeing we have a Food Policy Coalition. There's a lot of different agencies and programs that are really helping the families in the food deserts."
The motto of Blair's company, Cooking with CARE is "Bringing our families back to the dinner table, one meal at a time."
"To enjoy good food," says the chef, "but most importantly to enjoy each other."
And that's this week's Quick Bite. Next week we look at the potential impact of fracking on our farms and local food.