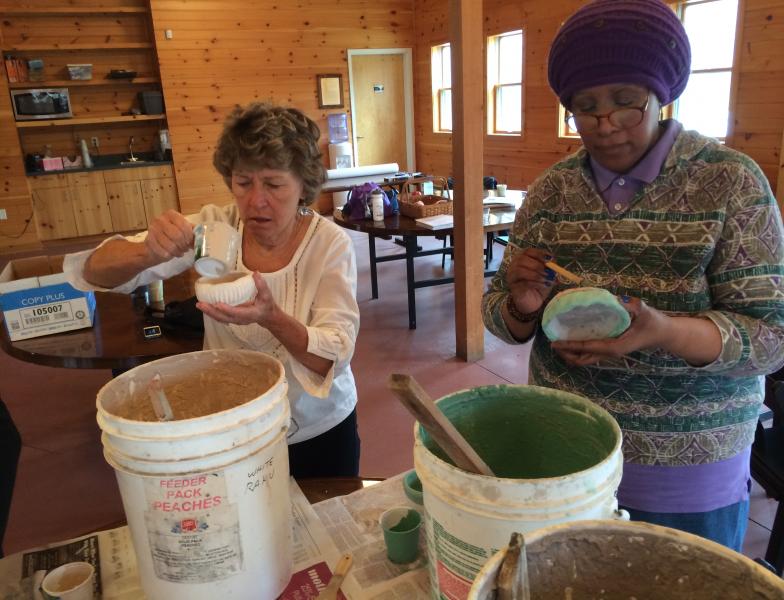 The Reid Lodge of Laurel School's rustic Russell Township campus is transformed today into a teahouse for the traditional Japanese tea ceremony called Chano-U. It's the culmination of Cleveland ceramic artist George Woideck's Raku pottery class. Raku is a 400-year-old ceramic method created expressly for the elaborate ritual, a time for reflection, conversation, and appreciation of nature and art.
A natural setting for the ancient ritual
The treehouse-like lodge overlooking Laurel's verdant 140-acre Butler campus is decorated with hanging scrolls and brush painting screens the students created.
Invited guests include the co-sponsors of the class: Laurel School, Case Western Reserve University and the Cleveland
Museum of Art.
The museum's Diane Hronek-Hanslik looks around with wonder.
"I'm very amazed that they've done so much in 4 weeks. I mean this looks like a semester class here. They've been very productive."
And today's the payoff. They've come to drink from cups they fashioned themselves from clay.
They sit on the floor around a tatami mat laden with traditional cakes and sweets, set on the colorful plates they also made.
A student leads the ceremony
One of the students, Jean Leathers, just returned from Japan where she learned the rituals of the tea ceremony.
"And so she's going to be preparing the tea," Woideck instructs. "And so if you'll pass us the tea bowls that you've selected one at a time, we'll take Laura's first, and Jean is going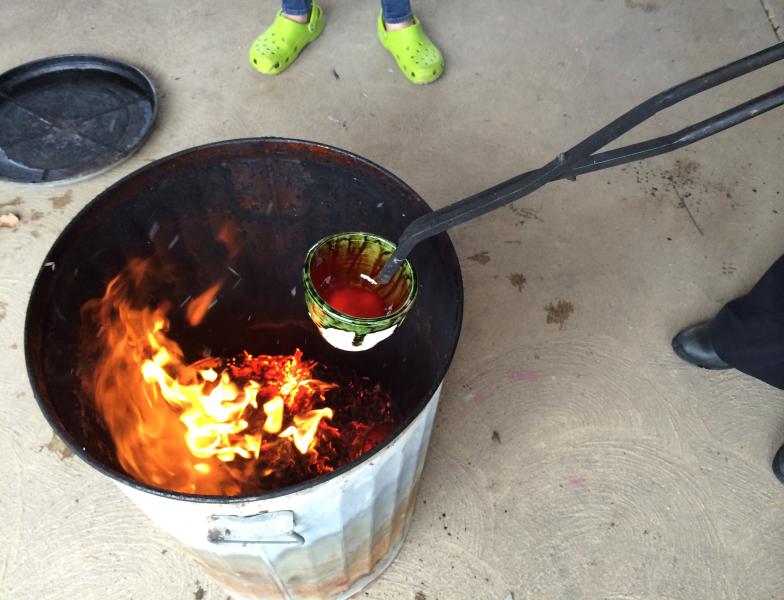 to rinse it out first with hot water."
It's matcha , a green tea milled into a very fine powder.
It's sifted into each cup. Hot, but not boiling water is added.
Then it's stirred 100 times with a very fine whisk, starting at the bottom of the cup.

"I'm just going to show you guys," says Leathers. "Can you see that foam?
See those large bubbles? You're going around the edge to try to eliminate the bubbles so that the foam is completely smooth. And then you lift from the center. See that dollop in the middle? It's beautiful."
From the earth to the kiln to the artists lips
And for Jean, a Zen Buddhist with no prior experience with clay or pottery, it's especially meaningful. One of the principles of
Buddhism is interconnectedness.
"When we worked with the clay to begin with one of the things George talked about is the clay is a million years old, and it's the result of rocks crumbling into rivers, into silt. And then there we were four weeks ago forming it with our hands, and then firing it with all these different elements like copper and so forth that brought these amazing colors into it. And then to be able to lift that with tea to your lips. It's an incredible intimacy and a sense of interconnectedness that I've never experienced in
a tea ceremony before."
It's a quiet, serene occasion, but loud slurps and great gulps are encouraged. The tea is not sweet, so a bite of cake is suggested between sips. Mochi cakes are the students' favorite. Leathers offers a plate with three different kinds. "This one has sesame. This one has red bean paste inside. This one has green tea inside."
The tea bowls are shiny with a glaze that looks like glass or metal. They're fired in a kiln for 30 minutes, removed red-hot, enveloped in smoke, and then cooled in a bucket of water.
In the ceremony, the host turns each bowl twice in her cupped hand before presenting it to each participant. "So like this, good, and then just take a nice big gulp."
There's no current plan for another Raku pottery class, but students have begun lobbying.
And adult learners will have a chance to learn about a different culture this fall. George Woideck's planning a ceramic class that'll take students on a virtual tour of the Mediterranean. They'll create tiles and mosaics evoking the art of Ottoman Turkey, Barcelona, and Byzantium.
And that's this week's Quick Bite. Next week it's all about a treasured part of American culture, the backyard grill.