It's dinner time in the big red barn at Maplestar Farm. About 100 dinner guests are greeted by an amiable host.
"Jake Trethewey. Real name is Jack, right? But everybody here in Geauga County
calls me Jake to keep me straight from my Dad who goes by Jack."
Tables are groaning with gourmet food prepared by Cleveland restaurant chefs with ingredients grown by Trethewey and fellow farmers.
Cooking in the barn
Cibreo Italian Kitchen's Erik Martinez and crew drove down to farm country from Cleveland's Playhouse Square to fix dinner.
In a makeshift kitchen in one corner of the barn they make a slaw with fennel from Morningside Farm in Hinckley, and a salad with feta cheese and black garlic balsamic syrup with
heirloom tomatoes from Maplestar's Auburn Township fields.
Touring the tomatoes
Dawn Trethewey's conducting a tour to show off 20 varieties. "So we can kind of proceed down here. We're going to go through the tomatoes, the cherry tomatoes."
The guests wonder why most of the tomato plants are short.
"Of course you have to remember this year we had only like three weeks of summer, and tomatoes like heat. What you see here, this is blight. It's very, very common this year because it was so cold and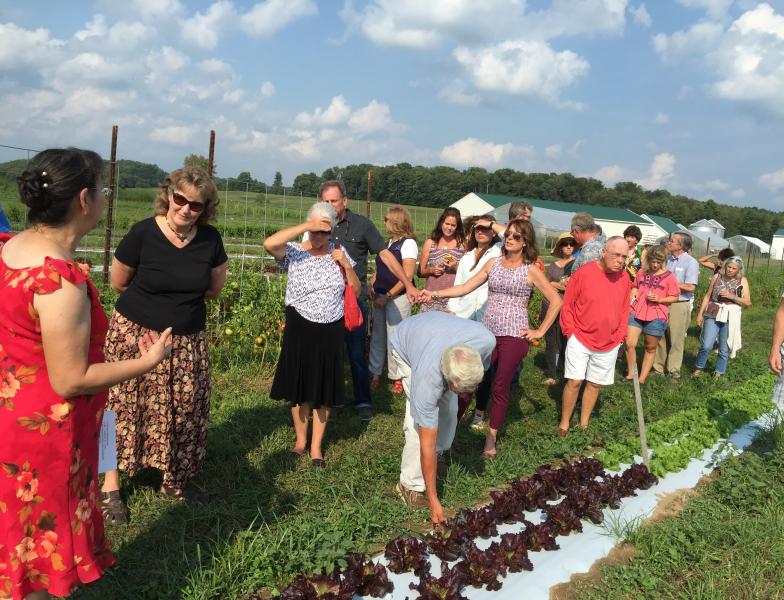 wet."
Tough growing season
Rancher Mardy Townsend of Windsor had it rough, too.
"My cattle didn't like the extreme cold either. Then we had a very rainy beginning to the growing season and a lot of plants did not develop very good root systems, and so then when it went very dry the plants got really stressed because they didn't have the roots to be able to handle it."
Ohio proud
But local food producers like Molly Smith of Molly's Crafted Cocktail Mixes are still finding what they need at Maplestar Farm.
"I use their jalapenos, their rhubarb, some of their strawberries and some of their beets."
Terry Frick of Feel Good Dough came from Cleveland with breadsticks for the farm dinner. "I did a rosemary, a roasted garlic, and a no-oil whole grain."
She, too, depends on local farmers. "We like to source out our products locally. Most of us are Ohio proud, so yeah, we do, we want to keep it within our own family of foodies."
Corporate Chef Chris Johnson says he buys from Maplestar farm for Cibreo, and other Driftwood Restaurant Group locations, to suit his customers. "Gourmet food is about quality, and nothing is of higher quality than what's coming off of a farm, especially certified organic farms."
A deeper understanding
Johnson's made a friend of farmer Trethewey.
"I'm over here visiting Jake a lot. I'm a sounding board a lot for him with the frustrations of insects, animals, hailstorms, drought, cold weather, too much rain, whatever. It's amazing what they go through, especially when the growing season
doesn't go as you would like as this year's was."
Tonight's gathering brings back memories that get Jake Trethewey a little choked-up.
Cherished memories
"Yeah, it does. Yeah, you know my grandparents bought this farm in, in 1940."
He says they did it for their three sons.
"They wanted to provide an environment to keep them out of trouble and certainly a farm would, right?"
His grandfather had to work third shift at the steel mill. "And first and second shift here at the farm."
Trethewey kids grew up working just as hard and eating very well.
"Any given Saturday or Sunday friends of the family would show up, and/or neighbors to help, and my grandmother and great grandmother would put together lunch on short notice. What was on the table was raised here."
He misses the lifestyle.
"You'd like to think you could get that back. I think small farms and the small towns that supported them were the fabric of this country. And a lot of that's gone unfortunately."
Good news and bad
The Trethewey's rented more than 300 acres near their farm, before Route 422 came through. The bad news, he says, is all but 25 of those acres are now residential.
But he says the highway's been good news, too, for his roadside stand.
"With us going with produce direct sales, we got a lot more customers, right? We couldn't do what we're doing today 40 years ago. So that was the solution on how to hang on to the family farm."
To keep hanging on, organic farmers like Trethewey depend on community-supported agriculture. He has 43 members in his CSA.
Statewide support
He also counts on help from a statewide grassroots coalition of farmers and consumers, OEFFA, the Ohio Ecological Food and Farm Association.
"If it weren't for OEFFA and the support they've given us on things like scaling-up workshops and the big conference every year with all the great workshops we wouldn't be where we are today, that's for sure."
This evening's elegant barn dinner is a fundraiser for OEFFA, at $125 per plate. "Farm tours, there's a full four-course meal really thoughtfully prepared, wine pairings."
OEFFA's Lauren Ketcham says it supports the group's mission.
"To connect farmers and consumers, to rebuild that connection one meal at a time. So these farm-to-table dinners are really a natural extension of that."
A new perspective
OEFFA board member Rachel Tayse drove up from her urban farm in Columbus. "Farm-to-table dinners like this give a chef a chance to really use what's available from the farm, and show off some creative ways to use seasonal produce. So it's kind of an introduction to flavors that people can use. And then just seeing the real, what it really looks like. We have an idealized notion of what a farm is, and then to see the real thing makes that whole connection."
"You know what most people want from farmers?" asks syndicated farm journalist
Alan Guebert. "They want to eat like farmers."
Guebert came for dinner to offer a hearty toast to local food and to sign copies of his new book The Land of Milk and Uncle Honey about growing up on an Illinois farm.
He remembers dinners with friends and neighbors who helped with the harvest.
"We didn't have to ask. People came and did it. Then we'd have the meal and we'd have a couple good cold ones, and we'd play pinochle or euchre, and I'm not saying it was a better life, but it sure had better results."
A new farmer benefits from the local food trend
With help from the Tretheweys, Mark Barcelo's recently started working a farm about 3 miles up the road from Maplestar. He attributes his good start to the local food movement. "Around here, Chagrin Falls, South Russell, there's a real interest for it and the market is definitely there."
He says the work is hard. "I think the amount of energy and effort and planning that goes into it is not that well understood by most people."
A truer picture

Rancher Mardy Townsend says this evening's gourmet dinner might not be the best way to get a taste of farm life.
"Watching someone fix a piece of equipment at midday, the sun is beating down and it's 90 degrees and the sweat is just dripping off of 'em. That's when you might get an idea of how hard it is."
Diners like Mark Wakefield of Chagrin Falls are sure enjoying the fruits of that labor this evening.
"The variety and the flavors are amazing."
On the menu: supporting sustainable agriculture
OEFFA's policy program coordinator Amalie Lipstreu says consumers enjoying delicious food and getting a first-hand look at farm life can only help her work. "That can lead to a broader understanding of the policy issues that threaten that type of farming that we want to see continue and thrive in the future."
She says sitting down and breaking bread together helps. "It's a wonderful way to get started."