Colin Brown feels right at home when he drives down to Loudonville to visit Tea Hills Farms.

Chef Brown spends most of his working life in the kitchen of Oak Grove Eatery in downtown Wooster, but he raises livestock, too, nearby. "We have some sheep, some ducks, some geese and some goats."
But on this rainy day, it's Cara Tipton's hogs that interest him. "They're hiding in the barn at the moment, but they generally love to go out in the rain," says Tipton. "They like to go out in the morning and evenings the most."
There's a short electric fence to keep the piglets close to the barn. But the bigger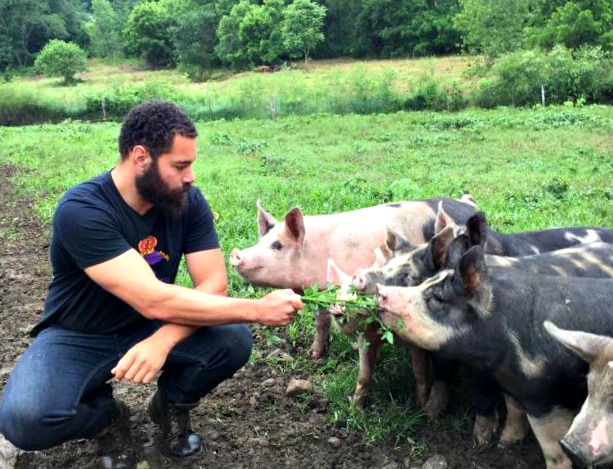 animals roam free on Tea Hills organic pastures.
Heritage breeds
"So these are our Berkshire-Chester White cross. And we breed on the farm. So we have about 12 sows, and we keep growing. We're doing about 120 hogs to restaurants and farmers' markets right now, a year."
Cara, her husband Jason, and brother Ross Raubenolt think it best not to pen the pigs in the barn, and the swine seem to agree.

"Look at them going out there! One of them has a mouthful of grass right now," says Raubenolt. "They obviously prefer to be in a more natural environment than in a barn in a confinement facility."
Healthy feed and forage
Raubenolt makes sure the pigs eat healthy. "We feed them a non-GMO corn and soybean ration, a eggy pre-mix mineral, and they're on pasture, grubbing, actually eating worms and bugs and insects as well. They prefer it over the feed, but they go back and forth between the forage and the feed."
Tea Hills Farm is also home to free-range chickens, turkeys, ducks and sheep. But with sows, Cara Tipton says, they've had to scale-up the operation because of increased demand.

"I think people wanting a connection with their food, also the heritage breed has so much flavor to it. Fat and flavor and marbling makes some
really great-tasting pork."
Always on the menu
Pasture-raised pork is always available at Wooster's Oak Grove Eatery "because it's readily available from a local source," says the owner.
Eric Lloyd serves it from morning 'til night.

"We have house-made ham, local bacon, pork is in the grilled cheese. Rolling into dinner we have a local pork hangar steak."
Pork on Oak Grove's appetizer smorgasbord comes in small plates on an oak plank. "Fried pigskin, pulled pork sliders made from different cuts."
Fat and delicious cheeks
But Chef de Cuisine Colin Brown's signature dish is pork jowl -- "off the cheek of the animal."
It's a lesser cut, not prime, but at this little bistro, they howl for jowl.

"Every night, we sell 10 of them when it's on the menu."
Chef Brown's mojo pork entrée tastes like pork shoulder, but he can cook it fast
and keep it juicy.
"There is so much marbled fat that actually lubricates it. But when you get something like a pork chop, you don't want to be so afraid of this pork. People do, they really do overcook pork. Pork is best at, if you cut it, it's slightly pink."
His pork jowl is sautéing on a very high flame, "the fattier pieces of pork, bacon for example, no one wants soggy bacon," he notes. "And this has a similar fat composition. A nice crispy crust on the outside is definitely preferred."
Grateful for a new market
Meanwhile in Loudonville, Cara Tipton's happy to have chefs interested in her hog jowls.
"It's a part of the animal that not everyone's that interested in. It's not one of our items that sell at farmers' market. People don't know what to do with them.

"So to have a restaurant take a part of the animal and make value out of it that normally we wouldn't have any way to sell and market, it's great for us."