In the Crystal Room Bistro at the University of Akron, there's a party going on, a Sumerian beer feast.
"It's a fundraiser for our Akron-Kent Society of the Archaeological Institute of America," says University of Akron Professor Tim Matney. He and about 50 guests are celebrating the ancient civilization of Sumer that flourished in what's now Iraq.
They're enjoying the national fermented beverage of Sumer, beer, along with harp music, entertainment provided by the University of Akron's drama department, and an exotic buffet dinner prepared by student chefs.
"We did a lamb dish. We did a barley porridge. We did root vegetables, which were real popular back then."
Ancient food and 21st century beer
Mike Rohan and fellow students in the hospitality management program strived to replicate an ancient dinner with traditional ingredients.
Rohan thinks the food will go well with the modern-day brew, from Akron's Thirsty Dog Brewery.
"This one's the Rise of the Mayan Dog, which is a 7 percent. It's a dark porter. Then this one is the Prohibition Pale Ale. It's more of an IPA."
Understanding the link to the past
Professor Matney says proceeds from the beer feast will pay for the Archaeological Institute's annual programs.
"Lectures both from local and national speakers. Three in the spring and three in the fall."
Romaine Chritton of Green attends all the lectures.
"The present is so much linked to the past in so many ways, and I think a greater understanding of where we came from -- and (of) ancient cultures -- helps us understand who we are today."
She finds feasting like a Sumerian a special treat. "To be a part of something that is so ancient is absolutely enchanting."
Why archaeologists care about beer

As prelude to tonight's feast, the Archaeological Institute sponsored a lecture at the University of Akron earlier this month titled "The Archaeology of Beer."
Scholars like Matney might like the foamy brew for other reasons, too, but for one thing, it's very old.
"Beer goes back as far as the written record, 5,000 years or so, and it probably goes back far longer than that."
The professor says it's possible our ancestors were chugging it down as far back as the Paleolithic era.
"Because it's a way of preserving ingredients, and it's also nutritious. ... By the time of the first written documents, there were 30 types, and it was clearly an important part of the diet."
An important discovery, but it's not absolutely clear who to thank for it.
"I'm sure there would be a lot of claims to who invented beer. The earliest record we have, the earliest written record, is for the Sumerians."
The birthplace of civilization and beer
The city of Sumer was in ancient southern Mesopotamia.

"The southern part of what is today Iraq, so the Tigris and Euphrates basin," says Matney. "Sumerian culture arose there 6,000 years ago, but existed for a very, very long time. In fact Sumerian as a language was used for thousands of years, eventually petering out."


Sumer was the world's first literate society, and they were writing about beer as early as 3500 BC.
"Texts," says Matney, "that explain how the beer was made, not recipes really but general explanations in the form of hymns and drinking songs."
Not that Sumerian beer was anything today's beer connoisseurs would sing or write about.
Matney can describe it in two words: "Flat and sour."
Sumerians had to add honey and spices to their beer to make it palatable, and it wasn't as strong as what we drink today.
Sumerian brew masters had no hops, and the yeast they used all those millennia ago was different. But they easily grew grain for fermentation because they had rich soil and rivers for irrigation in their strategic location.
"The edge of the fertile crescent," says Matney, "an area that would have been very flat. It would have been very hot."
Beer as a motivation for agriculture
The home of the world's first domesticated grain was a great place for a cold one.
But professor Matney rejects the theory that agriculture arose only for the purpose of making beer.
"I'm not sure I would be willing to say it was the reason we started growing grain, but it certainly would have been an important element in the decision to put all that energy into farming, which is a lot of work compared to hunting and gathering."
Of course they hunted, too, and Sumerians were especially fond of fowl.
An item on the buffet table was billed as "pigeon with herbs." It turned out to be split Cornish hens, but the dried mint, coriander, cumin and cinnamon the hens simmered in were flavors the ancients might have used.
Evidence from ancient remains of Sumerian feasts
Matney says besides wild fowl, there's evidence the Sumerians enjoyed pork, goat meat and lamb, and liked cress, cucumbers, and spices.
"They generally ate two meals a day, and we know something about it. But it's really the feasts that we have iconographic images for. So a wide range of meats, we know the sorts of plants that they were eating partially from the texts, partially from the remains that were left behind on archaeological sites."
It's harder for archaeologists to get that kind of evidence these days.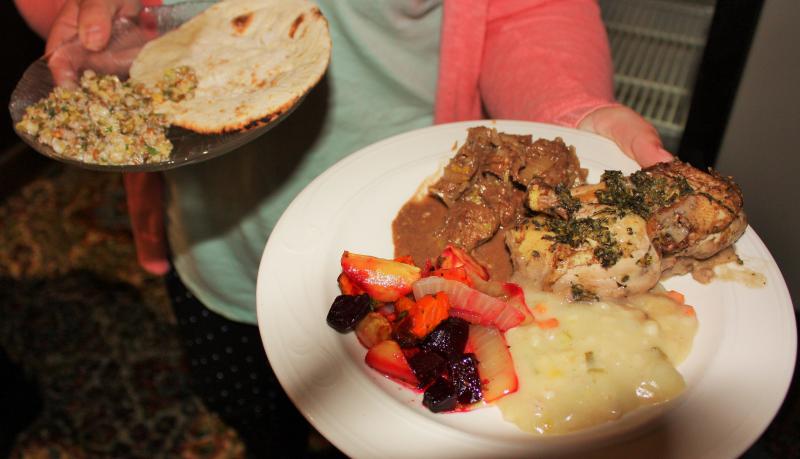 "There's been widespread looting on some of the sites in ancient Sumer."
Matney laments that archaeology can be used for political as well as academic purposes.
"It is very difficult, and also it's a tragedy what's happening in a lot of these archaeological sites. In fact, we're running a roundtable discussion with our students and faculty on Oct. 29th on ISIS and the destruction of antiquity and why it's happening."
That event will be open to the public.