"Senegalese food is so good!"
Liz Schmidt learned to cook it in West Africa during what's known as a "gap year."
"A launching pad to get you from high school into college or wherever you're going in a way that's really comprehensive and allows you to really learn about the world."
Undaunted by the news headlines
The non-profit social enterprise Global Citizen Year assigned Liz to Senegal. At the time the Ebola epidemic was raging in West Africa, but it was less severe in Senegal. Liz was aware of it but didn't feel she was in danger.
In preparation for her departure, Liz studied French as well as Woluf, the language of the majority ethnic group. She studied the communal culture of Senegal and figured she'd fit right in.
"Having grown up on a farm, and having the idea that you help out the people around you, your neighbors, your family, all of that."
And to help raise funds for the trip she got cooking. "At my local farmers' market in Howe Meadow I cooked Ceebu Jen, which is the national dish of Senegal. It's fish, and rice and vegetables, and oh my goodness it was so good. I'm so excited about the food."
Showing what she learned
Back now from her African adventure Liz is still excited.
In her Medina farm kitchen, she's sautéing chicken for a dish called Yassa.

"It's onion sauce, but you typically have little chopped carrots in it, and my Senegalese mother used something that I think is a Daikon radish. I've been using turnips in the states, mostly because we grow turnips. I actually like it better than having the radishes in there."
Her chicken's full of flavor long before it hits the sauce. "I marinated it for the afternoon with some lemon juice, some vinegar, mustard, a little bit of salt, pepper. I put a jalapeno in there."
Liz learned quickly in the traditional role of a Senegalese daughter.

"I spent almost every day cooking lunch and dinner with my mother."
Cooking took up a lot of her day
An avid soccer player, she didn't get to play much with meal preparation taking so much time.
"Lunch easily takes two hours, but you know everything's made from scratch. Most families don't have refrigerators. So you get everything fresh, and you can't prepare something before because there's no way to preserve it."
Another challenge was what she had to cook on.

"We cooked either on coal or we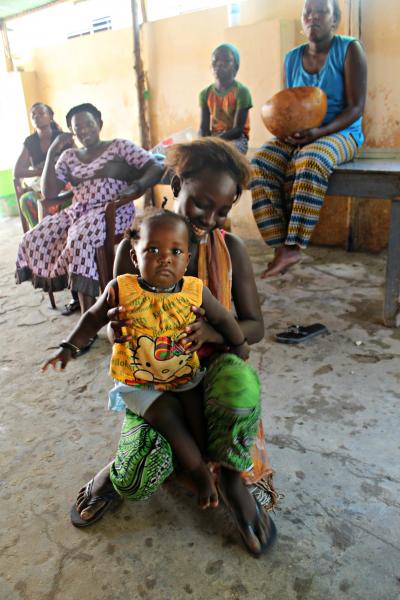 would cook on a stove made out of a little propane tank. You only have one burner if you're doing that and so you have to be very efficient."
Her command of the Woluf language improved over the eight months. "In Senegal my name would be Isatu Monga."
But communicating in the kitchen with her host mom was hard at first.

"We just nodded our head or shook it to indicate if we were doing the right thing, and she'd give me onions and say chop these, and eventually I could cook a meal."
Goodness in a bowl
The primary crop of Senegal is peanuts, and Liz knows how to make one of her favorite dishes with it. It's called Maafe.

"It's goodness in a bowl, a rice dish with a peanut sauce on top of it, and you can make it with fish or with meat."
Mostly fish, though. Senegal borders on the Atlantic.

"I'm not a fish person. We ate fish at least once a day, sometimes three meals a day. So that was an
adjustment."
Hankering for farm-fresh food
There were times when she craved something more familiar.

"Living here in an organic farm, we eat a lot of vegetables and just a lot of really healthy food, and most of the food we ate was basically deep-fried in oil in Senegal. And so I missed having the raw vegetables. I really, really missed kale, but in terms of the taste I was pretty satisfied."
After tearing mint leaves for the communal tea drinking ritual, Attaya, she'll add sugar, and ginger.
Well-prepared for her Kent State studies
She says one of her favorite memories is sitting under a tree after a meal, making tea with her family and friends.

"And the order of serving, traditionally you serve men first but you go in order of age, so the oldest will drink first."
Liz Schmidt's African gap year seems to have prepared her well for what she's doing now, in Kent State University's International Relations Program.
"There's so much complexity and so much beauty to the way people's cultures fit into geography, and you know the countries around them, and religion and history, I love that."