Ohio



Friday, February 17, 2012




The fracking boom




2011 marked the year hydrolic fracturing became big business in Northeast Ohio


by WKSU's TIM RUDELL


Reporter
Tim Rudell
When reporter/producer Tim Rudell began his continuing coverage of fracking, he set out to bring listeners facts, clear explanations of the technology and economics involved in this complex story. In 2011, as drilling rigs sprang up throughout eastern Ohio and a full-scale gas and oil boom gained momentum, Rudell put together 10 stories on fracking and related subjects. His fact and information gathering ranged from contacting geothermal energy experts in Switzerland to following frackwater tankers on township roads in Carroll County (hunkering under a little old bridge there) to record the effects of the massive trucks on the rural infrastructure. As the year wound down, Rudell presented a feature on new concerns about earthquakes that might be associated with disposal wells recently drilled near Youngstown. Only a few days later, on Dec. 24, there were new quakes around Youngstown. And on New Year's Eve, an earthquake that hit 4.0 on the Richter scale rocked area residents.
Thursday, July 14, 2011
Shale gas could fuel economic revitalization
Hundred of millions of dollars are being invested in drilling equipment in the region
by WKSU's TIM RUDELL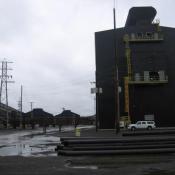 The old sheet and tube plant was once the biggest of its kind in the world. Then the steel industry all but died out in the Youngstown area and it was idled. Now, major parts of the facility are being rebuilt to make tubing for the new gas drilling technologies
In The Region:
There is a gas exploration boom in eastern Ohio. Drilling a mile or two down hits ancient layers of shale, the remains of lake beds and sea shores where the Appalachians now rise. Fossil fuel is trapped there and an aggressive recovery technology can bring it up. In part two of our series on "fracking, " Tim Rudell of members station WKSU looks at some of the claims about what that could do for, and to, Ohio economically.
The neighbors are together on Sally Lytle's wide porch, a lush summer afternoon is becoming evening in the valley below. It is a year ago, nearly to the day, and "fracking" and "the shale gas play" are in the news and in the lives of these rural Stark County landowners. They're being pressed by gas exploration companies to sign leases…and let the drilling begin. Molly Greco says she knows the gas is needed, for a lot of reasons, but wonders about claims she's hearing for how much is down there:
"They're saying this will give us fifty years of freedom from foreign oil, or something like that I read?..."
Kent State Geologist Neil Wells is a shale expert:
"You'll read estimates of 500-trillion cubic feet of gas…which sounds like a lot, and is. But maybe only 10% of that is recoverable. The U.S. uses, typically, 23-trillion cubic feet a year, … which is also a lot. So, if it's 50-trillion cubic feet total, that's two years' worth of gas."
But, Wells points out, technology changes, and more of the gas may be recoverable a few years from now. That could make the shale layers under Ohio--the Marcellus and Utica–a factor in not only a national but a world energy supply problem.
Economic plusses
Looking back at the local and regional level, shale drilling already has had economic benefits. A massive old industrial site, Youngstown Sheet & Tube--once the world's largest manufacturing complex of its kind--was effectively abandoned for decades. Now V&M Star, part of a French corporation, is rebuilding much of it; spending two-thirds of a billion dollars and employing some 350 people. Roger Lindgren retired as chief executive of V&M Star shortly after the announcement of the new plant and says the whole investment was in large part because of the demand for tubing for drilling.
"Of course, the United States wants to become to some degree energy independent. And this shale drilling offers that opportunity. Because of the technology that's employed it's going to use a large consumption of pipe. So we are building that mill to serve that expanding market in the United States."
Tom Tomastik is a geologist for the Ohio division of gas and oil. He says a direct link between gas drilling and industrial development goes back a long way in Ohio, first with the development of Standard Oil and the oil industry in the 19thcentury, and then again with manufacturing expansions in the 1960s and 1970s….
"They drilled wells for the GE facilities. They drilled well for the Lordstown plant. And Ford up at Akron. And Firestone had a number of wells drilled on their property. And Stone Container actually had Stone Energy, which was theirown energy division."
The economic costs
The first of the shales to become a regular part of Ohio's drilling vocabulary was Marcellus shale. Under it is a layer called Utica. Kent State's Neil Wells says it is pricey to get to either one with the process known as fracking, drilling horizontally and then bursting open pools of gas with five million or so gallons of high-pressure water:
"Drilling a standard vertical well to get down to the Marcellus in the middle of Pennsylvania, you'd spend less than a million dollars. To drill a typical horizontal well into the Marcellus, they figure that's more like thirty-five million. It's not something a small company does on a small budget; and it doesn't matter if they miss on the first couple of wells and don't get much money out of it. You've got to have heavy funding for this."
So, the potential payoff of shale drilling must be big. But, Tom Tomastik says, it's not necessarily from natural gas, though that's what drillers are talking about the most when approaching land owners for leases:

"The big thing to the Utica shale for a lot of the gas companies that we're seeing now with an interest in Ohio is what they call the liquids production—crude oil production. And obviously, with the price of crude oil hovering around the low 90 dollars a barrel, that makes that very much more attractive than the natural gas right now … which is depressed down around about $4-dollars to four-fifty per a thousand cubic feet."
Beware what you sign
Can wells be drilled for both gas and the other "wet" products down there? Yes, and says Alan Wenger--the Youngstown attorney who specializes in gas leases--that's why local landowners have to protect themselves with the deals they sign…and be wary of signing away too much, and be especially wary of a pitch he's heard about recently.
"It appears that there is an active market developing where companies that I believe are affiliated with the deep drilling companies, are coming around and making attractive offers to people to buy all of their mineral rights. And the landowner basically gets up front any consideration that they'll ever get again from their minerals. And folks see the dollar signs and they tend to think 'I'm going to cash in, because no one knows the future, and they may be giving away rights for pennies on the dollar."
Cost left to the public to cover?
On the front porch in Paris Township there is also concern about the public cost of this private industry's work.
"What about out nice new roads?" asks Molly Greco.
Water weighs a lot. So do the massive pieces of machinery being trucked to remote drilling sites throughout eastern Ohio. Both can overwhelm small local roads. In some cases drillers are putting up bonds to fix crushed pavement and broken culverts and bridges. But, lawyer Alan Wenger says that far from covers it all for the tax payers:

"In some local government in Ohio they're helpless in this situation. Townships, for example, do not benefit from any permitting or tax type fees charged to this activity. They get nothing. And often these tiny township roads are roughed up. These are major industrial style locations with hundreds if not thousands of tanker trucks going in an out and rigs that weigh unbelievable weights."
The greatest burden on the roads comes from the tremendous amount of water needed for fracking operations. Geologist Neil Wells:
"Typically five million gallons of water are needed for a horizontal well, per well. Basically, we're talking about seven to eight Olympic size swimming pools. So, it's not like Lake Erie…for most of the streams around here that a minute or so of flow. But, it's not inconsequential. You can't just go up to a neighbor and say 'mind if I plug into your tap?" And if you pump it out of the stream all in one go, … a lot of people are going to be very unhappy. And if you pump it out at a rate they don't notice, it's going to take you forever. So they have to make arrangements."
Those arrangements include trucking water in from out of state, where drilling companies like Chesapeake Energy—the biggest of the players in gas exploration in our area—have agreements with commercial water providers. But, the water can come too from deals made with local municipal water agencies, from Lake Erie, and from rivers and streams all over Ohio. In fact, state lawmakers recently approved raising the limits on how much water can be taken from such sources.
In part three of our "fracking" series we'll look at that and other environmental issues.
Friday, July 15, 2011
Environmental issues make gas drilling boom controversial
Some questions have clear answers and others, not so much
by WKSU's TIM RUDELL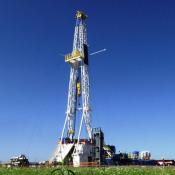 A Chesapeake Energy drilling site in Pennsylvania. The company is now the biggest player in the emerging shale gas boom in Ohio
Courtesy of Chesapeake Energy
In The Region:
Releasing tiny bubbles of natural gas from the shale that lies under better than half of Ohio has also released a whole series of environmental concerns. They range from how much water is needed for the process to what to do with the waste water when it's done…waste water that includes hundreds of thousands of gallons laced with chemicals.
Figuring out the environmental consequences of oil and gas drilling starts with the numbers. How many wells are drilled down into Ohio's earth already; and how many are likely to be in the future. Tom Tomastik of the state's Division of Oil and Gas acknowledges no one is quite sure. "Northwestern Ohio was the initial big oil and gas play. That's where Standard Oil was basically formed and John Rockefeller made his money. There were probably between 80 and 100 thousand wells drilled there between the 1880s and early 1900s." Tomastik's agency is charged with inspecting wells. He estimates Ohio has 200-thousand wells, some dating back to the Civil War--many of which are no longer on a map, or never were.

New Impact
But as numerous as those wells are, they may pale in terms of impact compared to the wave of wells coming online now as part of the shale-gas drilling boom in eastern Ohio. Drilling leases for sites in Stark county alone have number more than two thousand in the past year and half.
Then there are the other numbers that matter. The new wells go down ten to twelve thousand feet to reach shale deposits, turn horizontally, and blast four or five million gallons of water and chemicals into the rock to release gas. Regulations require that protective cement and steel casings extend a minimum of fifty feet below the lowest possible drinking water source.
Landowners and environmentalists worry about those numbers, especially the last one. The worries come out at town hall meetings and smaller gatherings, like on Sally Lytle's Stark County porch, where she is chatting with neighbors. "I want protection more than fifty feet below the water table, because while I know we don't feel it, the fracking is like mini-earthquakes down there and it certainly is going to rattle those pipes. "

Chemical Mystery
An even bigger concern is what is in fracking water. Drillers add chemicals to help make the shale break. Regulator Tomastik and others say the final brew is largely non-toxic, but as much as 5 percent can include potential poisons and carcinogens, like barium and strontium metals.
Lytle and her neighbors are concerned. "Well, how many gallons is five percent of four million gallons? We're not talking about a cup full of these chemicals. We're talking about thousands of gallons." And, just what chemicals are involved is not entirely clear because drilling companies don't have to reveal their formulas, considered "trade secrets." Vanessa Pesec of NEOGAP, and Ohio environmental group formed to monitor the oil and gas industry explains what she and her colleagues see as a big gap in regulations to protect the public. "The oil and gas industry is exempt from the federal clean water act, the clean air act, the safe drinking water act, the toxic release inventory, the resource regional recovery act, and the Super Fund act. They said 'let the states take care of it.' And yet our state has not sufficiently put in guidelines."
Where Does It All Go?

In Ohio, what ultimately happens to the "fracking" water—chemicals and all--when the drilling is done often comes down to three things. Some is recycled, trucked to new sites. Some goes into settling ponds. And some is pumped into deep "injection wells." Those are either old wells that no longer produce gas and oil or new specially drilled ones that go into rock. Ohio has about 2,000 of the wells already, with more scheduled to be drilled. And, because Pennsylvania and West Virginia have few such sites, fracking operations there are sending millions of gallons of their waste fluids to Ohio for disposal. Tomastik says that can't be stopped because it is interstate commerce allowed and protected by federal law. But, Alan Wenger, an attorney who specializes in mineral leasing in Ohio says both production and injection wells are covered by state law. "…Ohio code has remediation and fairly strict requirements for plugging of wells…that is a permitted and inspected process…so there is some protection at the far end.

Definitions

The drilling companies emphasize what they say is the relative safety of their fracking wells, saying there has never been a case of drinking water contamination from fracking itself. But they're fracking narrowly, as just the rock cracking activity at the bottom of wells, thousands of feet below any water tables. What higher up along the well pipe, and to the case, and on the ground above can be another story… as evidence by a blowout at a fracking well in Canton, Pennsylvania this spring. Things can go wrong. Kent State geologist Neil Wells "So, in theory it's a fairly simple, clean, self-contained thing. You've probably heard the expression the difference between theory and practice is that in theory they're the same but in practice they aren't."

Burden of Proof
Thousands of complaints about polluted water supplies have been associated with the horizontal drilling and hydraulic fracturing boom in Pennsylvania where Marcellus shale is even more abundant than in Ohio. But, only a small number of those claims led to settlements. Many things affect water wells—common things around farms for example, like fertilizer--so proving that fracking ruined a well can be nearly impossible. As can be affording the costs of experts needed to investigate. Alan Wenger says landowners can work some protections into their lease deals with drillers. "Contracts that have been agreed to by some of the responsible lessees include reverse the burden. And if there has been an impact on the quality or quantity of the water it's presumed that it WAS caused by the drilling activity. And the which is fairer to the landowner because of the huge financial burden of proving these things."

Deeper Concerns
Private water supplies aren't the only issues that come with fracking. Ohio's GOP lawmakers have opened all state parks and wildlife preserves to drilling – over fierce objections that the move jeopardizes the aesthetics and environments of the parks.
The Legislature also has approved a bill that gives any company the right to draw 5 million gallons a day out of Lake Erie without a permit. It's a big plus for a type of drilling that relies on heavily on massive amounts of water; but other Great Lakes states and even Ohio's former GOP governors say the limit is too high, and too risky.
Still, for Sally Lytle, her neighbors, and hundreds of other residents of southern Stark and northern Carroll County, assurances by the fracking industry are enough for now. They've signed their leases with Chesapeake Energy opening their properties to fracking, and hoping the deals they've made include enough environmental, legal and economic protections to last them a lifetime – and beyond.
Sunday, December 18, 2011
Northeast Ohio tremors raise concern, draw study
Fracwater disposal may be more problematic than fracking itself
by WKSU's TIM RUDELL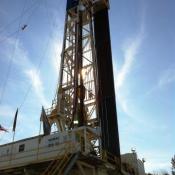 Some rigs for the initial drilling process can soar 90 feet into the air
Courtesy of Rudell
In The Region:
The hunt is on for proof that injection wells associated with the shale gas drilling boom in Ohio are causing earthquakes. WKSU's Tim Rudell has more on what scientists are looking for, and what they're finding.
Fraquakes
That's a made up word. But, it refers to a very real phenomenon; something reported near at least a few of the "injection wells" that gas & oil drillers use to force massive amounts of fluid deep into the earth: the earth trembles.
High pressure injection is used either to "frack"—to hydraulically fracture-- shale deposits by driving water, chemicals and sand into them to break their structures and release trapped gas and oil; or to dispose of the tens of millions of gallons of fracking fluid once the process is done.
In NEO
Near a new disposal well drilled last year outside of Youngstown, nine tremors have been recorded since March of this year. They were very small, no more than 2-point-7 on the Richter scale. The problem is, there were never temblors of any kind in that area prior to the D&L Energy's injection disposal well coming on line.


At first, the Ohio Department of Natural Resources, that investigates such things, said there was no evidence linking the quakes and the well. But, it has now deployed an array of seismographs in the vicinity of the well to study the situation further. Communication's Director Heidi Hertzel-Evans. "There are more than 180 disposal wells in Ohio and this the first time we've had anything like this reported. As we go forward with license requests for other wells, finding linkage here [with the tremors] or not finding it, will give us information on what's known and what needs to looked for."
Confirmed elsewhere
Tremors have been definitively inked to injection wells in other parts of the country. Scott Ausbrooks is Geo-Hazard supervisor for Arkansas' Geologic Survey. A study he led, led his state to declared a moratorium on injection wells over more than a thousand square miles around Greenbriar in central Arkansas. What he describes as an "earthquake swarm"—hundred of small shocks—came about six months after four injection wells went on line there. Like with the survey now underway near Youngstown, Ausbrooks' team put out seismic recorders in the area of the wells. "We established that there was connectivity. Though the earthquakes weren't occurring at the wells themselves, and not necessarily all of them at the depths where the injection was occurring. By the fact that you've got a fluid-filed fractured system, by them pressuring that up that influence transmits through the whole system."
Geology
Ausbrooks says his team's findings may be of limited relevance for Youngstown. Arkansas is seismically active with a lot faults and fractures in the underlying rock that can be affected by fluid injection. Ohio's geology is typically far more stable. In fact, that's what's making our region a magnet for injection disposal of fracwater from surrounding states. A.J.
Track record
Pander, whose company has operated disposal wells in northeast Ohio for nearly 40 years, says here time has proven that injection disposal is safe. "we've been pumping water into our injection wells since the 1970's. They have been monitored, and continue to be monitored. And there has never been any problems, and there are no problems today."
Scientists
Geophysicist Artur McGarr of the U.S. Geologic Survey Ohio may well have a favorable geology for disposal wells. He cautions however, that scientists haven't completed enough research to say with certainty how any particular rock formation will react to dramatic increases in fluid pressure over time.
But, he also says: they're getting there. In fact, this month McGarr and some colleagues are rolling out a new way they've found for reliably predicting not where or when quakes will occur, but how big they'll be. "Data we have shows that there is a connection between fluid volumes and magnitude of any quake. And it holds up over quite a wide range. So, if you give me the volume you're going to pump into the well, I can do a pretty good job of telling what the maximum magnitude of any quake is likely to be."
Small quakes
McGarr's study includes looking at injection-drilling histories over fifty years on four continents, and at projects ranging from gas & oil exploitation here to attempts to tap geothermal heat as an environmentally friendly source of energy in Switzerland. He says with the lack of faults in this part of the country, and the volumes of fluid typical for disposal wells, quakes more than 3-point-5 on the Richter Scale are unlikely. I'm Tim Rudell, 89-7, WKSU.


Tuesday, October 4, 2011
Hundreds of millions of gallons of liquid waste trucked to Ohio
And it may be the best alternative from both business and environmental points of view
by WKSU's TIM RUDELL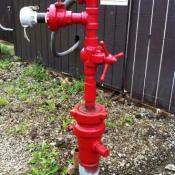 The well. This is the actual well head from which the pipes go into the ground. In this case, it is at the Pander Trucking Co. well near Newton Falls and the pipes run down close to a mile.
Courtesy of Rudell
In The Region:
The shale gas boom in Pennsylvania, Ohio and other parts of the Northeast is generating hundreds of millions of gallons of chemical-laced waste water. It has to go somewhere. And increasingly, that somewhere is here. WKSU's Tim Rudell reports on why Ohio is already home to the third greatest number of disposal wells in the country, and is likely to see many more.
Wells for different purposes

Two kinds of wells tied to the oil and gas boom are cropping up around Ohio. Both are called "injection" wells because companies force a brew of salt-water with detergents and toxic heavy-metal lubricants into them.

The first kind is getting a lot of attention. That's because these wells are the high-pressure paths through which fluid is "injected" to crack apart shale releasing trapped oil and gas. It's a now high-profile process called "fracking," and Ohio is expected to get a big piece of that business.

But, due to Ohio's geology, geography and even its bureaucracy, the second kind of injection well--the disposal well--is also becoming big business here.

Disposal

Once the shale is fractured much of the "fracking fluid" comes back out of a well. Some of that is recycled, but most is trucked to a disposal well and pumped back under ground.

Robert Boyd just pulled up with twelve thousand gallons at a disposal site near Hartville in northern Stark County. "We pick up at wells, and pump the water away from the oil. Then we shut her down, and bring the water here. Where they filter it through the cartridge filters, and the like, and then we pump it back under ground, where it came from."

Boyd is hauling one of the thousands of loads of frac-water going every day to disposal wells around Ohio--where there are 170 of them. That's 10 times more disposal wells than surrounding states have.

Why Ohio

Geology is part of the reason. Ohio has massive sandstone formations thousands of feet down that are said to be ideal for permanent fluid disposal…which is not the case in Pennsylvania, for example. And, Ohio Department of Natural Resources well inspector David Claus says that is why more than half of what is currently being pumped into Ohio disposal wells is from out-of-state. "A lot of the brine for disposal is coming from over there, and we've seen an increase in permit requests for injection wells here in Ohio. With excess water to dispose of, companies are looking to drill new injection wells, and are also converting production wells into injection wells."

Claus's colleague at the Department of Natural Resources is geologist Tom Tomastik. He says the underground formations are part of what's drawing so much waste water to Ohio. But regulatory practices are a factor, too. Unlike most states, Ohio has independent authority to issue permits for wells that can absorb the frac-water.

Primacy

That's an authority usually reserved for the federal EPA. But in1983, Ohio came up with a program that it said meets or exceeds federal regulations and Washington gave Columbus what's called "primacy:" the authority to do its own permitting. Tomastik offered an example of how state standards sometimes exceed federal ones. "We do what's called continuous mechanical integrity monitoring. Pipe that you are injecting through is set and sealed to make sure the injection fluid does not migrate. And, the U.S. EPA only requires mechanical integrity testing every five years. We're doing this continuously."

Faster permit processing

But, what makes Ohio's primacy attractive to well-drillers is that while the state typically takes two or three months to say yes or no to a permit request, The federal EPA takes up to two years.

Environmentalist Perspective

Dave Simons is a northeast Ohio environmentalist and member of the state Sierra Club.

He acknowledges the shale-drilling boom is not going away. So he says environmentalists need to focus on the best way to manage it – including the waste water. And he says most experts he's talked with agree that injection wells are the best way. His problem, though, is that all injection well are not – by definition – equal.

Ohio allows five classes of wells. Class 1 wells are for hazardous material and have the most rigorous safety designs. Class 2 wells are for things like frac-water, and are less heavy duty. But Simons is concerned that the state won't have the manpower to watch over the potential surge in disposal activity at those wells. "Due to the huge volumes that are expected—billions of gallons from thousands of wells—Ohio Department of Natural Resources might not effectively and properly permit and manage waste water disposal. So, we feel that fracking waste ware should be disposed of in Class 1 hazardous injection wells…that have numerous additional safeguards."

There can be a lot to it

The wells themselves are not the only concern tied to getting rid of fracking's leftovers. Bernard Goldstein is an environmental and public health sciences professor at the University of Pittsburgh. He says there is an entire system to consider. "What I would like to see is a more holistic approach to the issue. So, for example, if we're going to be trucking these large volumes long distances, and you're looking at comparative safety, you should look not just at the technology, but at things such as the likelihood of truck accidents."

Disposal well operator

R.C. Pander runs a disposal well operation in northeast Ohio. He says he has small children of his own so he is keenly aware of environmental questions, and supports continued research. But, he believes injection disposal is the one part of the process that's proven. "It's time tested, and it works. Water has been injected into our first well since the '70s. It's still taking water today. And, there are no problems there. It's monitored. Historically there've been no problems; and there are no problems today."

Economic benefit

Pander says the drilling boom is already helping local small businesses. His own workforce has gone from 23 to 35 in the past year. Gov. John Kasich is touting an industry study that predicts fracking will be worth billions of dollars and more than 200-thousand jobs to Ohio by 2015.
Page Options
Print this page
---
---