Ice Age Ohio
Mountains of ice covered Ohio in the Pleistocene - known as the Ice Age. Then, 14,000 years ago, the earth gradually warmed and the glaciers retreated, leaving behind a landscape similar to modern day Alaska.
Spruce forest, bogs, and grassland covered the state, attracting herds of mammoth, mastodon, and an odd herbivore called the giant ground sloth. It was as big as an ox, weighing more than a ton -- shaggy like a grizzly bear and armed with 7-inch claws.
The ground sloth sat on its haunches, using its claws to pull down branches and munch on leaves.
Now, for the first time, there's evidence it was on the menu of the people who inhabited the Ice Age.

Sloth for dinner 14,000 years ago
"We call them Paleo-Indians, meaning ancient Indians. We believe the earliest ancestors of modern Native Americans."
Brian Redmond, curator of archaeology at The Cleveland Museum of Natural History, says hunters either killed, or came across a dead ground sloth, and set to work butchering it using stone knives. They left behind 41 tell-tale cut marks.
"This was a bit odd because there are so many marks on this one bone, but I think it reflects the fact that they're cutting very heavy, thick, fibrous tissues right around the knee and having some difficulty doing it. And then there was just a lot of meat on this bone."
Redmond holds a flint knife found at another prehistoric site in Ohio. He says the shape of the cuts on the ground sloth thigh show they were made by a similar tool, not modern metal blades.
"Stone tool marks reflect the uneven edges of the tools. So as it's drawn across the bone in the effort of cutting meat, the marks look different than metal marks."
Redmond says an analysis of the marks through an electron microscope confirmed this. Radiocarbon analysis gives it the precise date range of 13,568 years ago, give or take 150 years.
"And what's rare in archeology is to have something like this where you can see what is actually a moment in time."

From bog to attic
But how did the bones end up in the attic of the Firelands museum?
Redmond also solved that mystery.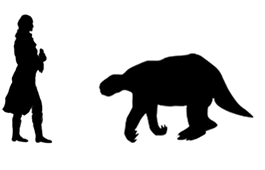 He found a scientific paper published in 1915 that mentioned sloth bones discovered by a college student named Roe Niver in a swamp in Huron County. Someone gave the bones to the museum, where they sat in a box until around 2004. That's when a curator at the Firelands Museum came across them while cleaning.
In Redmond's final bit of sleuthing he traveled to Huron County where he found the old Niver family farm.
"And on that very property is a bog … which would have been the right sedimentary context for these bones to be preserved in."
Bits of soil still trapped in the sloth bones matched those found in the Niver bog.
The find is the oldest evidence of prehistoric hunters in Ohio, and the only example of people eating giant ground sloths. Redmond's work is published in the most recent issue of "World Archeology."
I'm Jeff St.Clair with this week's Exploradio.