Economy and Business



Thursday, February 28, 2013




Northeast Ohio's auto rebound continues




More than a decade of job loss and idling is slowly reversing


by WKSU's KABIR BHATIA


Reporter
Kabir Bhatia
Two of the Vetalice brothers' restored Mustangs in front of the Brook Park Ford plant where their father worked for 31 years
Courtesy of K. Bhatia
Download (WKSU Only)
Northeast Ohio's auto workers have gotten some important projects from GM and Ford in recent years, helping the recovery of the state with the second largest industry sector in the U.S. But as WKSU's Kabir Bhatia reports, the rebound is far from complete.
The Cleveland Auto Show. Throbbing music and hundreds of gleaming cars fill the sprawling I-X Center. Potential buyers are scoping out potential rides for styling, gas mileage, price --and origin. High school teacher Tom Pokorny of Chardon peers under the hood of a Jeep, built in Toledo.

"We're sticking with American. My whole family buys American. We have the Chevy Cruze, we have the Mustang, and we have a Jeep Wrangler and a Chevy Cobalt. So we believe in American; it's the best" says Pokorny, adding, "I'm a teacher and when the jobs disappear, so does my job. So we're very conscious of that."

His sentiments are matched by many of those at this week's show, especially given that the steady decline of auto jobs is finally turning around.

Half-way there
In 1999, Ohio had about 153,000 auto jobs, the most in the past 30 years. By the time of the 2009 auto bailout, we were down by more than half, to about 71,000. But even as it headed through bankruptcy, GM committed to Northeast Ohio, pledging a $350 million retooling of its Lordstown plant to build the Chevy Cruze. Today, the Cruze is one of the best-selling cars in the U.S. UAW Local 1714 Vice-President David Greene says his membership has ticked up since then.

"Right now we're running three shifts, five days a week. There's a sense of security right now, some longevity" says Greene. "We feel pretty confident that as long as the economy stays in the position it's in, that our workers are going to be working for decades, that the next-generation vehicle has already been announced to come to Lordstown. We know that we have some work to do to get it right, but we are gonna have work. So that's the good thing."

Ohio has gained back more than 5,000 auto jobs since the summer of 2009. But the Center for Automotive Research points out that many of those positions are at Honda plants in southern and central Ohio.


An EcoBoost from Ford
Northeast Ohio lost a Chrysler plant in Twinsburg, and two Ford plants and parts of a third. But the blue oval has pledged more than a quarter-billion dollars to its Brook Park facility near Cleveland Hopkins airport to build fuel-efficient EcoBoost engines. Employment at the plant, which sprawls over 86 acres, will be back up to about 1,500. And some 450 of those jobs will be tied to building an engine that has been produced in Spain and is selling well here under the hoods of Escapes and Tauruses. Rod Lee is the Brook Park plant's health and safety rep, and he considers the EcoBoost a form of job security.

"In my mind it's like hitting the lottery," Lee says. "It's going to allow me to retire. It's going to perpetuate a way of life that's dying out in this country.

"You hear a lot of talk about hybrids and stuff. But we're going to sell 800,000 of these, and each one is going to produce 20 percent fewer emissions. It's going to get better gas mileage. Gas is going up, but the car you buy this year, next year, going forward, is going to go farther on that gallon of gas. So really, we're helping mitigate some of the effects of the economy."

A new diesel
With gas mileage headlining this year's auto show, Chevy introduced a European-sourced diesel engine, to be installed in Cruzes at Lordstown. GM has a checkered history with diesels and hasn't offered them to retail customers since 1986. But industry analyst Michelle Krebs of Edmunds.com says this time things will be different.

"This engine's been running around in Europe for a long time. I drove that version, and I was totally impressed. I drove it through the mountains of Switzerland. It was incredibly powerful and extremely quiet. You could roll down the window and you could not tell it was a diesel engine."


Installing those engines won't initially create any jobs, according to the UAW's David Greene. But he says it will give workers a new skill set. Right now, he says Lordstown is running at capacity with about 3,400 workers.

But, even while Brook Park was celebrating Ford's EcoBoost announcement last week, there were reminders of another day.


Cleveland power
Some 16,000 people used to work at the complex, which included a foundry and another plant that spread out over more than 200 acres.

Fresh out of high school in the summer of '76, Joe Vetalice was one of those employees.

"I started on my 18th birthday, May 5th. I think I had only two days off the entire summer. That's how we were working: seven days a week, overtime almost every day."

And his father was at the plant for more than 30 years before retiring in 1981. Today, Vetalice and his brother, Mike, restore classic Mustangs in their garage, often with a legendary hometown power plant under the hood.

"The Cleveland motor, it had that mystique because it was good. There was a lot of speed parts made for it. It was a better running engine, better ports, better design."

The 351 Cleveland engine put Brook Park on the map in the muscle-car era, and it's still sought after today. Working with the Mustangs gives the brothers a connection back to their father, and Ford's heyday. Mike Vetalice has watched the decline of industry jobs in Northeast Ohio, and the closure of parts of Brook Park, in recent years.

"The biggest problem in this area is that we're geared automotive. The foundry was the largest production foundry east of the Mississippi. We lost that. And bringing the jobs back for building the new engine is great and all, but the thing I see happening here is we're losing that middle-class. There's so many smaller suppliers that used to supply the foundry."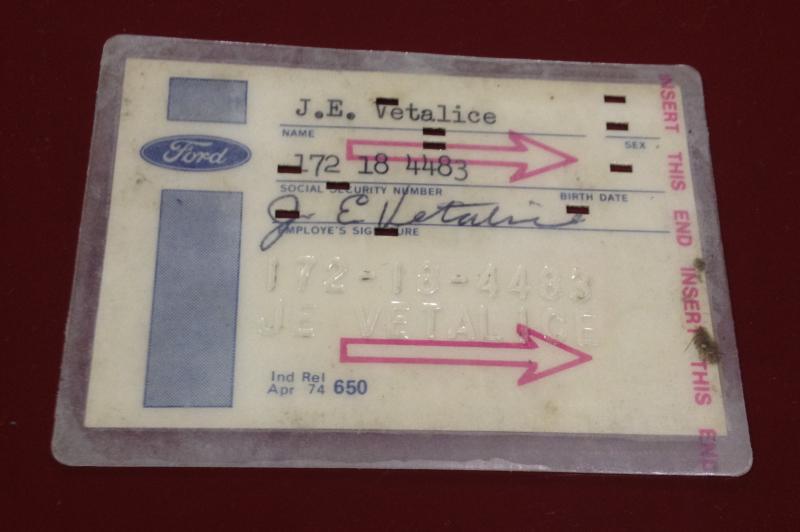 The Center for Automotive Research estimates each auto job in Northeast Ohio spins off or supports 2.5 other jobs. Brook Park union reps cite a number closer to seven or eight spin-off jobs. Either way, today's 2.0-liter EcoBoost may not sell any muscle cars 40 years from now, but it, and the Cruze, are fuel-efficient signposts on the road to recovery for Ohio's auto industry.
Page Options
Print this page
---
---