About 150 years ago, a colony of bees changed Medina, Ohio, forever when they flew past a jewelry store on the town square.
Bee Culture Magazine Editor Kim Flottum says the store owner was a German immigrant named Amos Ives Root. What Root saw that day led to A.I. Root becoming the biggest honey packer and bee-keeping supply manufacturer in the world.
Fascinated by the swarm
"A swarm went by his office and he challenged one of his employees to capture the swarm thinking that it would be impossible to gather a bunch of bees. Well, the employee happened to be a beekeeper,' Flottum recalls. But the employee was a beekeeper and within 15 minutes captured the bees in a box, which he brought back to the jewelry store.

"And that's where this story starts. He just became fascinated with them."
Susan Schmidt understands that fascination. She has a farm and a wildflower honey business in Medina. She joins us in the A.I. Root beeyard to talk about losing half of her bees. She says they just vanished from their hives. But she's determined to stay in business.
"I love the bees. There's nothing more magical than on a warm afternoon just sitting there and watching the bees.
And the coolest thing is when they swarm."
Northeast Ohio beekeepers wonder where the bees are
What's not cool, though, is when they fly away and perish. Bee Culture Magazine has been chronicling a disaster.
"It's a little early in the season but probably between 40 and 50 percent of the bees in this country are dead now, and by May it may be over 50 percent."
Flottum says it's normal to lose some bees by spring, perhaps 5 or 10 percent. Sometimes, that's because a beekeeper fails to leave enough honey in the hive over an especially cold winter.

But, as Flottum pries open one of the Medina County Beekeeper's Association's hives, he sees that's not the problem here.
It's not for lack of food
"This colony definitely did not starve to death. There's about 70 pounds of honey sitting on this. It's just they went out and didn't come back and this is what's left" of the roughly 30,000 bees that were here six weeks ago. "They're just gone. And this is the symptoms we're seeing from California to Maine this year."
The Medina Beekeepers Association conferred about it recently.
"A week ago, we asked that question, 'How many people have lost bees since the first of the year. And everybody in the room raised their hands."
A Universal problem
It's a worldwide problem. This weekend, a documentary titled "More than Honey" screens at the Cleveland International Film Festival. The beekeeper in the movie had trucked 4,000 hives from Texas to California. He'd hoped to earn $150 per hive renting out his bees to pollinate the almond groves. But before the pollination could be completed, his bees got sick and died.
"This hive has made exactly zero honey. Look at this queen. ... You see her wings. They're all tattered. They're worn out."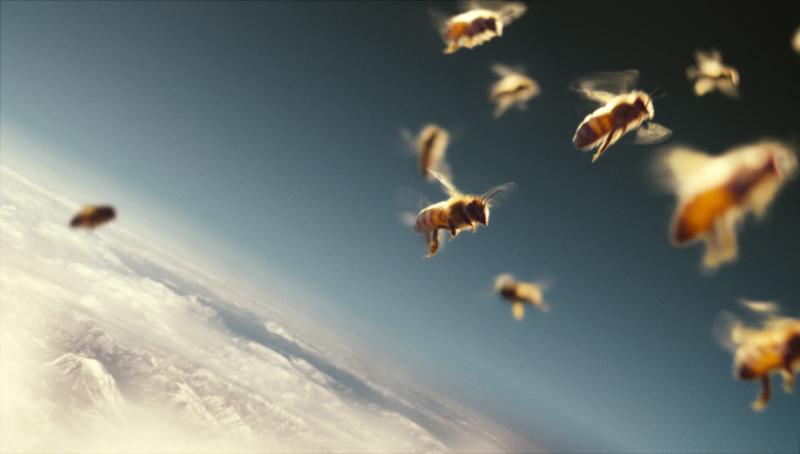 Maybe the bees have been working too hard. Flottum says these busy little creatures are in high demand.
Perhaps too busy
"Half the bees in the U.S. were in California last month pollinating the almond crop. That's half the bees in the U.S. on one crop. So you have to have healthy bees and right now we don't have healthy bees.
"The almond people are scrambling to try and help us figure out what's going on."
He says it could be viruses, or bad foraging weather, the hard winter, the chilly spring -- or a disease called nozema, which attacks the bee's digestive system. Or it might be the varroa mite.
"That came from Mexico and that's like a hot knife through butter and it has been a scourge for 20 years."
The pesticide industry points to other factors
"The varroa mite tends to be the No. 1 enemy of beekeeping," says Ian Kelly, a spokesman for German-based Bayer, maker of a strain of pesticides called neonicotinoids that environmentalists say may be the bees' new No. 1 enemy.

Bayer blames varroa. But a Harvard study published last year blames neonicotinoids.
And the European Union now bans the use of the pesticide on plants that attract bees, including maize, sunflowers, cotton and rapeseed.
Bayer's Kelly points to studies that shows "neonics," as they're called, are safe if used properly.
"There are things that growers can do that can protect bees. And making sure that we have the right stewardship in place and the right products in place is really a big part of our business."
It only takes a little bit to hurt the tiny insect
Corpses of bees that die during corn-planting season have been found to contain traces of the pesticide. Flottum says that's all it takes.
"It's not a problem for people, for mammals of any kind. But for a tiny little bee, it's just enough to challenge their immune system, just enough to get them sick, just enough to make life miserable. And they don't come home."
Susan Schmidt doesn't know for sure that pesticides are the culprit, but she's taking precautions.
"I'm actually trying to locate my yard on the edge of development where there are large tracts of land that aren't developed yet ... and away from conventional agriculture. The bees I have that are doing well are down in Amish country and on organic farms."
Why it matters even if you're not mad about the bees
Per capita consumption of honey in this country is just over a pound. But maybe you don't need a pound in a year. Maybe you don't even like honey. Why should you care where the bees are?
"Do you like almonds?" asks Kim Flottum. "Almonds, apples, cherries, cranberries, blueberries, all (are) crops that honeybees pollinate on a commercial level." He says the value of crops bees pollinate each year is about $12 billion and "about a third of your diet."
The film "More Than Honey," showing tomorrow and Sunday at the film festival, quotes Albert Einstein.
He said, if the bees die off, humans will, too, within four years.
And that's this week's Quick Bite.
Next week we're going to a farm near downtown Akron to talk about the rapid growth of urban agriculture.