Historic church inspires creativity
The view is majestic as John Nottingham, co-founder of Nottingham Spirk, leads me into the pulpit of the former First Church of Christ, Scientist with its 40 foot ceiling and 22 glimmering chandeliers.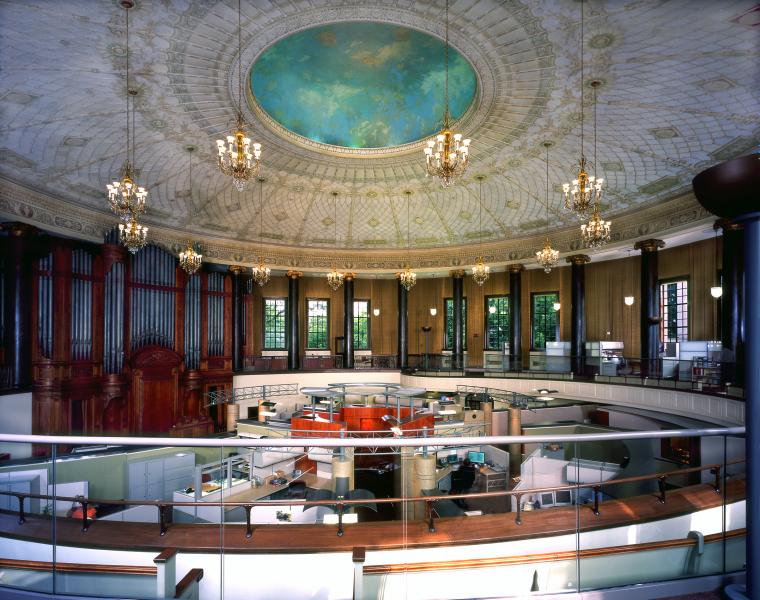 Overhead, an off-white dome surrounds a painting of calm blue sky and wispy clouds. A balcony embraces the former sanctuary, looking down onto a maze of cubicles where orderly rows of pews once sat. "Church architecture," says Nottingham, "is designed for inspiration."


A Beaux Arts prototype
Nottingham, and partner John Spirk, founded their design firm 40 years ago, both fresh out of the Cleveland Institute of Art. In 2005, after an eight million dollar renovation and a healthy dose of historic preservation tax credits, they moved their 70 employee company into the empty church with the blessing of the dwindling Christian Science congregation.
It was built in 1930 by the architects designing Severance Hall as a prototype for that building's Beaux Arts style. And like that space, Nottingham says the Christian Science church still perfectly suits its purpose. "A well-designed church," he says, "allows your thoughts to go beyond yourself. When you innovate it's the same thing."
The church is built on a bluff overlooking Case Western Reserve University and sinks five stories into the hillside. The domed work area is the creative cauldron where designers and engineers intermingle and distill ideas, but Nottingham has more to show me.
The architecture of vertical innovation
A high-tech machine shop occupies one of the lower floors. Like Santa's elves, machinists down here build the prototypes that designers under the dome dream-up three floors above. On other floors, focus groups are brought in to test the products and give feedback. Customer insight people interpret the results, marketers work out the branding, and engineers work out the kinks.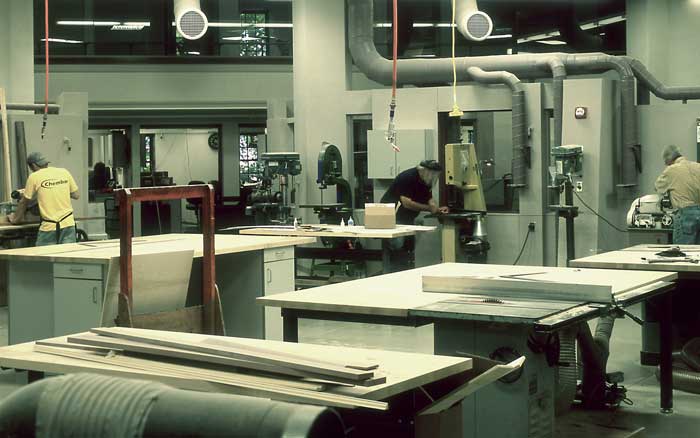 This intermingling is all part of Nottingham Spirk's trademarked concept of vertical innovation that John Nottingham says collapses the time-table for new product design. "We all communicate during the day," says Nottingham of the concentrated interaction between every level of the process. In vertical innovation, he says, "engineers talk to the designers, the designers talk to the prototypers, and we've concentrated our innovation process to the point where we can do it in half the time."
1000 stories on the wall
To illustrate his point, Nottingham shows me a room covered with small golden plaques. "This is our patent rotunda." It sits at the base of the church's bell tower. Nottingham says each patent plaque has a story to tell. There are in fact a thousand stories here. He points to the patent for the Swiffer sweeper vac that Nottingham Spirk designed, the Sherwin-Williams easy pour paint can, the Schick Quatro shaver, the Dirt Devil hand-vac, the first toys for Little Tikes, and dozens of patents for high-tech medical devices.
Nottingham is very proud of each patent. "These," he says, "are my babies." Nottingham's goal is to beat Thomas Edison's tally of 1,093 patents filed with his Menlo Park group. He estimates they'll surpass it in about five years' time.
The Jazz Bowl
The final stop on the tour is the office Nottingham shares with Spirk. He points to a large blue punch bowl inside a glass case next to his desk.
It's a rare work of art by sculptor, artist, and educator Viktor Schreckengost. Nottingham calls the Jazz Bowl, "the quintessential art deco piece of its time." Schreckengost designed the Jazz Bowl for Eleanor Roosevelt. Only about 50 were made, about a dozen survive. Nottingham's is hand signed by Schreckengost.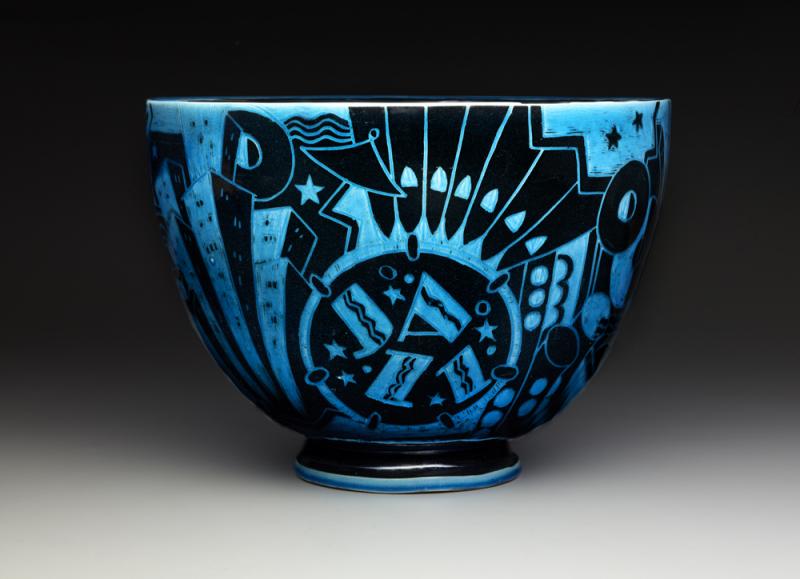 Nottingham, and partner John Spirk were both students of Schreckengost, who created the country's first industrial design school at the Cleveland Institute of Art. He was their mentor and one of the reasons they built their company here. "That's the kind of giant's shoulders you stand on, and we're very lucky to have that here in Cleveland."
Creative design can seem like a nebulous concept, but in their church of innovation, Nottingham Spirk has refined it into a vertically aligned process that combines architectural inspiration with a personal connection to Cleveland's design history.