Arts and Entertainment



Thursday, April 18, 2013




Superman still soaring at 75




Cleveland-born superhero debuted on the cover of 'Action Comics #1' on April 18, 1938


by WKSU's KABIR BHATIA


Reporter
Kabir Bhatia
Collectors estimate that 200,000 copies of the first 'Action Comics' issue were printed, but less than 100 survive today. One recently sold for $2.2 million
Courtesy of DC Comics
Download (WKSU Only)
The Man of Steel turns 75 today. Superman -- created by a pair of Cleveland teenagers -- debuted on the cover of the first issue of Action Comics on April 18, 1938. An original copy recently sold for upwards of $2 million. WKSU's Kabir Bhatia reports on how Superman has changed over the generations.
There were 11 short stories in the first issue of Action Comics, including "Scooby, the Five-Star Reporter," "Zatara, Master Magician" and of course, "Superman."

On the cover, bad guys fled as the Man of Steel smashed apart what looks like a green Buick. The story grew out of Jerry Siegel's and Joe Shuster's plot-line of the man from planet Krypton. The Glenville duo weathered rejections and refinements of the character, eventually signing up with National Allied Publications, the predecessor of DC Comics. They signed away their rights to Superman for $130, plus a contract to continue working for National Allied.


Mike Olszewski is president of the Cleveland-based Siegel & Shuster Society and says, without knowing the legal battles that lay ahead, the two teenagers were happy to get their creation to a larger audience.

"The first issues of 'Action Comics' actually took place in Cleveland. He took on social issues: abusing husbands, average criminals, [and] he worked for the 'Cleveland Star' back then. And they decided he's a much bigger character than just to be restricted to Cleveland."

Selling faster than a speeding bullet
Action Comics quickly became a million-selling title, a Superman radio show debuted in 1940 and gave way to George Reeves' TV series in the '50s. By then, Siegel and Shuster had left National Allied. They worked on-and-off in the biz for years, sometimes under pen names, while pursuing legal actions against DC.

Flying on film
They were eventually recognized with a byline and pensions in the mid-1970s, just before the first Superman film starring Christopher Reeve was released.

The film franchise gave the Man of Steel a huge popularity boost at age 40, but Olszewski says Superman's appeal has proven timeless.

"His costume has changed over the years. He's gotten more powerful [and] he's gotten less powerful. It changes along with the attitudes of the public. I mean, we became a lot more socially conscious in the 1960s and '70s. The next 75 years? Quite honestly, he will keep changing."

What does it feel like to be 75?

David Hammes of Hudson can be found biking, kayaking or swimming pretty much daily. With perfectly parted hair and a strapping physique, he has some advice on how to remain ageless for three-quarters of a century.

"Anyone, at any age, can start getting in a routine. It's a habit. If you don't exercise -- try it. If you aren't eating well – try it. You just have to find out how good you can feel."

Hammes' kryptonite may be ice-cream, but he says when it comes to lifting trucks, "If I have the correct leverage, yes, but this Superman really needs a car jack."

Despite being a senior citizen, Superman still sells well in comic book form according to J.B. House of Last Exit Books in Kent.

"There's always the adamant fans," House says. "It's always interesting with all the different stuff – movies, TV shows, everything going on and on – that still, after 75 years, he's interesting people and keeping them coming back for more."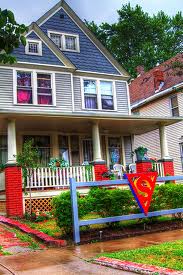 Hometown heroes
Today is Superman Day in Cleveland, and the Terminal Tower will be decked out in red, yellow and blue. A permanent exhibit on Superman opened at Hopkins Airport last fall. A new book called "Superboys" comes out this summer from Case Western Reserve professor Brad Ricca. And Ohio also plans to offer license plates with the Superman shield later this year, an honor previously reserved for the likes of the Wright Brothers.






BBC's "Arena" profiles Superman, Siegel and Shuster...


Christopher Reeve re-creates his audition for "Superman"...



A trailer for the first "Superman" film in 1978...



A moderately successful 1966 musical becomes a hilariously camp 1975 TV special...




Page Options
Print this page
---
---