Learning through virtual complications
Amy Natsis demonstrates the value of practice at the Cleveland headquarters of Simbionix. She uses this simulator to train OB/GYN's and urologists how to use the tools of their trade. Suddenly a cloud of blood fills our virtual uterus. As in the real world she says, "things can happen." The tension mounts as the computer issues a warning about the patient's blood pressure falling. She asks, "what would you do now in this situation?"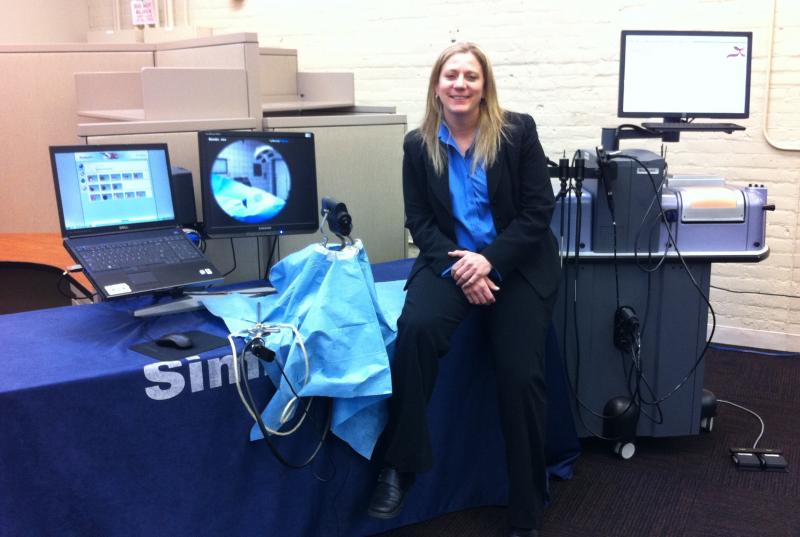 I'm wondering if this thing has an off button. Luckily, Natsis has done this countless times and knows just what to do. The simulator allows doctors to experience real-life complications like this without real risk. Natsis speaks for a lot of patients when she says, "We don't want them to learn on us."


Cleveland attracts world headquarters
Simbionix also makes simulators for knee surgery, colonoscopies, laparoscopic surgery, and about a half-dozen other specialties.

Founded in Israel in 1997, the company moved its headquarters to Cleveland about ten years ago. R&D remains in Israel. General Manager Paul Jensen says funding from the local venture capital groups Early Stage Partners and BioEnterprise, is part of what brought them to Northeast Ohio, "and the Cleveland Clinic and University Hosptials."
Jensen says Simbionix simulators are being used not just for training, but also to help a surgeon plan and practice a complex procedure before doing it on a live patient. The ANGIO simulator downloads a CAT scan of the patient, and the surgeon can actually rehearse,"on the patient's anatomy."

Like learning to fly an airplane, surgery takes practice
Procedure rehearsal studio manager Tom Andersson and application specialist Virginia Budzinski are my assistants as I try to fix a very scary looking aneurysm in a 77-year-old male patient.
I prod a long thin plastic wire into the mock leg in front of me, and I notice there's lots of resistance. Andersson says the simulator has a good haptic feel, which means it's very lifelike. That explains why I cringe as I push the wire deeper into the 3-D image of a real-person's CAT scan, even though I know it's a computer simulation. Andersson tries to talk me through it, by describing the tortuosity of the iliacs. I pause for a moment to absorb the phrase, tortuous iliacs, when he reminds me the patient would us like to wrap things up.
Budzinski takes over and successfully places stents inside the patient's ballooned aorta. I'm relieved it's over. Tom Andersson says it's exactly the kind of rehearsal you'd like a surgeon to do before you actually go under the knife. He gives the example of pilots spending hours and hours in front of simulators,"before they get their hands on a new plane." He says the angioplasty simulator allows surgeons, "that same basic capability."

The new norm in surgical training
Physician Ed Ferris trains OB/GYN residents at Summa's Akron City Hospital. He says tradition prevailed when he was learning his art, "there were definitely no high-tech simulators in my day." He says not that long ago the old teaching method still held sway of, "see one, do one, teach one." Ferris says his residents have been learning on the Simbionix simulator for about five years. He says they spend hours in front of the simulator before touching a real patient.


Ferris says the hand-eye coordination takes practice. He cites a study that showed teenage video gamers do better on these types of simulation equipment than some brand new interns because of hours spent using game controllers. The same is often true,he says, of musicians who become surgeons.

Ferris says although it's not the way he learned, he says today's residents are better prepared for surgery thanks to simulators.