Rubber is critical to modern life. Whether for advanced surgery or retreading tires, the need for it is everywhere and ever-increasing.
Supplies are not. And Katrina Cornish, a crop scientist and expert in natural rubber production, says that's problematic for us. First, because rubber trees, the source of almost all natural rubber, don't grow here; and second, because the trees do, almost all, grow in Asia.

"The development of India and China is drawing down the rubber supply so much that production is having a very hard time keeping up with demand," Cornish says. "It is essential to transportation, defense, national security, medicine. We are in a very sensitive position."
New market
Cornish believes she and her colleagues at the Ohio Agricultural Research and Development Center in Wooster have "sorted out" how create a new domestic supply. They've studied and cultivated a special variety of dandelion in its roots that produces latex, the stuff of natural rubber, in surprisingly large amounts.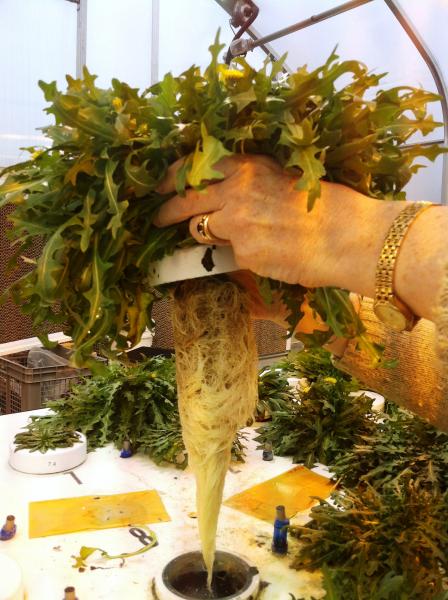 At the end of last year, they finished a pilot factory for making the root latex into products, such as rubber gloves. And next month, they're planting their first major crop of the dandelions in local fields, something Cornish hopes will kick off a robust new industry.

"I think we really should be pushing these crops until we make the U.S. self-sustainable, and an exporting country."
Jobs
That could mean jobs: an estimated 5,000 farmers and processing and transportation workers for every 50,000 acres of dandelions planted. By way of perspective, 50,000 acres is just one third of one percent of Ohio's nearly 14-million farm acres.
Tom Waltermire, who heads TeamNEO, the non-profit that promotes northeast Ohio as a place to build and expand businesses, says the front end of the new industry is where growth will likely come.

"From an economic development standpoint, you're going to have farmers adding acreage, or transitioning and rotating crops; which means you have a more diverse agricultural base," Waltermire says. "Then you need a whole new infrastructure for gathering and processing these plants. ... You have to hire people to run them."
Tire manufacturing
Could the emergence of Ohio as a source of raw rubber bring back the tire industry?

Cornish says not tire factories so much, but in terms of tire makers creating jobs here by buying Ohio-produced rubber, yes -- especially because natural rubber is now broadly preferred over the synthetic compounds.

"They're all very interested in sustainable tires, Bridgestone, Koyo, the Japanese are all very rapidly moving away from the synthetics."
Pilot facility
Tom Waltermire says there are other important possibilities beyond tire building.

Cornish tours the new 6,000 square foot pilot processing center in Wooster and agrees.

"We can make food-grade inulin (a starch) as a co-product," she says. "In fact, our pilot plant does do that. That's got quite a nice ticket value; $3-a-pound or something like that. The rest of the biomass we can convert to energy."
Cornish points to other dandelion-based items, ranging from a simple hockey puck to what looks like an exotic form of rolled-out pizza dough. She says the potentials are myriad.

"Suppose we have a terrorist attack with Ebola? How are you going to get the room clean? Paint out the room with a latex coating that will cure at ambient temperatures.And then when you're done, you peel it off and throw it in the incinerator."
One big reservation
With all the possibilities, a question still looms. These remarkable dandelions are native. They're from Kazakhstan. So they carry a big question: Will they be an invasive species?

According to Cornish, studies so far says no -- and the "so far" has been a good while.

"In World War II, they were planted in about 70 sites all across the U.S. willy-nilly, with no consideration. And we have no indication of invasiveness. The pollen isn't able to cross with the common dandelion.But, it's a good question and a question that has to be thoroughly addressed."
Meanwhile, several full fields are going into cultivation with the special dandelions in about two weeks. Project backers expect that to spark creation of as many as 250 jobs by the end of 2014; and a lot more in the years after that.