People of all ages are gathered in the large room at the Salvation Army center on Wooster Road in Barberton for a free hot lunch. Some are here because floods have driven them from their homes.

Salvation Army Lt. Brad Moore says the agency is providing daytime help and buses to take people to the Red Cross shelter for overnight stays.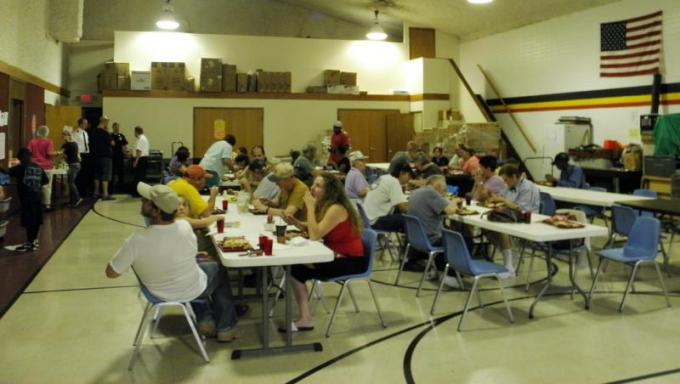 "We're trying to be able to get resources for flood cleanup kits so that they can get their houses back in order and salvage what is still salvageable."
Wolf Creek overflowed its banks and flooded at least a dozen homes. Residents say it's happened before but not this badly. Salvation Army Maj. David Dunham expects it could take days to get people back into their homes, if they're lucky.
"A number of people were staying in motels. They're not going to be able to go back to those motels."
Among them...
Bob Noda is one of those people who lives at a motel. He woke up to find water in his bedroom and his new electric wheelchair sitting in it.
"I just bought a $20,000 chair and it's blown up because I sat in about this much [a foot high] water."
Authorities evacuated him not with a boat but with a front-end loader. Noda sat in the bucket as it drove through water 2 to 3 feet deep.
David Williams has a similar story. He saw water on his apartment floor and began barricading his door with towels. Then he looked outside and saw the water was as high as window sill.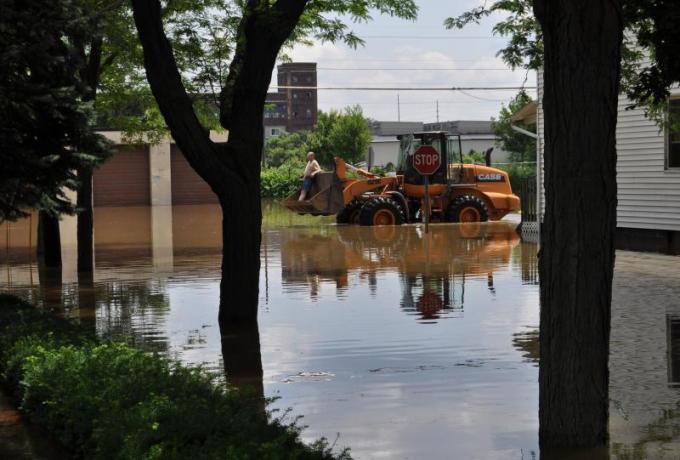 "When the Fire Department got there, I was going to climb out the window. But they opened the front door and all that water came in, like dam busting." Williams has a paralyzed leg and had to wade through the water for two blocks to before getting to dry land.

Staying put, but for how long?
A number of residents are staying in their homes, even though their basements are flooded. As a front-end loader with a man in the bucket went driving along 14th Street, Richard Johnson went canoeing down Shannon Avenue. Johnson has seen this flooding before but not this deep. He's been visiting neighbors who might need help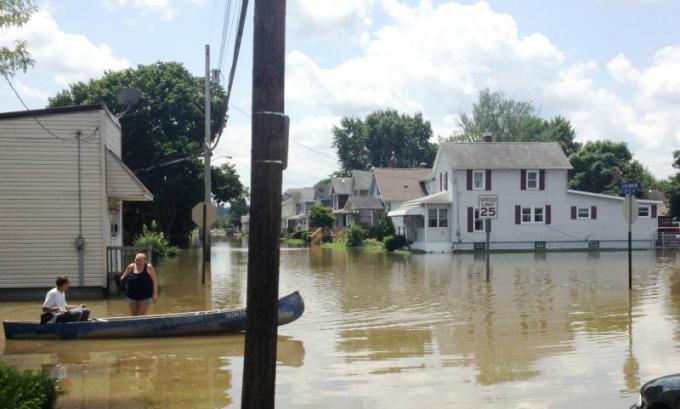 .
"I'm moving, yes. After 10 years, I've had enough."
Johnson's neighbor Heather Furman says her basement is flooded up to her neck and her family is running pumps in a losing battle to clear it out. She's ready move, too.
"We've had enough," she says. "This is like the third time. Everything is ruined again. We've definitely had enough."
A quick learner
Back at the Salvation Army, young Lt. Brad Moore, a Cleveland native, is trying to get used to his new surroundings.
"I just got out of the Salvation Army training school, so this is my first appointment. Me and my wife are excited to be here. ... We just got here Monday."
Many streets around 12th street NW between Wooster Road and Hopocan Avenue remain closed due to the high water.