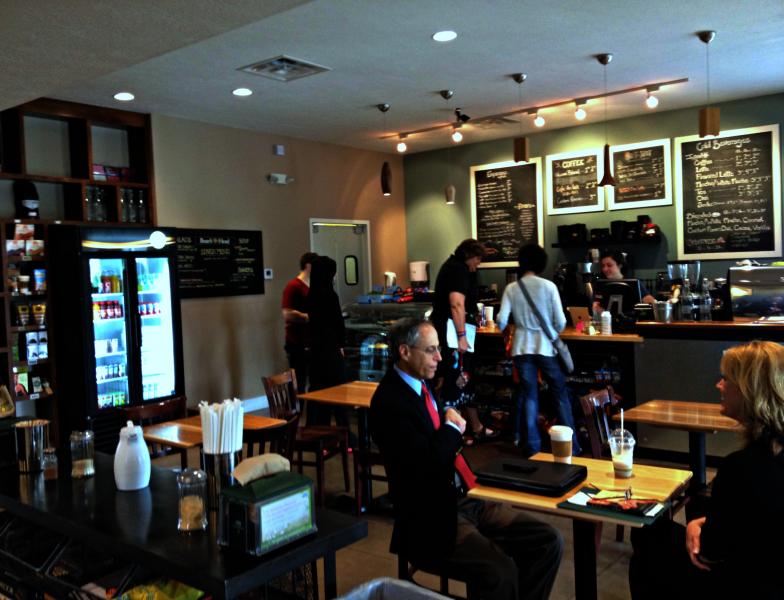 Every week since he opened Four Kids Coffee in April, Jason Sackett brews about 35 pounds of coffee.
He's a purist, trained at the American Barista and Coffee School, and his coffee comes from places far more exotic than North Canton.
"From Ethiopia, Bolivia, Sumatra, it really just depends on what's in season.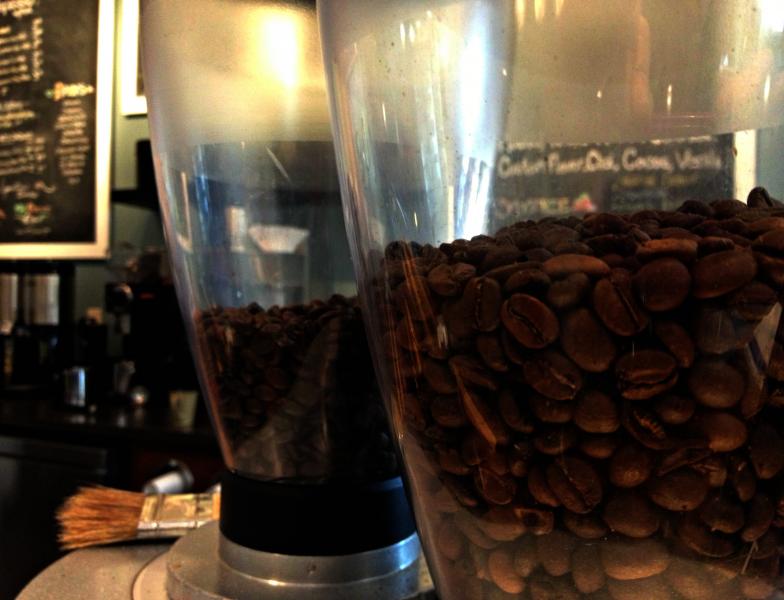 The coffee we selected in part because it's going directly to the farmers. ... Farmers are getting the maximum amount of money for their coffee."
But Catherine and Jason run more than just a coffee shop. It's an oasis for parents like the Sacketts whose kids suffer from food allergies.

A haven from allergens
"I think coffee shops naturally create a community," says Catherine Sackett. "But when you're in that allergen community there's a lot of comfort in knowing other people go through the same thing."
The Sackett family has gone through a lot. Especially the four kids. Victor is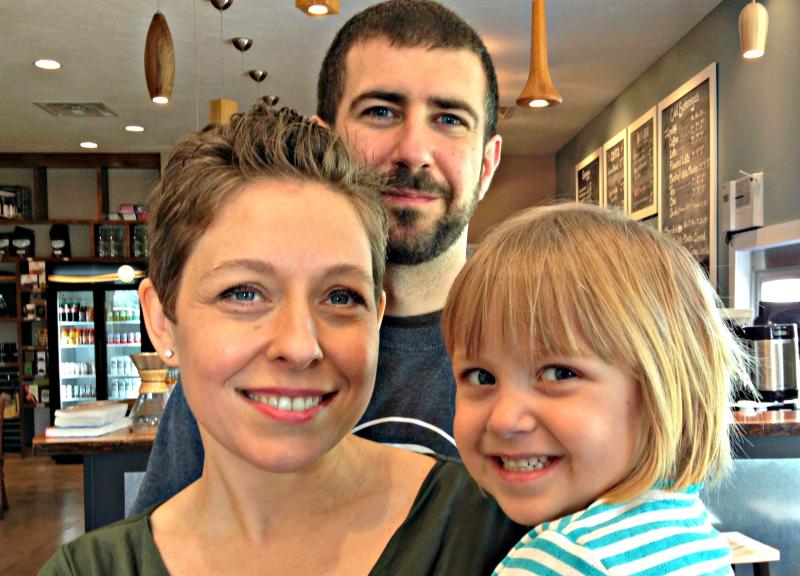 11. Jackson is 7. Isaac is 5, and Lilly Kate is 3.
They've all suffered from food allergies but Catherine Sackett says Lilly Kate has had the worst of it ever since she was 10 months old.
"She started having rashes all over her body. And my family has a history of allergies so I recognized them right away. That was the first sign."

Signs are frighteningly clear
Sackett knew the signs because Lilly Kate's brothers had been allergic, too. The boys' conditions improved when dairy and eggs were removed from their diet.
But that didn't work for their little sister. Lilly Kate kept getting awful rashes.
"And they got progressively worse and we weren't sure what was going on. So one morning she had a bottle of soy milk and immediately started vomiting and having trouble breathing. And so at that point we knew that the allergies were much more extensive and severe than what we originally thought."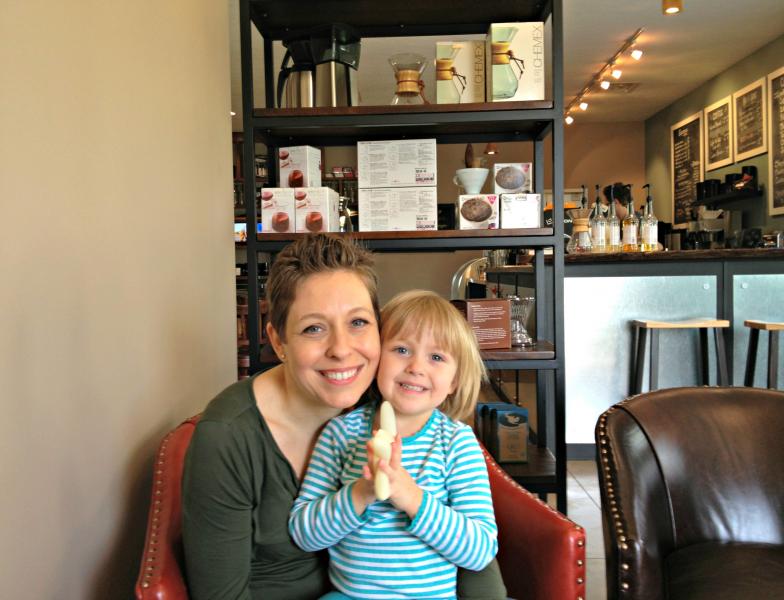 One in 13 children in this country suffers from food allergies. Eight foods account for 90% of all reactions and Lilly Kate is allergic to all of them.
"Wheat, dairy, soy, eggs, peanuts, tree nuts, fish, and shellfish, and in addition she's allergic to artificial food dyes."
Lilly Kate's body perceives these substances as foreign and responds within minutes. Her throat dries and swells, her skin breaks out in hives.
In a world where so much of social life, even for children, revolves around food, hazards are everywhere. At school or camp, at a party or a play-date an ordinary snack can be life-threatening.

Fast food could be deadly
A happy meal? Her mother says that's out of the question for Lilly Kate.
"Fast food is completely off limits. Lily Kate's allergies are so severe that even being cooked in the same oil is a very serious threat for her. Other children can tolerate that depending on the level of their allergies but she just can't."
But at her parents coffee shop she can have all kinds of treats.
"We typically have brownies, and coffee cake and scones. Cookies. Mayan cookies which are a little bit spicier chocolate. The lemon sugar cookies."
Mayan cookies?
"Yes, the Mayan cookies have some cayenne, some vanilla, some cinnamon and chocolate."

Not a trace of allergen
They're baked in a kitchen that's hermetically sealed against even a trace of allergen. Everything is prepared free of gluten,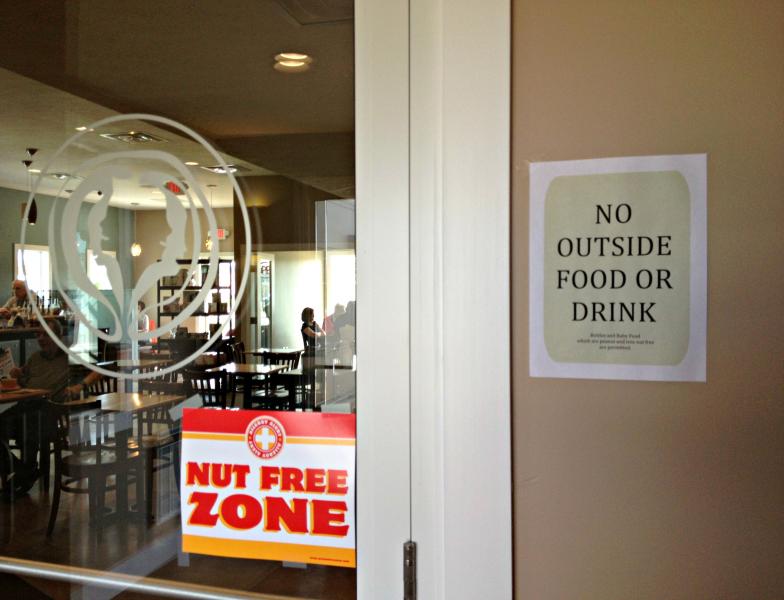 wheat, dairy, soy, egg, corn syrup, food colorings, peanuts, tree nuts, fish or shellfish. And no genetically modified ingredients are allowed.
Parents aren't allowed either. But they can observe the kitchen crew at work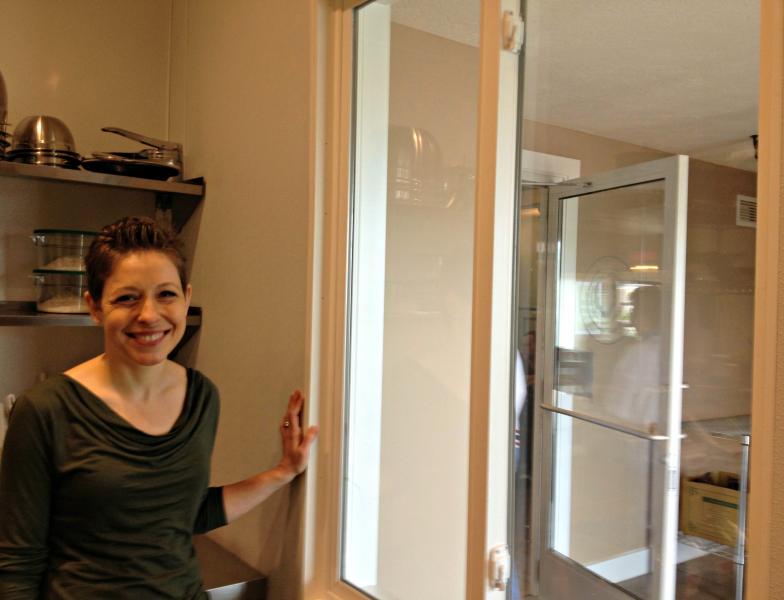 through a small window in the hallway.
"Only 3 of our employees currently are allowed in this kitchen. There are separate white aprons in this kitchen that everyone wears when they come in. There's also a separate hand-washing sink, and my husband usually keeps a separate set of shoes in here."
She makes no apology for being very, very careful.
"When you have a child that could end up in the hospital in the ICU for several days because of something they eat, I feel like I can't be careful enough."
It's a serious mission the Sacketts are on, to protect children, but there's room for fun, too.

Respite for parents
Catherine Sackett shows us what she calls "a creative play space."
"It's a supervised interactive playroom for children, to give parents that half-hour, hour, where someone else can interact with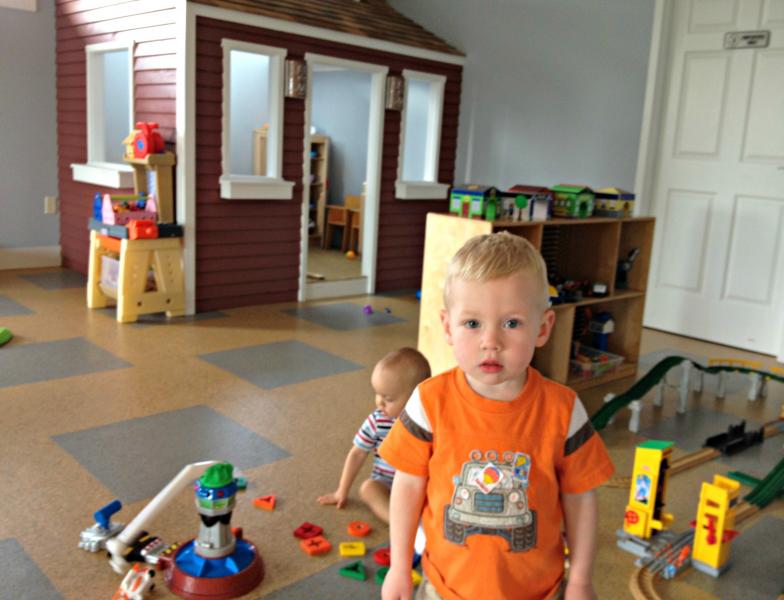 your child. And it's not just putting them into a room in front of a television screen."
There are no screens in the play room. No video games. But for $6.50 an hour, while their parents sit back and relax, kids ages 2 to 8 can play with puzzles, a train set, a doll house with working lights, musical instruments and lots of educational toys.
The children are supervised by trained staffers, and the place is spotless.
"Everything is sanitized multiple times in a day. In addition, because we have the allergen focus we do require that people wash their hands before entering to make sure they remove any protein from their fingers before they play with the toys."
Sara and Sean Johnson visit Four Kids Coffee often with Breckie, their 17-month old son.
"We love coffee and he loves playing, and home gets a little boring after a while. So it's just nice to be in a nice, super-clean environment… At this stage he likes it when we're in the same room. So I sit over on the window sill and enjoy some coffee and he runs around and plays."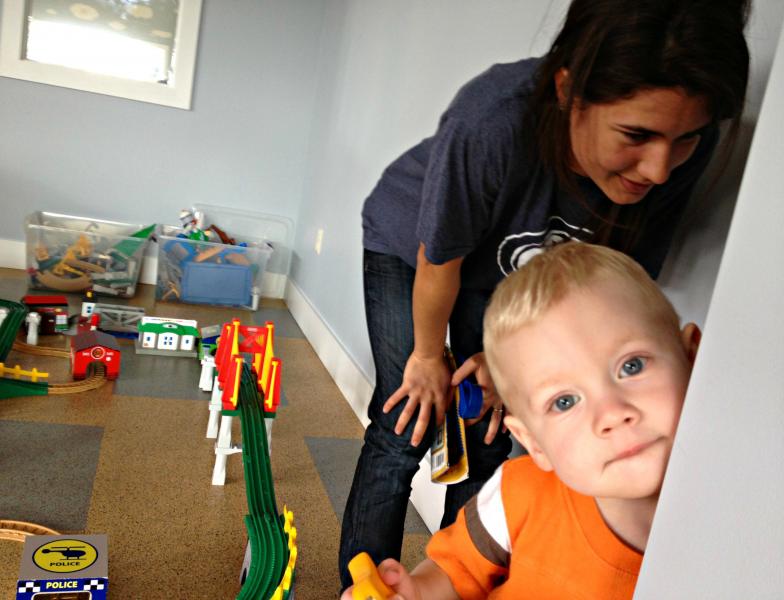 Breckie doesn't suffer from food allergies.
But Wendy Lazar's daughter, Annie, does. She's 5.
"She's a bright little girl, adorable little girl," says her mom. " She does have food allergies, a number of them, and this is her favorite place to be because she can pick anything from the bakery case and eat it. And she loves the play area. She just loves it here. We do, too."
At other eateries, Annie's gotten sick.
" We've been fortunate not to have had an anaphalactic reaction, but we have had situations where we've had to leave the facility, had to give her a breathing treatment or had to give her Benadryl."
Most restaurants are off-limits for the Lazars.
" If we do go anywhere the menu choice is very limited. It's usually a plain baked potato. It also includes completely cleaning the surface, the tables, the benches, the chairs, the salt and pepper shakers, the menu. It's a process."
But at Four Kids Coffee while Annie's in the playroom, Lazar can chat over coffee with her friend, Stacy Stratton of North Canton.

A meeting place for the allergen community
"This is our favorite place to meet every Thursday. And the two of us are talking about our trip to Chicago for the 'Gluten-Free, Allergy-free Expo.'"
Stratton's online business, The Peanut Free Zone, designs and markets allergy alert signs and stickers. Stratton became active in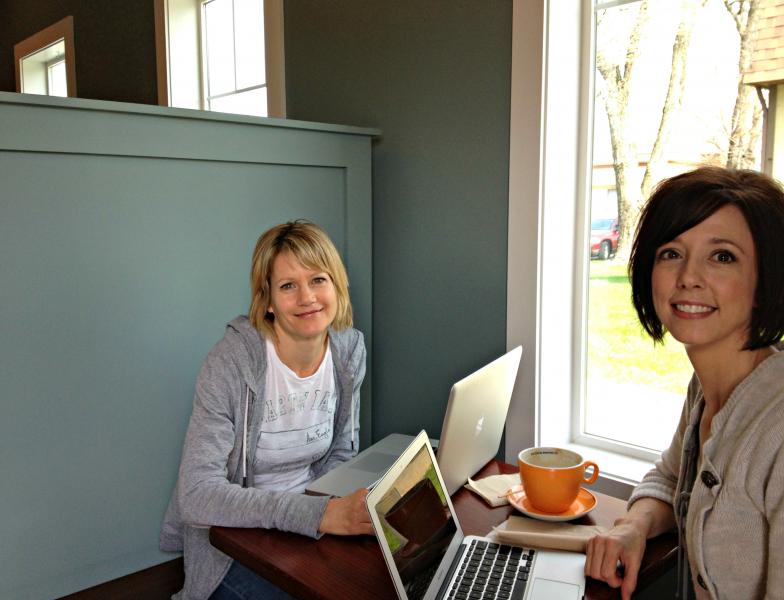 the allergen community after her nephew got sick.
" I was there the first time he was introduced to peanuts and he had an anaphylactic reaction to it. So me and my sister, my sister's a graphic designer, and I had been an educator in special education, we just started creating the 'Peanut-Free Zone.' "
Stratton has also authored a book, Allergies At School, for parents of kids starting kindergarten or entering a new school.
Wendy Lazar's grateful for her friend's support and to Jason and Catherine Sackett for creating a haven for families like hers.
" They have come together and made this amazing place that doesn't just help Annie with food allergies, but it reaches a whole broad spectrum of people. And then of course the atmosphere. You can't pass that up."

Concern for their kids and for the earth
The 3500 square foot coffee shop is a green facility built from repurposed metal and glass. All paper and plastic at Four Kids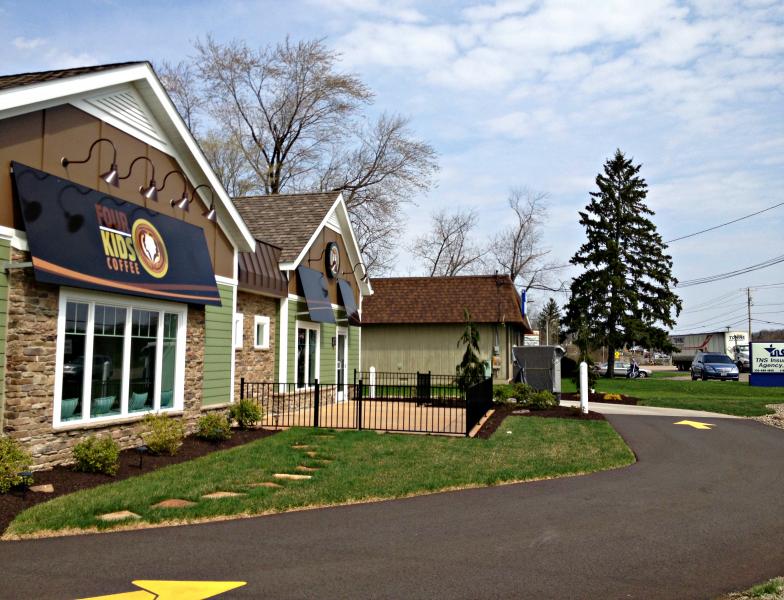 Coffee is compostable and spent coffee grounds are donated to local gardeners.
Catherine Sackett says fighting to keep their kids healthy fueled their environmentalism.
"Absolutely. Because I think we become more aware of the things that are going into our environment and our food and how that affects our children and all of us."
The safe zone that is Four Kids Coffee is on Whipple Avenue in North Canton, near the Belden Village shopping district.
It's open for breakfast and lunch, including chicken guacamole salad, black beans and rice and gluten-free tomato basil soup every day but Sunday.
And that's this week's Quick Bite.
Next week we visit with high school kids learning to appreciate art along with their fruit.