Arts and Entertainment



Monday, August 19, 2013




R&B Hall of Fame makes Cleveland its home... for now




First inductions took place over the weekend at Cleveland State, but Detroit, Chicago and other cities want to host the hall, too


by WKSU's KABIR BHATIA


Reporter
Kabir Bhatia
The Dynamic Superiors are thrilled to be inducted into the R&B Hall of Fame.... regardless of whether it ends up in Cleveland or elsewhere
Courtesy of K. Bhatia
Download (WKSU Only)
Cleveland is home to another museum celebrating music – for now. The Rhythm & Blues Hall of Fame inducted its first class over the weekend at Cleveland State University. It's the beginning of a nationwide quest for permanent digs. But as WKSU's Kabir Bhatia reports, organizers are making a strong case to keep it here on the north coast.
Twenty-two performers are now members of the R&B Hall of Fame. The inaugural class includes James Brown, The Supremes and the Temptations – all members of the nearby Rock and Roll Hall of Fame as well. But Clevelander Fred Wheatt, one of the organizers, stresses they're not trying to compete with their well-known neighbor.

"Rhythm and blues is a separate genre of music. Rhythm and blues is the foundation from which many rock artists have grown. The difference with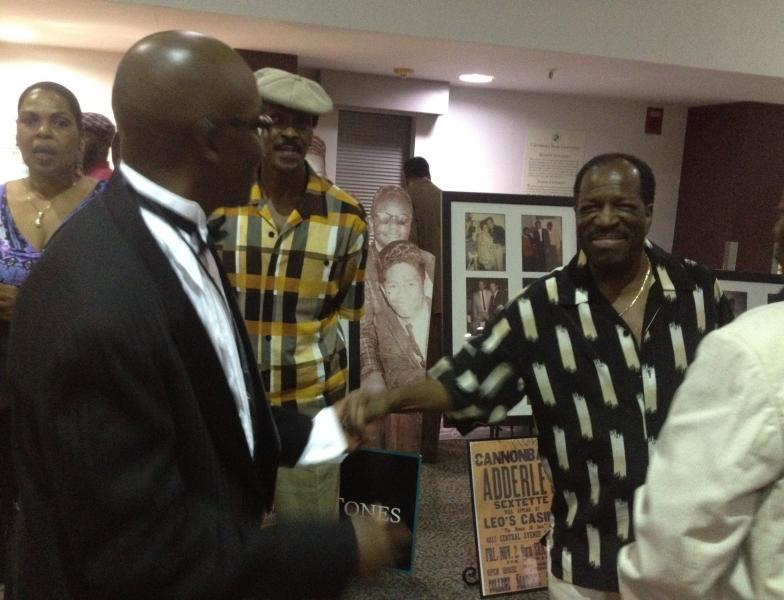 our museum is, not only will we have memorabilia, but we are looking at interactive exhibits. You can actually be dancing with James Brown. Singing with Aretha. Because it will be fun. It will be an experience."

Leo's Casino
Wheatt grew up in the '60s playing trombone in the house band at Leo's Casino, then one of the pre-eminent R&B showcases in the Midwest. It's one of the reasons organizers say the R&B hall should be here in Cleveland. Joe Berger, whose brother ran Leo's, represented many acts that played the club in its heyday.

"It was just the place to go. And you felt comfortable. Whites and blacks sat there, all yelling and screaming at the same time. Music can do it. Because it brings all races together."

Berger remembers Saturday nights at Leo's fondly. Artists would show up – sometimes unannounced -- after appearing in the afternoon on Channel 5's music showcase.


"Upbeat"
The program was unique in that the acts often sang and played live, unlike the more well-known "American Bandstand." Stevie Wonder appeared multiple times, as did Funkadelic. Otis Redding made his last TV appearance on the show, the played his last concert at Leo's before dying in a plane crash that night. The nationally syndicated show is another reason organizers are pushing for a building here.

Cleveland or not?
"Detroit, Chicago, Atlanta, San Francisco, Cincinnati – they all want this there. I'm born, bred and buttered here in Cleveland. There has not been a black museum in Cleveland in I-don't-know-how-long."

For the first inductions, Wheatt and co-founder, former Harlem Globetrotter Lamont Robinson, relied on friends, volunteers, donated talent and a lot of support from Cleveland State University's Black Studies department.

"We hope to also establish a rhythm and blues curriculum. So we're not just dealing with performance. But with copyrights, royalties, publishing, engineering and all the background things that go along with that genre of music."

Cleveland or bust
Inductees The Dynamic Superiors came away impressed with the well-oiled machine in Cleveland, and members Earl Vann and Marco Washington are hoping for an actual shrine in any city.

"I can think it's going to be a great place, wherever it is."

"We're just going to support wherever it may land. And that's all that matters: that we're getting it started. And then, the sky's the limit."

The R&B Hall of Fame considers the inaugural inductions the launch-pad for its fundraising efforts, whether the building ends up at Cleveland State or elsewhere in the city. Once a city puts together a financial package, the board will presumably vote on whether to put down roots there.
In Northeast Ohio, the R&B Hall and the Rock Hall will be in good company. The Polka Hall of Fame is in Euclid. Just over the border in Sharon, PA is the Vocal Group Hall of Fame. Downstate, the Classical Music Hall of Fame is in Cincinnati. And a Dayton group is trying to raise money for a Funk Hall of Fame.



The First Class of the R&B Hall of Fame
August 17, 2013
James Brown
The Chi-Lites
Sam Cooke
The Dramatics
The Dynamic Superiors
Enchantment
The Four Tops
Gerald Levert
Martha & the Vandellas
The Marvellettes
The O'Jays
Ohio Players
Otis Redding
David Ruffin
S.O.U.L.
Jimmy Scott
Sly, Slick and Wicked
Edwin Starr
The Supremes
The Temptations
Kim Weston
Jackie Wilson
Freddie Arrington (MC at Leo's Casino)
The Call & Post (newspaper)
Larry Cotton (journalist)
Tom Joyner (DJ)
Leo's Casino (Cleveland night club)
Tim Marshall (DJ)
Upbeat (TV show)



Page Options
Print this page
---
---