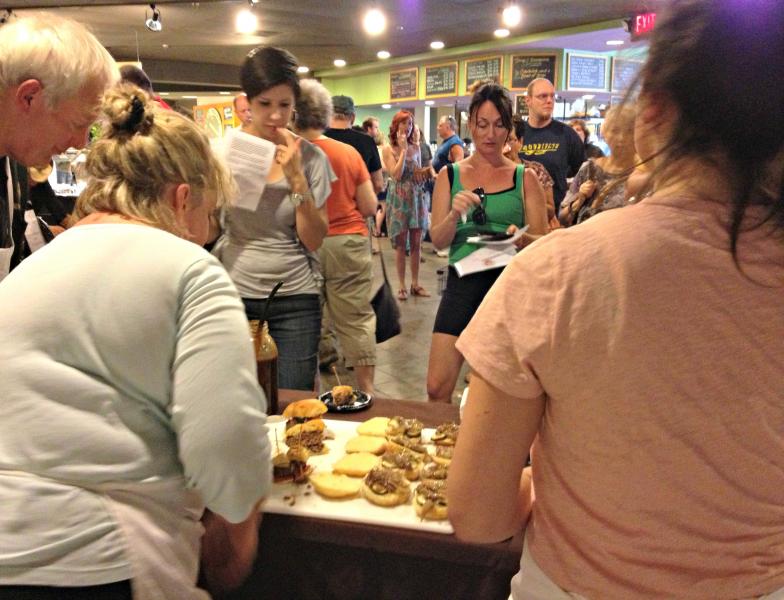 What's not to like about free hamburgers on a Saturday afternoon?
Akron's West Point Market's first amateur Hamburger Grilling Invitational last month was a sizzling success with customers sampling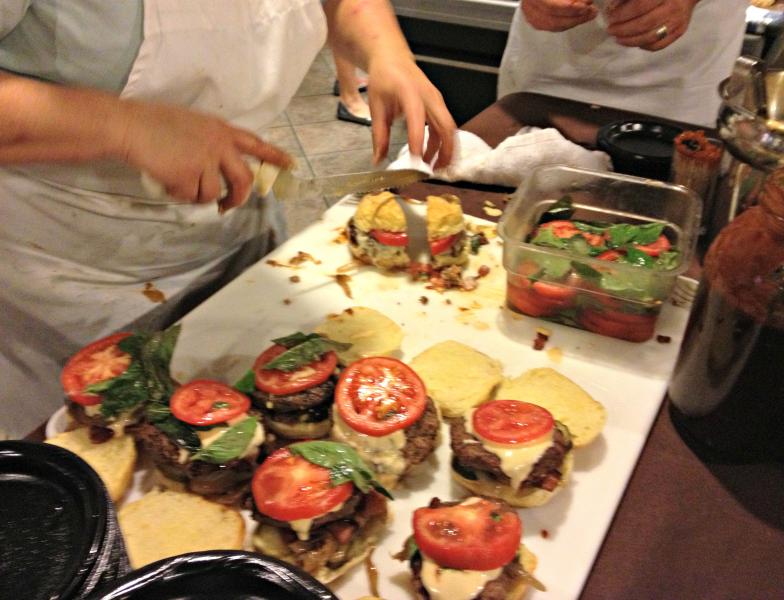 and voting for their favorites.
Three past winners of West Point cook-offs were invited by the store to develop original recipes and compete in a "people's choice" contest.
French wine in an Italian burger
Stephanie Yost of West Akron, a veteran of local and national cooking contests, includes two kinds of wine in her hamburger recipe: Cabernet Sauvignon for the tomato sauce that goes under the burger on a ciabatta roll and Sauvignon Blanc for the sautéed mushrooms layered over finely grated Parmigiano-Reggiano cheese topping the patty.
"My entry is called the "Wise Guy Burger" and it's an Italian burger. It's with homemade onion rolls. In the meat is wine, olives, banana peppers, mozzarella, homemade marinara sauce."
Crushed red pepper flakes in the sauce give it a kick that goes over well with Gloria Chalfant of Akron.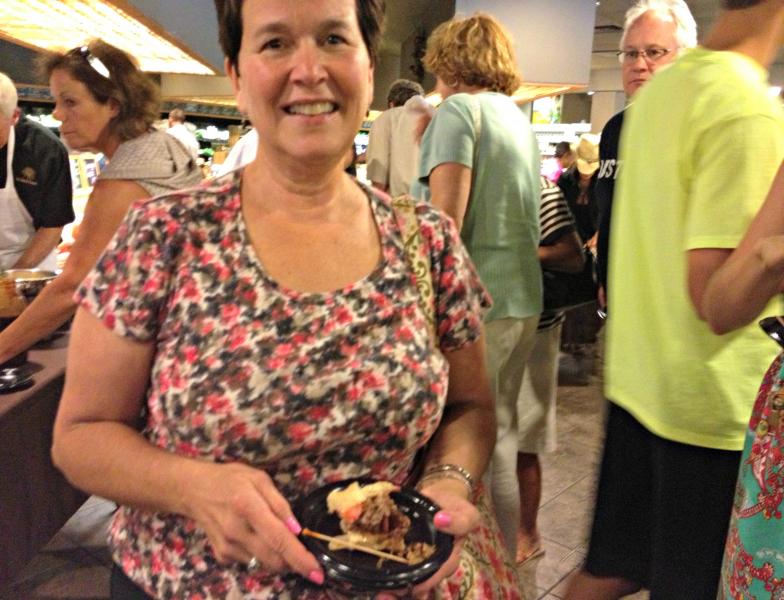 Tasting and voting while grocery-shopping
She strolled in not expecting to lunch on burgers while picking up groceries but was glad to cast a vote.
"They're all so different. I've tasted this one here the cheeseburger with the onions and the shitake mushrooms, and then back there the spicy tomato sauce cheeseburger, and I think so far that one's my favorite."
A player in Josh Rzepka's Dixieland Band providing the entertainment for the event puts down his sax for a minute to sample and judge the entries. Brad Wagoner describes himself as a big fan of the great American sandwich.
" It's got to be well-made. No fast food burgers. …If the meat's not good the burger won't be any good. Which is why I don't like fast food burgers."
A gourmet home chef with a humble outlook on burgers
You'd imagine Allan Charek would feel the same way, but you'd be wrong. Charek is a champion home cook, a winner of three previous West Point Market contests, but he's no snob.
" To me, how do you beat a Swenson's Galleyboy for instance? Now that's a thin burger. It's a fast food burger by all definitions. You couldn't compare that to a big thick burger like we're all making and serving here because they're apples and oranges. But is one better than the other? It just depends what you feel like eating."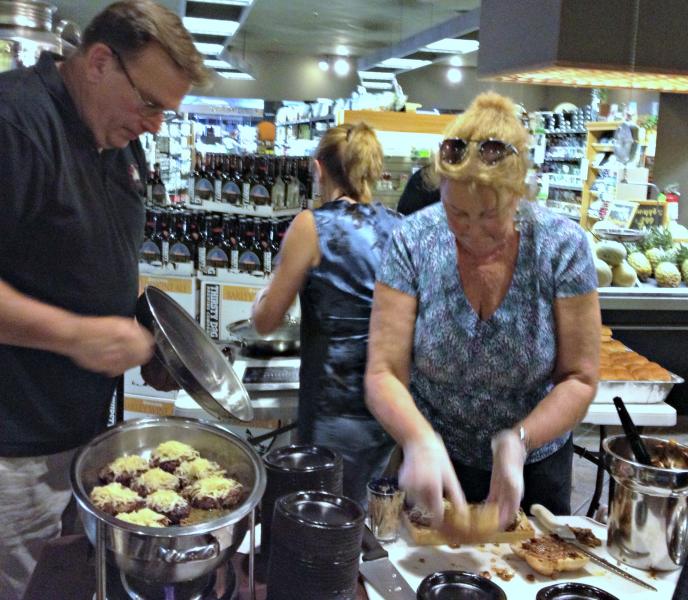 If you're in the mood for Chinese but also feel like a burger, Charek's entry in West Point Market's Hamburger Grilling Invitational might get your vote.
"In the meat I'm putting Asian spices. I'm putting ginger, garlic, hoisin,little bit of Worcestershire, some salt and pepper and then in the sauce I'm carmelizing some onions, adding some shitake mushrooms. I'm de-glazing the pan with some Grand Marnier, burning that off, adding some hoisin and some Dijon mustard, some Thai Siracha sauce and some sesame oil."
The importance of buns
Charek didn't bake his own hamburger bun, but the one he chose met with approval from West Point Market Executive Chef Tom Loraditch.
" On Allan's Asian-style burger he used a Hawaiian king bun. Very good. Sweet. So it went nice against the spiciness of his sauce. And then the bun we have over here that Stephanie Yost used was a pain rustique roll brushed with white truffle oil and grilled. So you had a huge flavor, a chewy texture, just fantastic.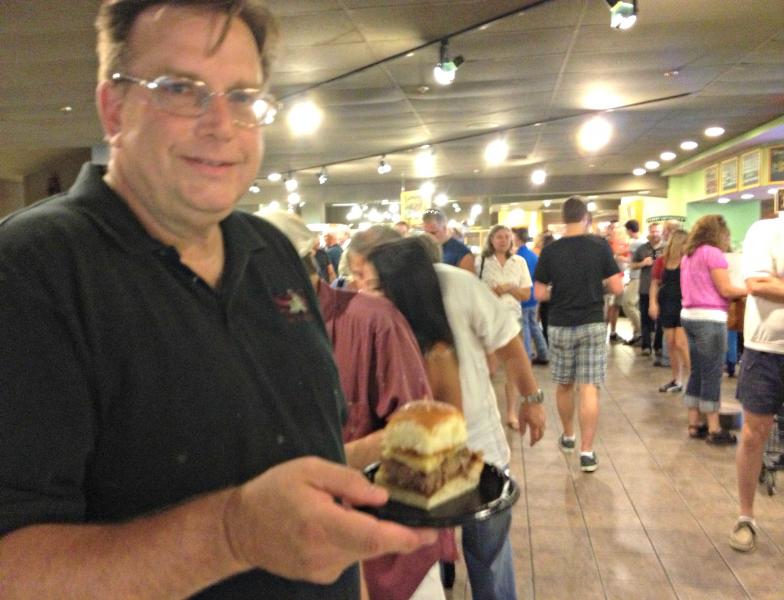 And the other burger over here that Julie Harmon had is a classic American hamburger bun much like you'd get at the drive-in down the street."
That plain bun is on the unusual burger created by Julie Harmon, the "BL3."
What's not to love
"It's a bourbon beef burger with basil, tomatoes, a cheese sauce bourbon barbecue and shallots, grilled shallots. Many ingredients. Yes. Everything fresh because it's out of the garden. This is something to make in the summertime. I just thought about it at home everything we like and then threw it together. I mean what's not to love, bacon, bourbon, barbecue."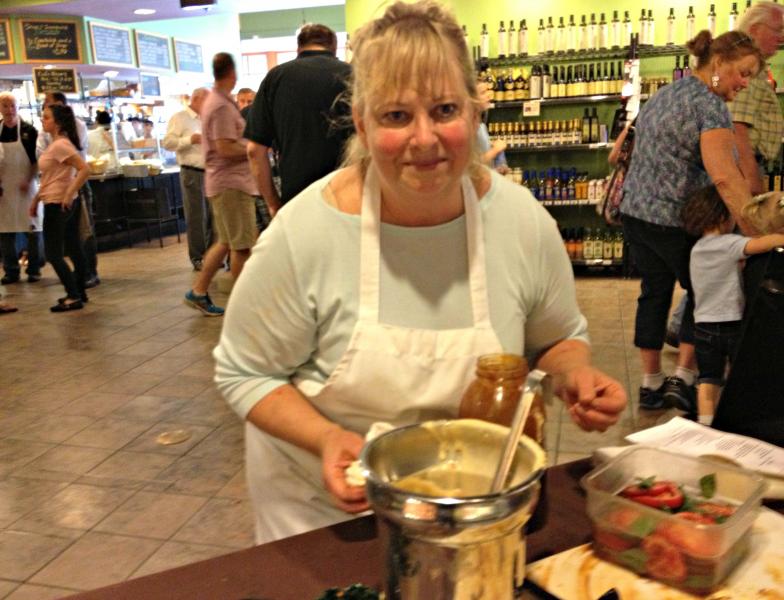 And Julie Harmon's hamburger is the people's choice in a solid victory.
She wins not only $1,000 for the best burger but another $250 prize for the best sauce.
Though eminently qualified to judge, West Point's Tom Loraditch sits this one out but says he would have voted with the majority of his customers for the BL3.
" With the sharp goat cheese and cheddar sauce and she took her tomatoes and topped them with fresh basil and a white balsamic vinegar. The balance of the tartness against the sharpness of the cheeses and the bourbon barbecue sauce. Those three flavors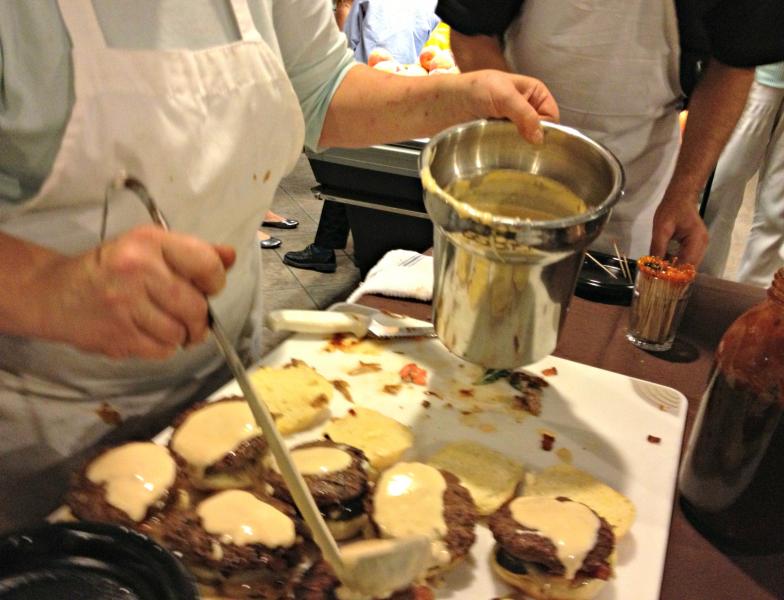 combined were fantastic."
Grilling again next year
West Point Market plans another Amateur Hamburger Grilling Invitational next barbecue season.
And as we head into comfort food season preparations are already underway for the store's next people's choice contest, the 6th annual Chowder Challenge on March 8th.
And that's this week's Quick Bite.
Next week we meet a Girl Scout who's mastering scratch-cooking techniques and teaching them to younger children to earn the highest award in scouting.
Cheeseburgers with Carmelized Onion and Shitake Mushroom Sauce

Recipe by Allan Charek
CARMELIZED ONION AND SHITAKE MUSHROOM SAUCE:
1 pound (1 stick) butter
3 cups sweet onion, chopped
2 cups fresh shitake mushrooms, sliced
¼ cup Grand Marnier
¼ cup Dijon mustard
¼ cup hoisin sauce
1 tablespoon Siracha (hot) sauce
1 tablespoon sesame oil
CHEESE BURGERS:
2 pounds 80% or less lean ground beef (at least 20% fat)
3 tablespoons fresh ginger, minced
3 tablespoons fresh garlic, minced
2 tablespoons hoisin sauce
2 tablespoons Worcestershire sauce
2 tablespoons sesame oil
Zest and juice from one orange
Coarse salt
Freshly ground pepper
¾ pound shredded gruyere cheese
6 Kings Hawaiian sandwich buns
Melt the butter in a large frying pan over medium heat. Add the onions and cook for about 20 minutes until they start to browned. Add the mushrooms and cook until the onions are caramelized and the mushrooms are browned. Add the Grand Marnier and tip the pan to ignite the liqueur. After the alcohol burns off, add the mustard, hoisin, Siracha and sesame oil. Cook for an additional five minutes and set the sauce aside.
In a large bowl, mix the ground beef, ginger, garlic, hoisin and Worcestershire sauces, orange zest and juice, and sesame oil. Shape into six patties. Season with salt and pepper.
On a hot grill, directly over the coals or gas flame, grill the burgers to desired doneness, melting the shredded Gruyere on top during the last few minutes.
Assemble the cheese burgers by first spreading a little sauce on the lower bun. Add the cheese burger on top of the sauce, and then add more sauce over the cheese burger.
Serves 6
Wise Guy Burger
Recipe by Stephanie Yost
FRESH TOMATO SAUCE:
2 tablespoons olive oil
2 cloves garlic
1 small onion, peeled and chopped
1 tablespoon anchovy paste
3 tablespoons tomato paste
1 teaspoon crushed red pepper flakes
1 teaspoon salt
½ teaspoon pepper
1½ teaspoons Italian dried seasonings
¼ cup chicken stock
¼ cup Cabernet Sauvignon
½ pound diced tomatoes
4 ounces tomato sauce
Sautéed Mushrooms:
2 tablespoons (¼ stick) unsalted butter
1 tablespoon olive oil
1 pound baby portabella mushrooms
2 tablespoons Sauvignon Blanc
1 teaspoon salt
½ teaspoon pepper
CHEESE BURGERS:
2 pounds ground chuck
2 tablespoons Cabernet Sauvignon
¼ cup black olives, chopped
¼ cup banana peppers, seeded and chopped
1 tablespoon fresh oregano, chopped
¼ cup Parmigiano-Reggiano cheese, finely grated
2 teaspoons salt
1 teaspoon black pepper
Vegetable oil, for rack brushing
6 slices cheese
White truffle oil
6 onion rolls
Prepare a medium-hot fire in a charcoal grill with a cover, or preheat a gas grill to medium high.
For the fresh tomato sauce topping, sauté the garlic and onions in olive oil for 5 minutes over a medium heat. Add the anchovy, tomato paste, crushed red pepper, Italian seasoning, salt and pepper, and cook for 2 more minutes. Add the chicken stock, Cabernet Sauvignon, diced tomatoes, and tomato sauce. Simmer the sauce for 15 minutes, then remove it from the heat and set aside.
Melt the butter and olive oil in a medium sauce pan. Sauté the mushrooms in the oil-butter over a medium high heat for 10 minutes. Stir in the Sauvignon Blanc, salt and pepper. Remove from the heat and set aside.
For the hamburger patties, combine the ingredients gently by hand into a large mixing bowl. Avoid compacting the mixture of ground chuck, Cabernet Sauvignon, black olives, banana peppers, oregano, cheese, salt and pepper, but achieve an even distribution of the ingredients. Divide the mixture into 6 equal portions and form them into patties for grilling.
Over hot coals brush the grill rack with vegetable oil. Place the patties on the grill rack over the heat, cover the grill and cook the hamburgers to preference, turning them once. Cook 5-7 minutes per side for medium. Add the cheese to allow melting prior to removing from the heat. Let the cheeseburgers rest while toasting the rolls. To toast the rolls, brush the outside of the rolls with white truffle oil. Place the cut sides of the ciabatta down onto the grill rack and away from the coals to toast lightly.
To assemble the cheese hamburgers, dollop fresh tomato sauce onto the bottom slice of the ciabatta roll. Place the cheese burger over the sauce and add a layer of mushrooms on top of the cheese. Add the top bun and serve.
Serves 6
The BL3
Recipe by Julie Harmon
GARLIC INFUSED BOURBON:
1 whole bulb of garlic
Olive oil
2/3 cup Bourbon
BALSAMIC-BASIL TOMATO SLICES
1 medium to large tomato (local in season are best)
1 large fresh basil leaf per tomato slice
White balsamic vinegar
CHEESE SAUCE:
1½ cups heavy whipping cream
6 ounces goat cheese (crumbled)
2 ounces Parmesan cheese grated
4 ounces aged white cheddar cheese
2 tablespoons Hot Pepper Jelly
1 tablespoon Siracha sauce
HAMBURGERS:
8-10 shallots (depending on size)
2 tablespoons butter
1 pound 75 to 80% lean ground chuck
¼ pound chorizo sausage
2/3 cup garlic infused bourbon
Salt
Pepper
5 slices thick bacon, cut into ½" pieces and fried
2 tablespoons cheese sauce (see below)
5 slices balsamic/basil tomato
5 tablespoons BBQ sauce (I prefer homemade bourbon barbeque sauce)Dill pickles (4 round slices per burger)

5 buns lightly buttered and toasted
Between 1 and 4 hours before cooking the hamburgers; prepare the garlic infused bourbon and the balsamic-basil tomato slices.
For the garlic infused bourbon, preheat the oven to 350°. Cut the top off one whole bulb of garlic. Brush the garlic generously with olive oil and wrap the bulb in foil. Roast the garlic in the oven for 20 minutes. When the roasted garlic cools, unwrap the foil and drop the bulb into 2/3 cup of bourbon. Let it stand at room temperature for at least 1 hour (up to 4 hours), and then remove the garlic and strain the infused bourbon.
For the tomato, slice tomato and lightly salt them. Cover each tomato slice with a fresh basil leaf. Layer the tomato-basil slices into a glass container/jar. Cover the layered tomato with white balsamic vinegar and let it stand at room temperature for 1 hour (up to 4 hours).
For the cheese sauce, bring the heavy cream to a full boil in a medium saucepan over medium-high heat. Reduce the heat to a simmer for 25 to 30 minutes, stirring occasionally until it thickens. Add the goat, cheddar and Parmesan cheeses and whisk until the cheese is fully melted. Stir in the hot pepper jelly and Siracha sauce. Pour the cheese sauce into a bowl and let it stand at room temperature while preparing the hamburger mixture.
Peel the shallots and slice. In a small sauté pan, melt the butter and add the shallots with a pinch of salt and cook on low until caramelized. Set the caramelized shallots aside.
On a work surface, combine the ground chuck and sausage with the garlic infused bourbon. Form the mixture into 5 equal patties of equal size. Season the hamburger patties with salt and pepper. Grill to the desired doneness directly over hot coals or a gas flame. Place a generous amount of caramelized shallots over the bottom bun slices. Add barbecue sauce and 4 dill pickles over the shallots. Place the hamburgers on next, and layer them with cheese sauce, bacon pieces, a balsamic-basil tomato slice and finish with the top bun. Serves 5