The mother polar bear and two cubs hover over the shimmering image called "Under the Arctic Ice." The overhead lights illuminate their off-white coats.
Canton Museum of Art marketing director Max Barton takes a closer look, and finds words as well, some stenciled, some scribbled in marker, words like "Spaghetti Warehouse."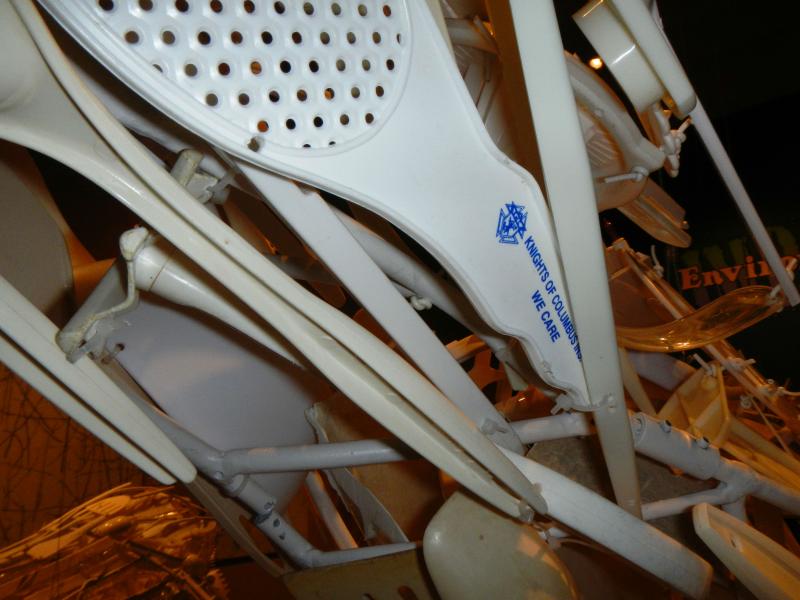 "Here's a 'Knights of Columbus' something or other," he says, pointing to a ladle. "We have a lot of spoons and spatulas that make up the polar bears."
In fact, the mother bear alone is made up of 90 pounds of the stuff -- kitchen wares, hangars and other discarded plastic – that the artist Sayaka Ganz has pulled together with twist ties and coated wire.
Making a point

Ganz's "Travelers" guard the entry to the exhibit "Environmental Impact." It's a collage of watercolors, illuminated line drawings, photographs, oils, carvings and sculptures in bronze and glass -- including shoulder high ears of corn.
Barton and art museum Executive Director M.J. Albacete acknowledge the exhibit is here to make a point.
They stop at a painting, completed just in time for the show. A mountain of trash pushes a bison into the abyss. There's nothing subtle about it.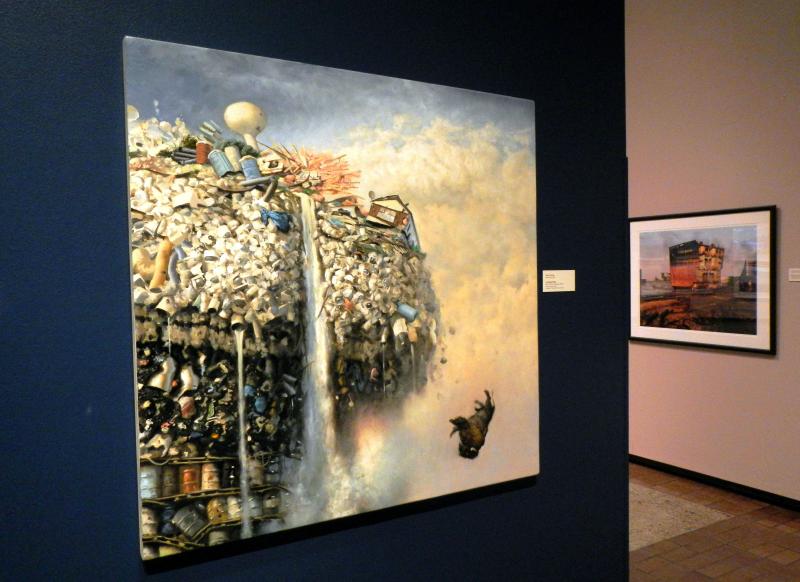 "It is the piles and of trash that we wreak upon the Earth and how that has destroyed the natural habitat of the animals that were here before us," says Barton.
Both Barton and Albacete say they're not worried that some will claim this is propaganda.
"Art shouldn't always be real complacent," says Albacete. "It should occasionally be confrontational and it should shake people up, it should intimidate them a little bit."
And Barton says that's how people have reacted so far. "People who were at the opening … described it as being very provocative, being very profound, and in some cases disturbing. But they found that very good because it made them think. … Art should not always be pretty. It should carry a message to it."
From nuclear's birth to today's forest fires
The message is spread through photos in the days after Katrina struck New Orleans eight years ago, a sculpture of a dead bird caught by the oil spilled by the Exxon Valdez, hanging glass ears of – perhaps – genetically engineered corn.
Then there are the panoramic photos of a nuclear test site and the glowing embers of a forest fire.
"There it is. That's the beginning of the atomic age right there. … We're showing a comparison between what happened with a nuclear detonation to what's happening right now. You're looking at the same kind of devastation. I can turn on the TV every night and see how many more acres of forest have been taken down. It's pretty clear it happens in many different ways, but they're very similar."
Barton and Albacete move on to an image of a little girl building a drip-castle on a beach – the kind that just about every family photo album includes.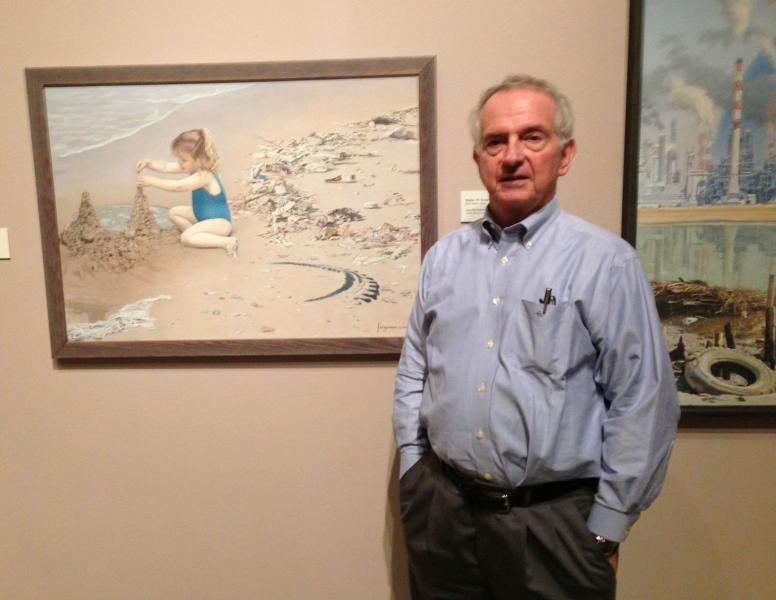 "But when you look right behind her there's a tire embedded in the sand. And look at all the junk on the beach. … If she walks across that, she's going to cut her feet. But we see so many beaches that way."
A concept to the very end
The exhibit was five years in the making, the work of a curator David Wagner, who has done other shows for Canton that stress the natural world and animals. Albacete says this is his best work – even though Wagner himself never actually saw his finished product until he got to Canton on the eve of its opening.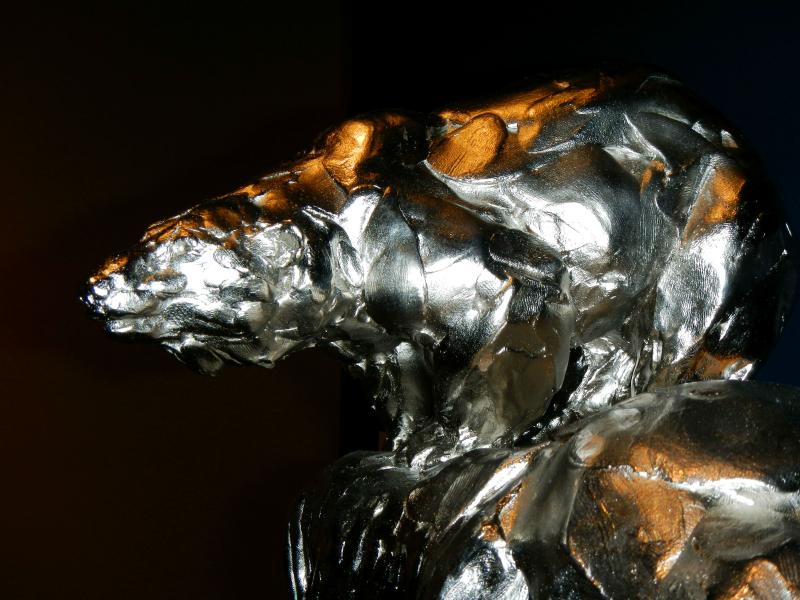 "That he conceived this all in his head and put it together in that fashion was pretty remarkable and then to walk in the galleries and see the end product, that I think is one of the great things that I enjoy about working in a museum, that you start a concept and that's all that exists … and two, three, four years later, you walk into the galleries and see what you've been working on. … It's just a very profound feeling."
The exhibit will remain in Canton until Oct. 31 before moving to eight other cities starting with Shreveport, La.
ENVIRONMENTAL IMPACT TOUR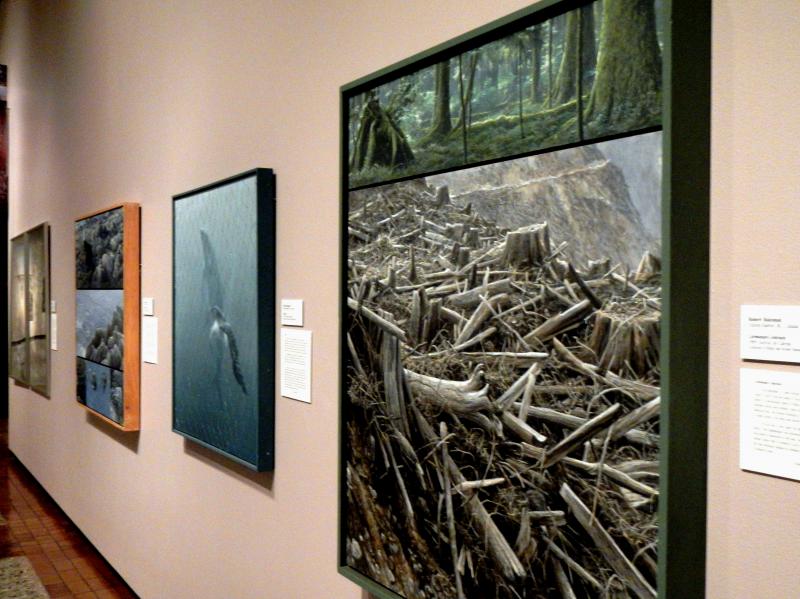 Sept. 1 – Oct. 31, 2013
Canton Museum of Art, Canton, OH
Nov. 19, 2013 – Feb. 4 , 2014
The R.W. Norton Art Gallery, Shreveport, LA
Feb. 22 - May 4, 2014
Kalamazoo Institute of Arts, Kalamazoo, MI
May 24 - July 6, 2014
Roger Tory Peterson Institute, Jamestown, NY
Aug. 1 – Sept. 30, 2014
Erie Art Museum, Erie, PA
Oct. 25, 2014 – Jan. 4, 2015
Peninsula Fine Arts Center, Newport News, VA
Jan. 31 - April 26, 2015
Brookgreen Gardens, Murrells Inlet, SC
SUMMER 2015: To be Determined
Sept. 1 – Oct. 31, 2015
The Art Museum, SUNY Potsdam, Potsdam, NY