Grace Berry's getting ready to make blueberry jam in her family's Akron kitchen. All summer she's been cooking it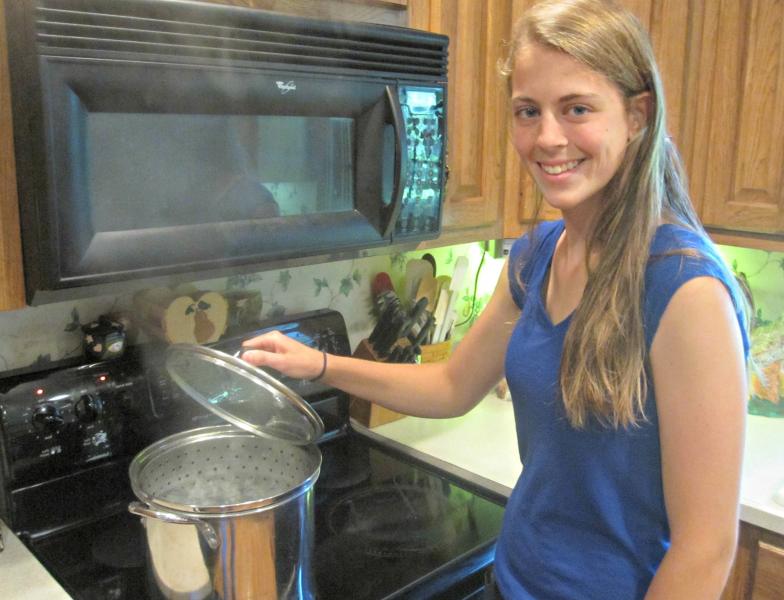 outdoors at a farmers' market stand.
"It's a lot harder to make things at the market because you're in such a small space and you have to bring everything."
She fills a large pot with water.
"This is to boil the jars that I'm going to put the jam in so they get all clean and don't have any more germs on them."
Thursday afternoons this summer at Akron's Highland Square, the tall, slender, Revere High School senior has demonstrated scratch-cooking and food preservation techniques, inviting younger kids to help.
"The first week we made pickles and then other weeks we made jam and ketchup and played games with little pictures of fruit and vegetables. And then they have a little booklet, and they fill out questions to show how much they've learned."
Countryside Conservancy gave Grace a stand at the market and mentored her in the project designed to earn the Girl Scout's Gold Award.
"It's the equivalent of a Boy Scout's Eagle Award. It's the top honor a Girl Scout can receive and it's a really big deal."
Time and energy
Grace put in 80 volunteer hours and got by with a little help from friends who kept her company.
"I became a Girl Scout in kindergarten, and now I'm a senior in high school. Our group has gotten smaller as we've gotten older. My
mom is now the leader, and there are only two other girls in my troop right now, but they're some of my best friends."
The cooking part came easily.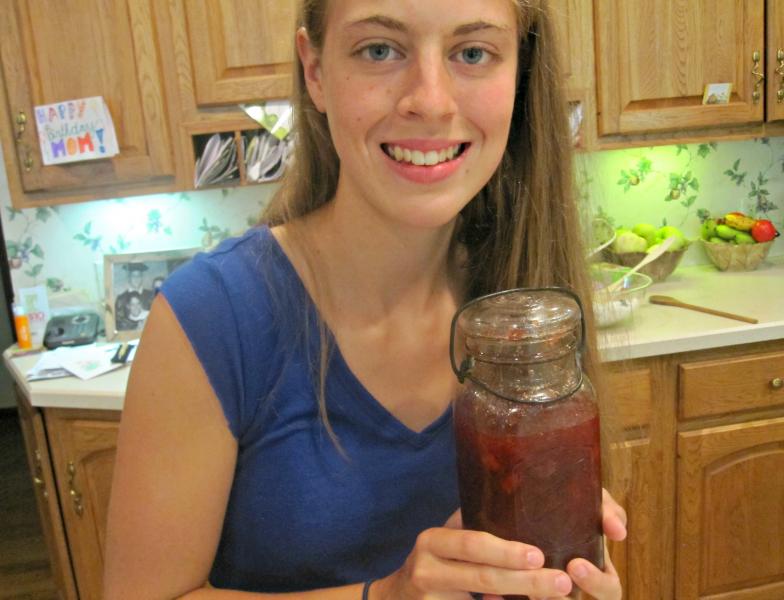 "I've made jam with my Mom and also my aunt before. My mom's taught me a lot about cooking. I've always been interested about baking and cooking since, I don't know, about 5th grade. And I've always tried to do things on my own and pretend I was on a little cooking show. "
The next steps
The water's ready now for the Mason jar she's snagged with a tong.
"First, I'm going to put the jar in the boiling water. Now I will measure out 4 cups of blueberries. Next we are going to wash these blueberries in a colander."
She follows a recipe she found on the internet.
"I've made a bunch of different recipes, but I thought it would be best to use one that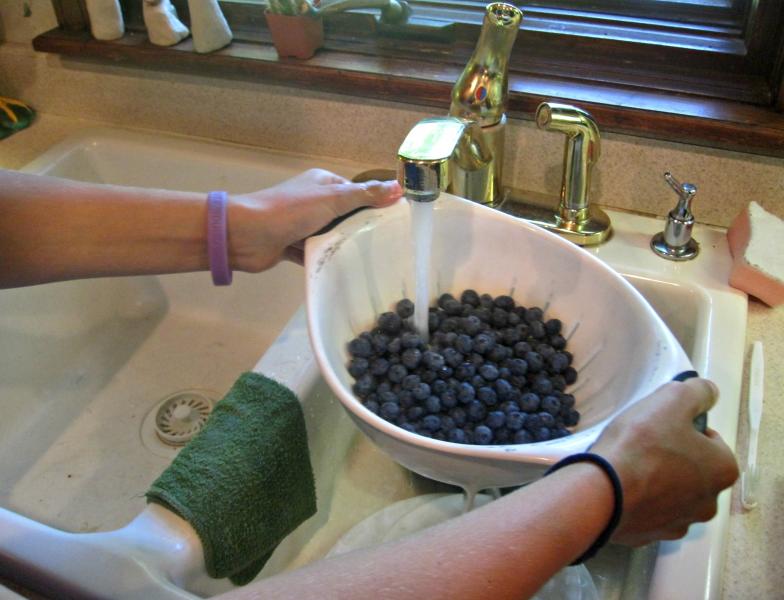 has already been made by somebody else and I know will work. ... I've learned from my mistakes."
Her mom, Cindy Berry, watches her learn and teach, and just beams.
"I'm very proud of her. It's been leadership building, building her confidence. She's learned so much about organic food and nutrition and she's just been elated to see the response from the kids and their parents."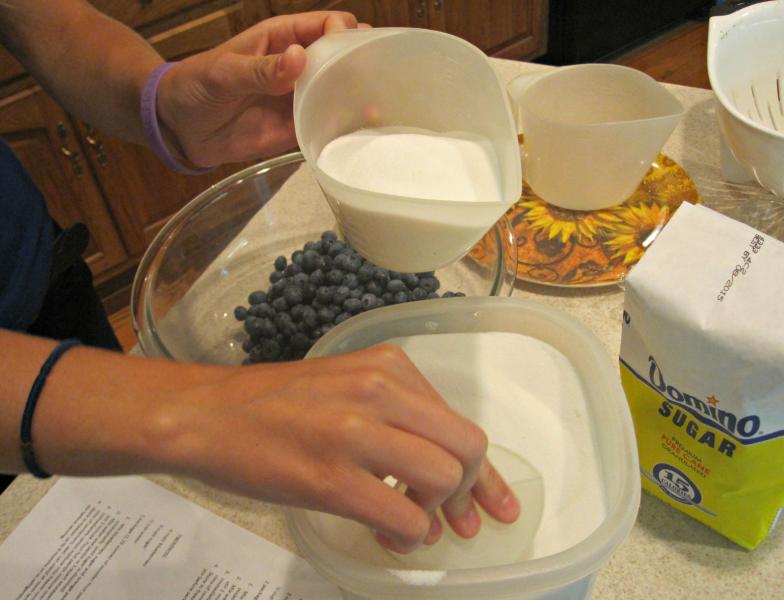 Her mom's food processor makes jam-making easier than at the market stand, but that was more fun because the children helped.
"At the market I put all the blueberries in a big Ziploc freezer bag and let them crush them with a rolling pin and roll on the bag and they really liked that."
Other projects at other times
Grace had enjoyed a previous food-related Girl Scout project.
"My other troop members actually did that as well and it focused on using foods that were naturally grown and from farmers that were close. And so I learned the importance and that kind of spurred my interest for this project, too."
Another motivating factor is her desire to be a better athlete. Grace got interested in nutrition while training for a jump-rope competition last summer.
"I decided that I would eat healthier to see how that would improve my performance. ... I didn't eat any junk food. No pop or pizza or anything for about three months and I felt the best I had ever felt and I was performing better."
She's concerned after this summer at the market about what most kids don't know about nutrition.
"A lot of the kids don't know what herbs are. Even adults, too. They came by and they were surprised because I had herbs that I picked out of
my garden. They thought it was so cool because I had lemon mint and spearmint that I grow in my garden."
A shared interest
Grace's father built garden plots in the backyard for each of his four children. John Berry teaches ecology at Green High School. He says he loves to cook, too, but no one will eat it, so he leaves that to Grace and her mom while he tends the garden. He's proud of Grace for sharing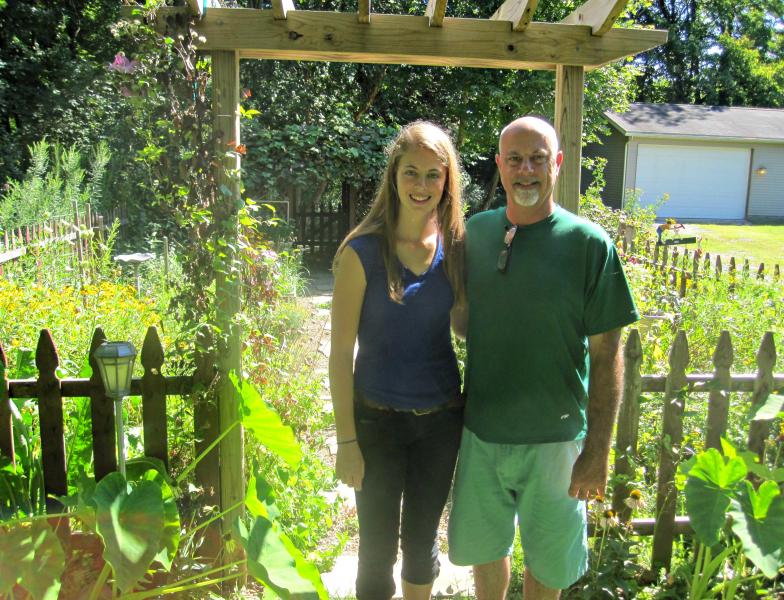 what she's learned.
"Young people nowadays are not learning some of the old traditional farming techniques, just how to grow your own food and things like that and I think that is a very good skill for them to have and not just for necessity but for the love of growing."
Grace hopes her do-it-yourself attitude has been contagious.
"I'm trying to influence the kids at the market and also adults, too, into making their own things like jam and ketchup, just knowing that they can and knowing the importance of eating fresh fruits and vegetables. And sometimes it's nice to be able to make things on your own and share it with everybody else."
But don't look for Chef Grace Berry on the Food Network.
At 17, she's the editor of her school paper and plans to study journalism.
And that's this week's Quick Bite. Next week we return to the Mason Jars and the boiling water as we dip into the Quick Bites archives for a refresher on canning and preservation.