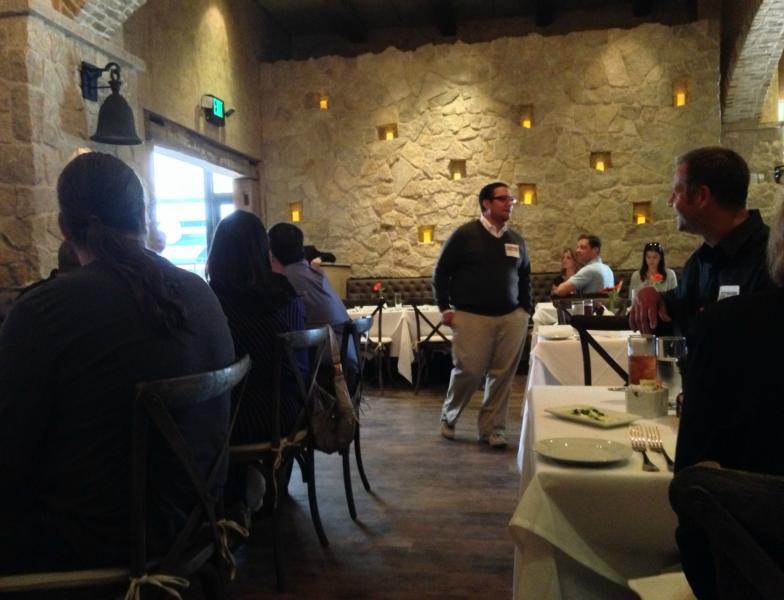 Chef Scott Kuhn is getting married this weekend. Chef Chris Hodgson is a newlywed. And the dynamic duo heading up the Driftwood Restaurant Group just got even busier.
They're now running a catering service plus eight restaurants.
This month in the Hanna Building, in the space that used to be Bricco, they opened Cibreo Italian Kitchen, which they call "a taste of Tuscany" for downtown Cleveland.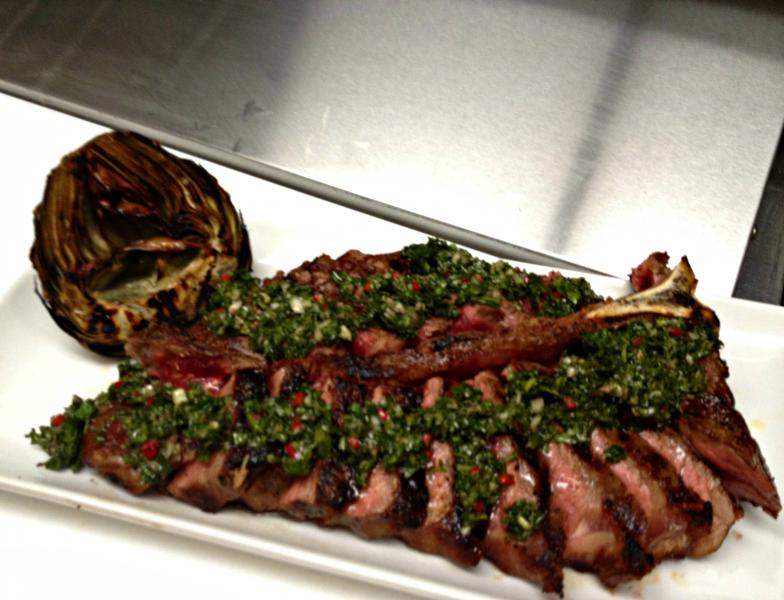 They know their roles
Kuhn is proprietor, Erik Martinez is executive chef, and Food Network regular Chris Hodgson is partner and consulting chef. Hodgson and Kuhn opened Hodges Cleveland, a few blocks away from Cibreo just last year.
"This one's a blast," says Hodgson. "It's incredible to team up with Playhouse Square and just be kind of a part of revitalization. We're seeing it in all of downtown Cleveland. It's fun to see Scott's vision come to life, and it's fun to cook side-by-side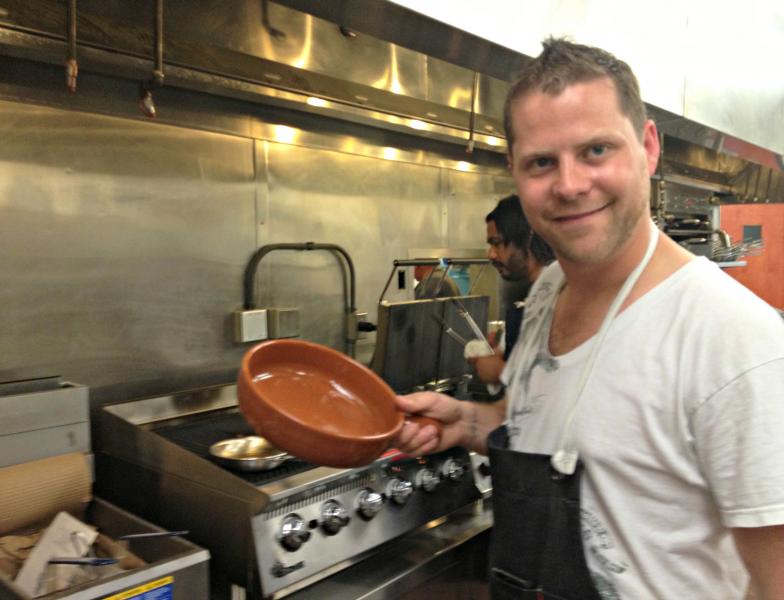 with Erik. Unpacking all the new stuff it's like a mini-Christmas for chefs."
You don't have to be Italian
Hodgson's not Italian. Neither is Erik Martinez nor Scott Kuhn.
"No, I'm German. But I sure feel Italian when I visit San Gimignano, Sienna, any of the small hill towns in Tuscany. It's just the most amazing place. The people, the style, it's relaxed; it's very informal. It's family-oriented, and it's simple."
The simplicity of Tuscan cuisine has a special appeal for Martinez.
"One of the beauties of Italian food is the idea of restraint. They hold back and just let every individual ingredient shine through."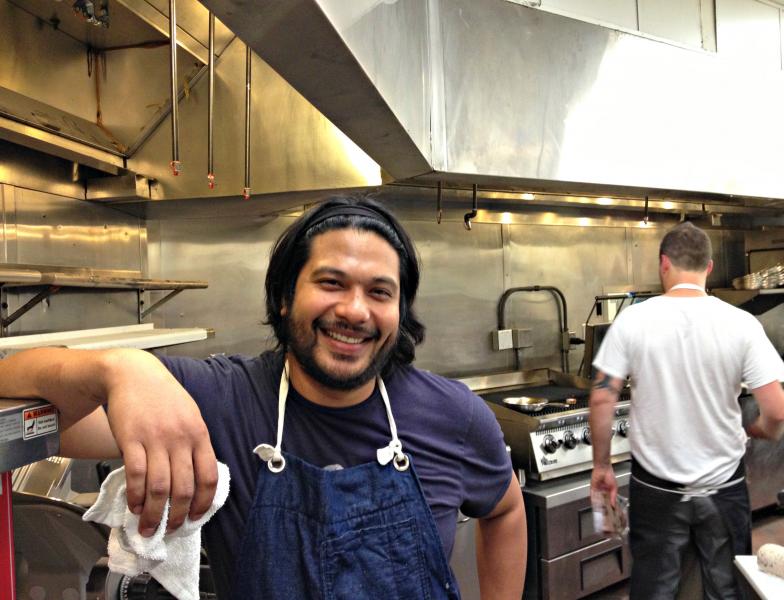 Catherine de Medici would have approved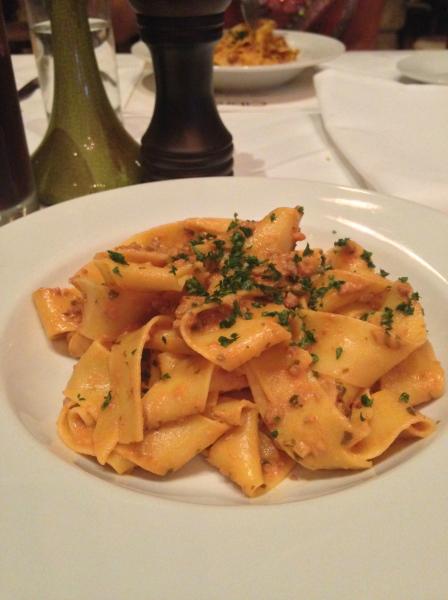 They've cooked that way for generations at a famous restaurant in Florence called Cibreo. It's named for a traditional Tuscan stew made famous by the Queen of France, Catherine de Medici, when she tried to import her hometown favorite.
Kuhn feasted with his fiancé on a recent trip to the region. He says uniquely Tuscan dishes will always grace Cibreo's menu.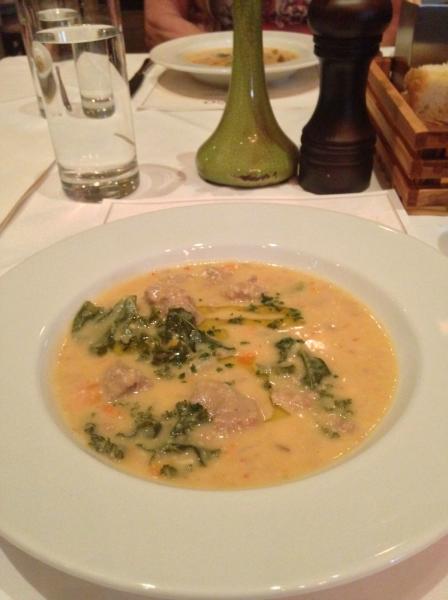 "There are a few dishes on this menu that you just don't see here in the states. A yellow tomato pomadoro sauce where it's traditionally red here in the States. There's a pesto pasta, which actually has potatoes in it, which happens to be a dish from Cinque Terra just about an hour and a half from San Gimignano that I absolutely love."
Dramatic décor
Kuhn says it's not that Cleveland doesn't have its share of Italian restaurants.
"I just felt … there was an opportunity to do a little bit of a dramatic and theatrical build-out that would pair nicely with the theater district. The décor. It has a very heavy feel to it as if you're in Tuscany. Its lighting is dramatic. I just think it fits."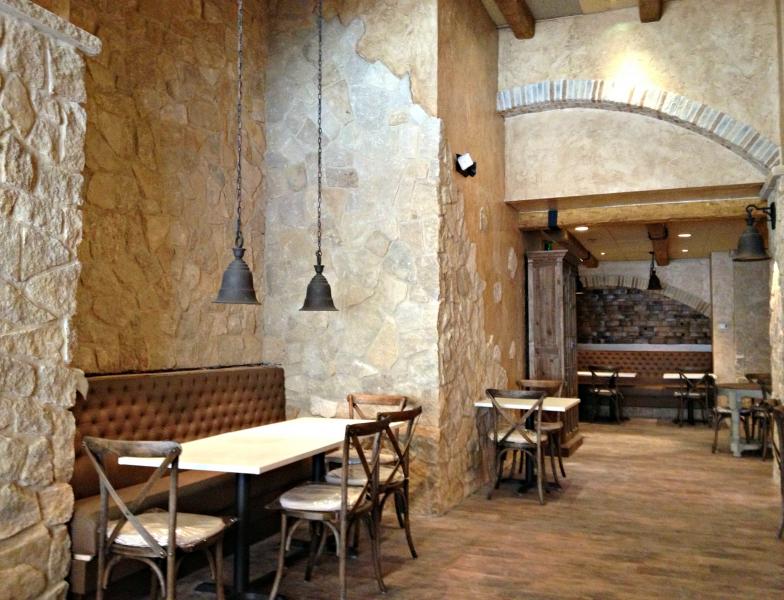 Cibreo is in the heart of the second biggest theater complex in America, after Lincoln Center. Kuhn expects the dinner crowd before performances and the supper crowd later will be easily accommodated in the 300-seat dining room. He has another space for private parties in what used to be the 14th Street Theater.
The ambience of the more intimate private dining space suggests a wine cellar.
A total transformation
Kuhn says the main dining area, the former Bricco, had to be completely gutted to bring in the colors and textures of Tuscany.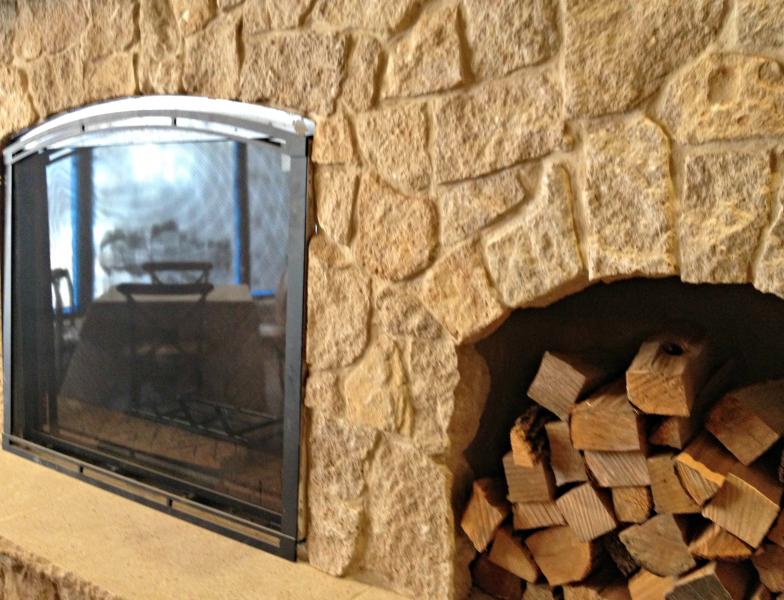 "The elements are very Tuscan. The stone was quarried from Montana."
It's a huge space, with high ceilings, chandeliers, a roaring fireplace, rough-hewn ables, and candles flickering in alcoves on a stone wall.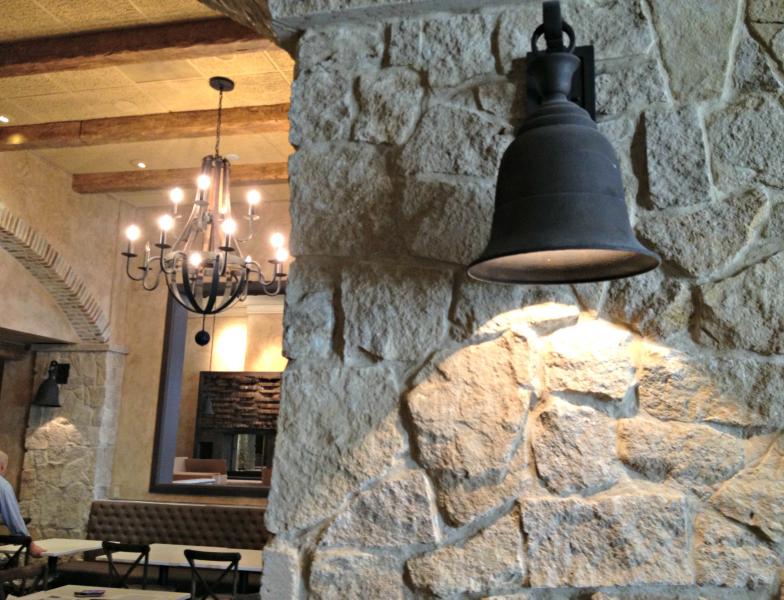 "We call this the candle wall and it creates a nice, really soothing ambience when the lights go down."
Staking their claim
As we enter the kitchen, Consulting Chef Chris Hodgson and Executive Chef Eric Martinez are working on a $65 menu item they can't afford to get wrong: Cibreo's "Bistecca".
They decide it'll need exactly 16 minutes on the grill.
"So at 10-and-a half, we'll pull it. We'll rest it for the full sixteen and then we'll see where we're at."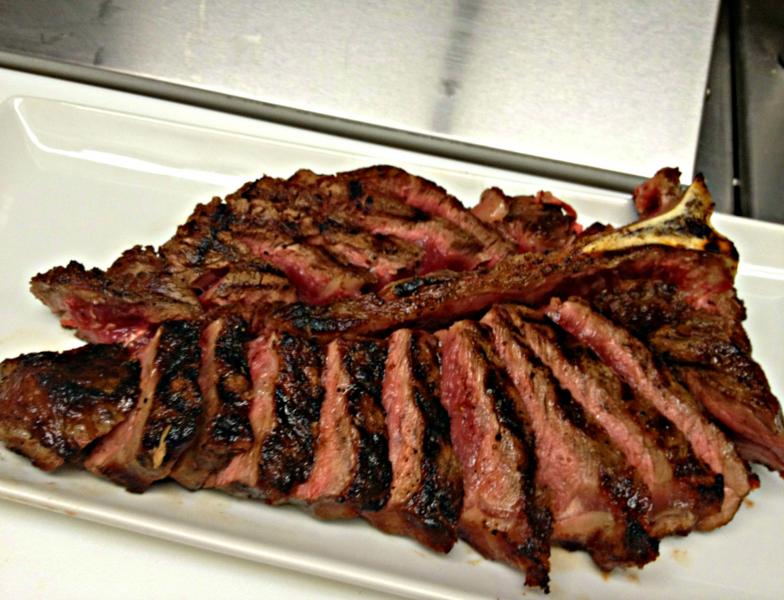 It's a huge chunk of meat.
"A large 28- ounce Porterhouse Steak. Yeah, it's going to look really beautiful on the plate. It's going to be a dinner for two on the menu."
Feeding well-informed foodies
In this Food Network era, Martinez expects most of his patrons are savvy diners.
"There's just a high interest. When they sit down at the tables they get their phones ready to take pictures. It's a new experience I think these days. There are still people who approach eating as purely fuel for their daily activities, but other people approach it differently, and that's what we're trying to cultivate."
Martinez has 20 years' experience in Cleveland-area kitchens.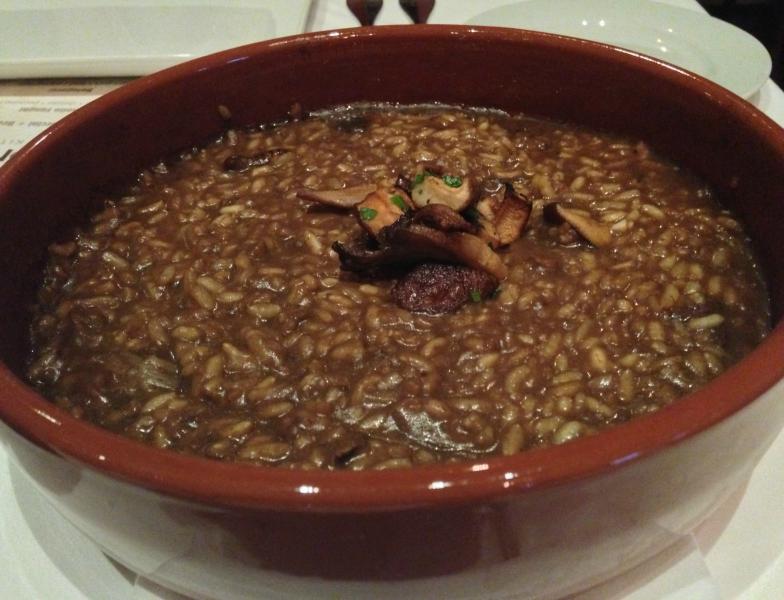 "Neighborhood restaurants in Brecksville. Most recently at the Orchard House in Brunswick, one of the other Driftwood locations."
At Cibreo, Martinez works elbow to elbow with Chris Hodgson.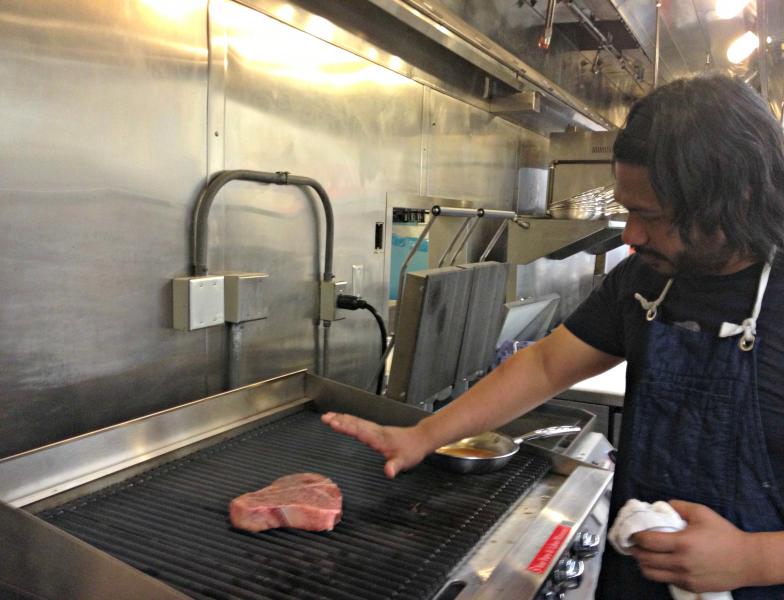 "And Erik 's done an incredible job laying out a truly original Tuscan menu. It's going to be good."
Traditional Tuscan topping for the steak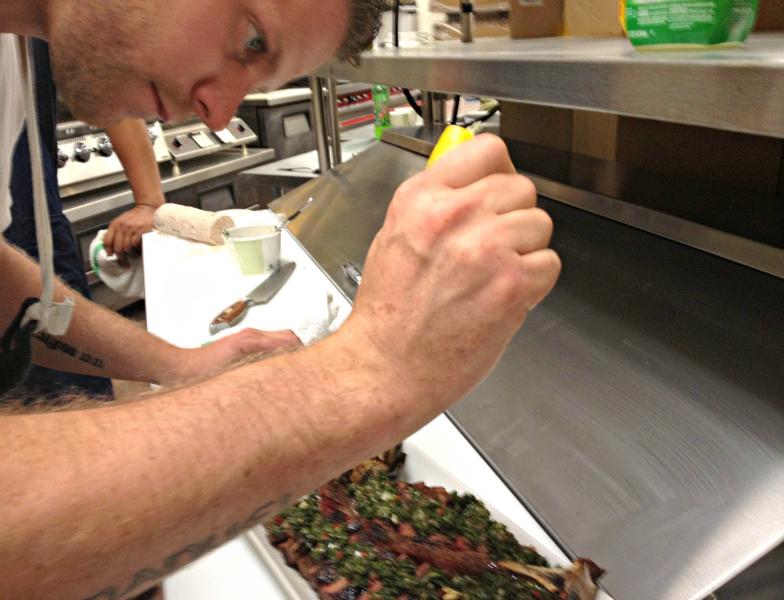 So is the enormous bistecca once Hodgson lovingly lays salsa verde on top.
"It's herb-based with garlic. This one has a little hot peppers in it. Anchovy, olive oil, a little lemon zest."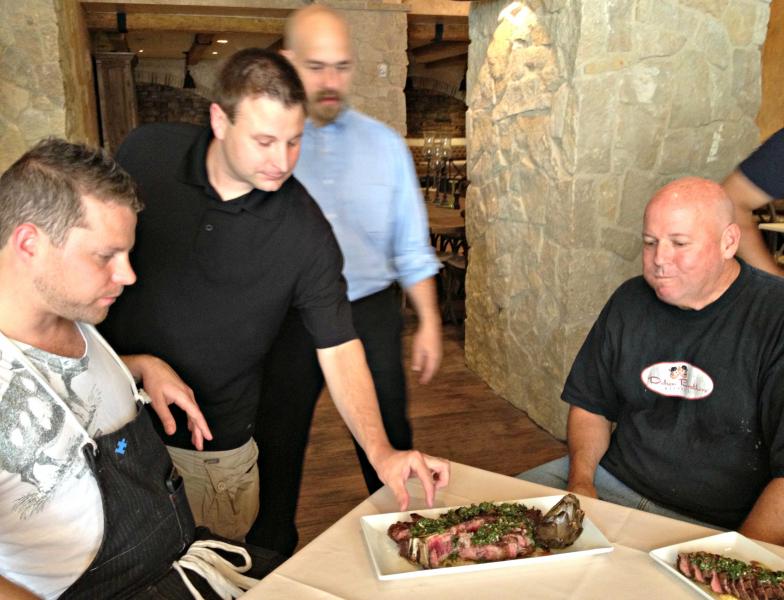 Hodgson later offers a taste of chicken dish he created for Cibreo.
"We took chicken breasts, pounded them out, and then took the dark meat and grinded it and made an Italian style chicken sausage. Stuffed that in there, rolled it, poached it and then grilled it over top of buttermilk polenta with again a little salsa verde and a lemon broth."
We find it very tender.
"That's one of the things about poaching it first is we can bring it up to the exact temperature that we want it to be at. Then when someone orders it we re-fire it on the grill, get a little bit of char onto it."
A long way down the road since his food truck days
Chris Hodgson was the first food truck operator in Cleveland. He's turned that business over to his sister and now has Chef Jim Blevin running the kitchen at Hodges.
He's had a few setbacks on television, just missing a win in the Great Food Truck Race and recently getting nosed out for Food Network Star of 2013.
Hodgson's the zany, warm and fuzzy side of the Driftwood Group, while founder Scott Kuhn takes a cool, quiet, confident approach to the business end.
"You know," says Hodgson, "My role's been pushed into just becoming kind of the understudy of Scott. One of the great things about our relationship is we all know our roles. And we may not agree all the time 100 percent of the time, but we both trust each other a hundred percent. I couldn't ask for a better partnership."
New partnerships formed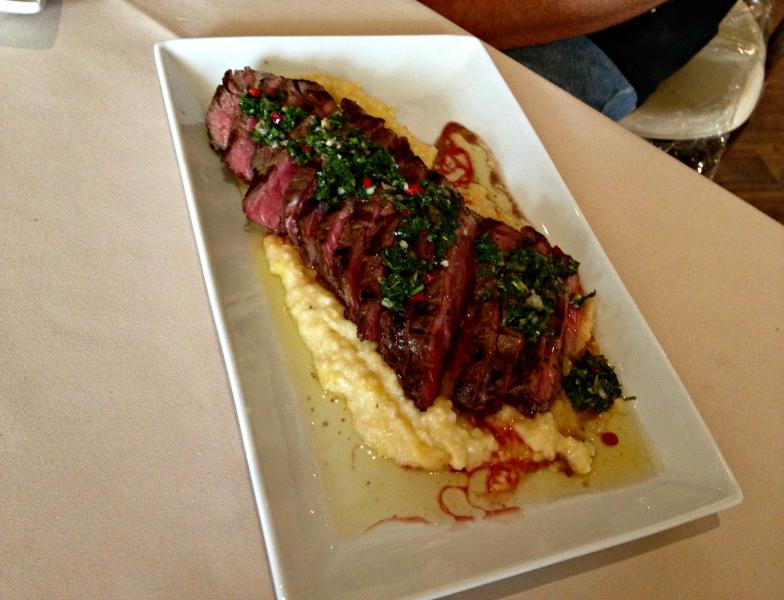 Their lives changed radically recently. Kuhn's wedding is set for later this fall, and Hodgson has also been taken.
"I did get married," Hodgson grins. "I've been chasing her for 15 years. And I think she's pretty happy with the role I've gotten to take on as well. I get to go home and I can see her when I want to see her and it's a lot less stressful."
Next up for Hodgson and Kuhn: another restaurant.
Rothschild Farms, a quick serve restaurant for breakfast and lunch, is set to open next month, also in the Hanna Building on Playhouse Square.
And that's this week's Quick Bites. Next week we meet a group of dedicated organic farmers with disabilities getting vocational training at Hattie's Gardens.