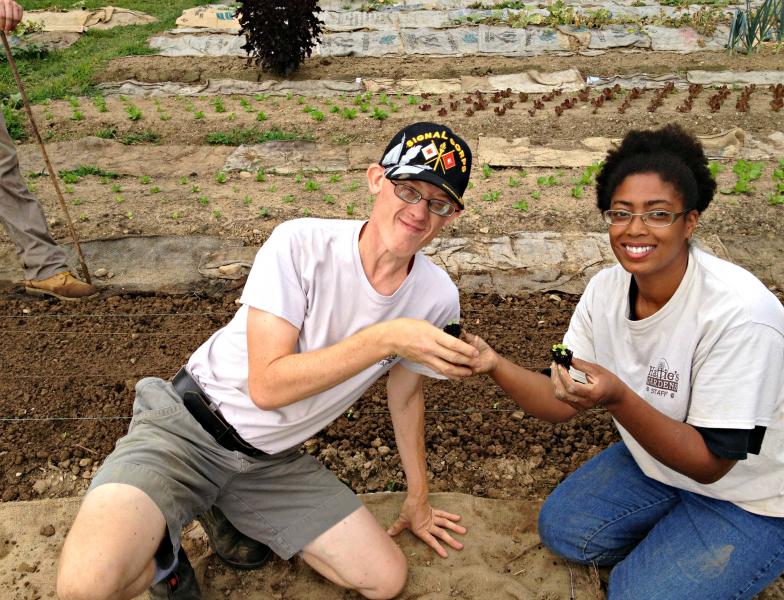 At Crown Point Ecology Center, an organic farm and education center in Bath, a slender young man pauses on a hot, hazy morning to wipe his brow.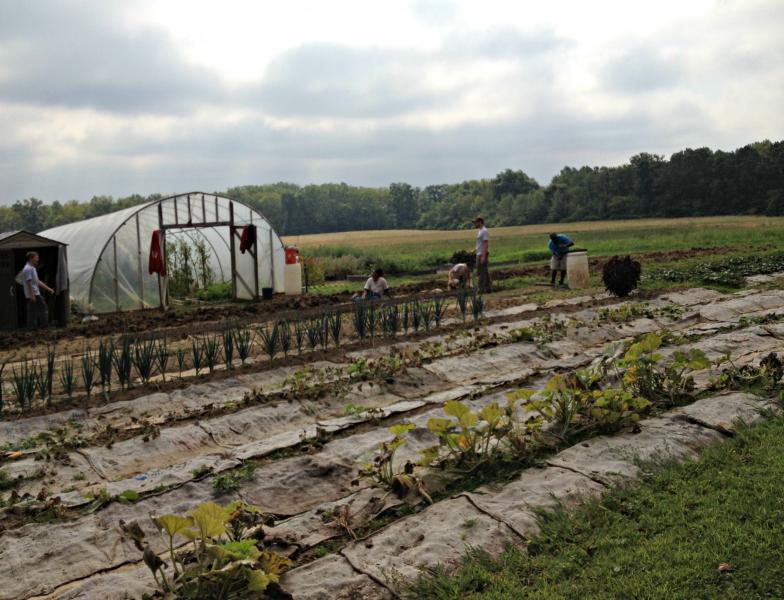 He leans into his spade, and rips into hard clumps of soil.
Then his job coach kneels next to him in the dirt as he tries a new challenge: transplanting.
"So that's what you can do here," she softly tells him. "Scoot this down, and just start dropping them in the holes and then I'll come behind you, OK?"
The work goes well, and Hattie's Gardens manager Nathan Edge says that's typical.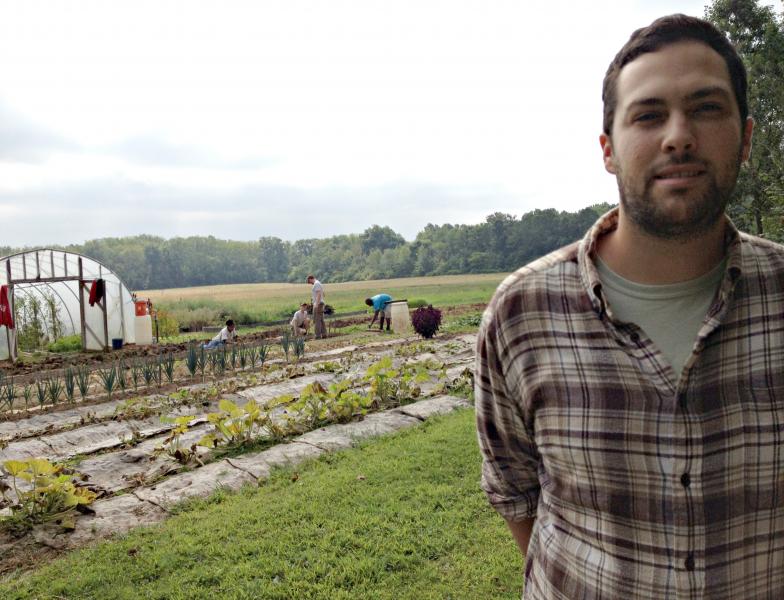 "They are all eager to learn. They're excited with any new tasks that we bring to them."
Hattie's Gardens is one of the Hattie Larlham Foundation's many vocational programs for adults with disabilities.
The foundation headquartered in Mantua was established more than 50 years ago by an intensive care nurse at Ravenna's Robinson Memorial Hospital. She took 10 children into her farmhouse to care for them. Today, with a $35 million annual budget, the nonprofit serves 1,500 people in 20 Ohio counties.
This is the second growing season for Hattie's Gardens at Crown Point. It's a small plot. The group started with just 450 square feet and expanded this year to an acre and a half.
Several kinds of growth
Edge says the seven participants learn a lot about urban gardening and agriculture. But it's "more so learning how to work in a group as a team, learning what it takes to really maintain a steady job, and I think I've seen a lot of these guys grow more responsible, more independent in not only their work lives, but also their personal lives."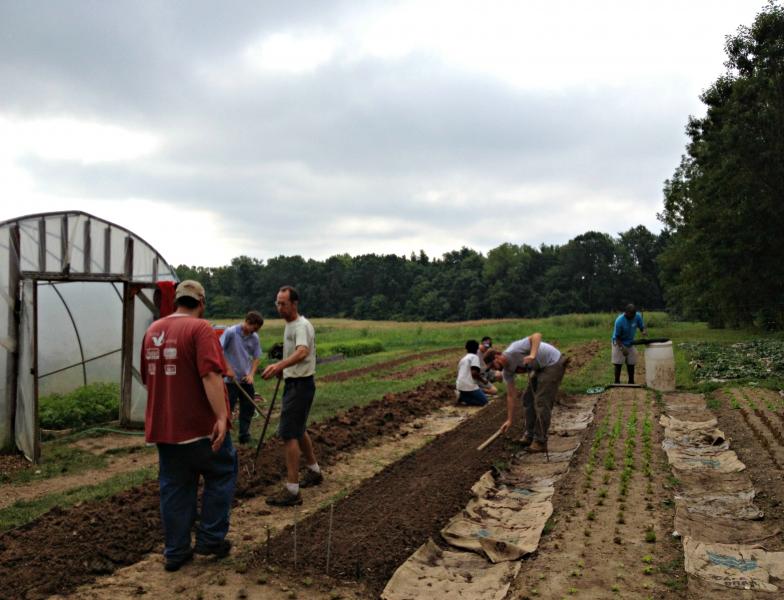 Edge makes sure they learn how to use farm tools and basic gardening skills and that "they maintain those skills. And if we need them to, they can work independent of us. … We have a wide range of folks that we serve. So we try to match the specific person's challenges to different tasks that we need done, but we also try to challenge (them to) ... help us out with something new or learn a new skill."
Edge introduces us to 22-year-old John McKim, who says he likes the feel of the soil.
"Watching the circle of life of growing stuff from seeds spring forth from the earth and it's just like a natural feeling that I have."
He intends to make a living as a farmer.
"I'm looking at further on down the road maybe one day breaking off from Hattie's and starting my own farm … which I'm naming after my grandfather who taught me everything that I know."
John's favorite chore is tending to the cucumbers, "making sure they're developing right, have that nice golden, Irish, emerald green color which means they're at the peak of freshness for harvest."
The market
Chefs praise the quality of what John is growing.The Blue Door Café in Cuyahoga Falls and the Tavern of Richfield are supplied by Hattie's Gardens.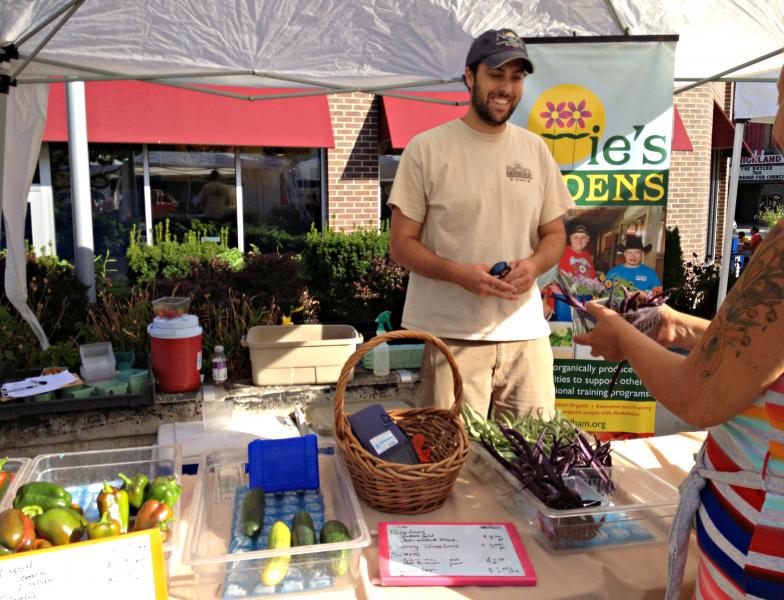 At Hattie's Cafes, adults with developmental disabilities get vocational training in food service. The Hattie Larlham Foundation has four snack shops in Akron and one on Lakeside Avenue in Cleveland.
Hattie's Cafes get fruits, vegetables, and herbs from Hattie's Gardens, and Nathan Edge sets up stands at farmers' markets to sell what's left.
What attracts shoppers to Hattie's Gardens' stands at the markets are varieties you don't often see in stores. They grow a dozen varieties of lettuce and two dozen varieties of tomatoes including heirlooms. Along with traditional sweet bell peppers, green and red, they grow bullhorn peppers. And along with pole beans, they grow yellow, green and purple varieties of bush beans.
Edge says many of the farmers weren't familiar with vegetables until they grew them.
One young man who came to work in Hattie's Gardens had moved to Akron recently from a food desert on the south-side of Chicago.
"I don't know if he could have told you the difference between a tomato plant and a carrot probably," says Edge, "but he's grown and started learning how to plant vegetables, how we harvest, and he's now one who will bring vegetables home every day to his family."
Renewing spirits and getting the most from every inch
The farmers-in-training can take home all the fresh produce they want, and that ties into the mission of Hattie's Gardens' host. The Dominican Sisters of Peace established Crown Point in 1989 to engage people with nature, and to renew earth and spirit.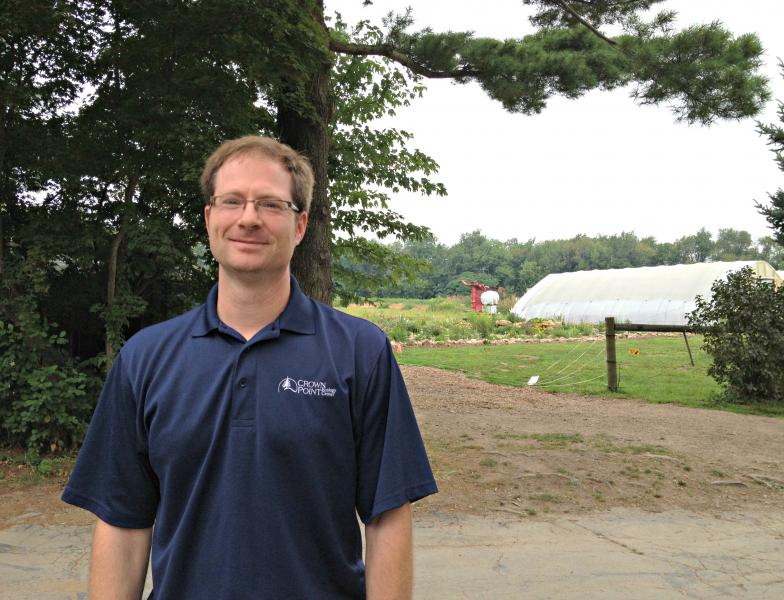 Chris Norman is the executive director of Crown Point.
"Collaborating with Hattie's Gardens has meant for us not only an experience first-hand with folks with developmental disabilities, but also an ability to show intensive square-foot gardening. So it's a nice complement to our own production needs."
Intensive square-foot gardening means getting the most out of every inch of soil and that's what Hattie's Gardeners do on their modest plot.
"The importance of food sovereignty in Northeast Ohio, being able to grow a significant portion of our own food," says Norman, "will rely on a combination of intensive productions like Hattie's Gardens as well as ... relatively small farms. You're talking 50, 100 acres being able to produce in-season for the local market. So I think Hattie's Gardens is a terrific model."
Hattie Larlham CEO Dennis Allen is also working with Crown Point's neighbor, Old Trail School, and the Conservancy for Cuyahoga Valley National Park, on a small garden at the school, not only to employ people with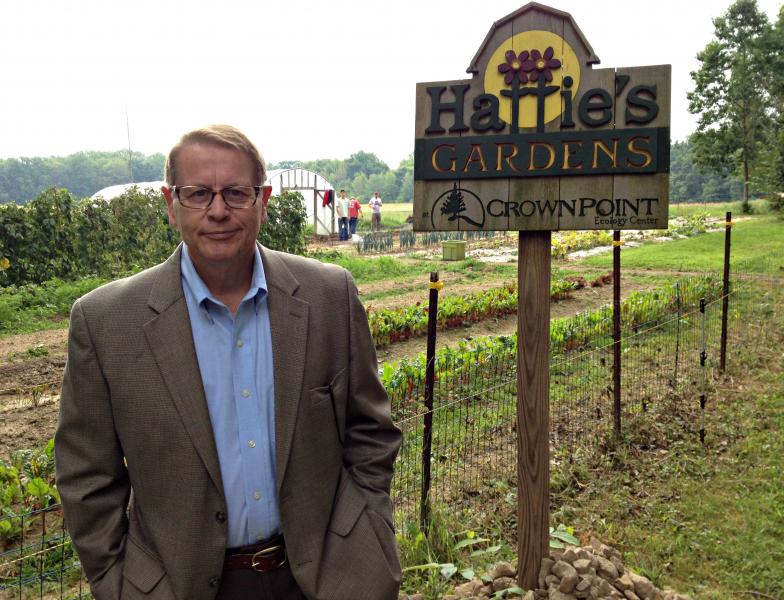 disabilities, but also to teach children about sustainable small-scale farming and good nutrition.
"We're looking really at how do we educate. How do we take what we're learning here at Crown Point, what we're learning at Old Trail School, and take that into the inner city.
Would some of those new opportunities include vacant lots in the city?

"Yes, actually it does," says Allen. "And we're building partnerships there as we speak."
The season is coming to an end for sustainable intensive square-foot farming at Hattie's Gardens, but it will resume in the spring.
And through this first weekend in October, you can still buy what Hattie's gardeners have grown at the Quirk Cultural Center in Cuyahoga Falls and the Countryside Conservancy Farmers' Market at Akron's Highland Square.
And that's this week's Quick Bite. Next week we visit with two local farmers: one who swears by genetically modified crops and another who's scared of them.