Environment



Wednesday, October 2, 2013




Couple sues Muskingum Watershed Conservancy District over mineral leases




The state's largest conservancy district is leasing property and selling water to support fracking


by WKSU's TIM RUDELL


Reporter
Tim Rudell
A couple that owns property near Seneca Lake State Park is suing the Muskingum Watershed Conservancy District over fracking. WKSU's Tim Rudell reports.
Frustration led to the legal action according the Leatra Harper.

She heads the Ohio Fresh Water Accountability Project. She says she and other environmental activists tried for two years to no avail to convince the Muskingum Watershed Conservancy District not to sell water from state reservoirs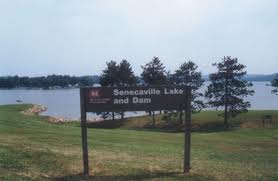 or lease mineral rights on state land to frackers -- oil and gas drillers who use hydraulic fracturing technology to tap energy deposits locked in Ohio's Utica Shale formations. So she and her husband, who have a place near Seneca Lake, where drilling rights have been leased, decided to sue the Conservancy District.

Strategy
Her lawyer, Terry Lodge says the strategy is to challenge the district's basis for doing business with the energy companies. "We're seeking what's called a declarative judgment. What we're advocating it that the MWCD does not have the legal authority to do mineral rights leasing."

Darrin Lautenschleger of the district says no one there has seen the lawsuit yet, so there is no way to comment on it.

Major revenue for lakes
In combined water sales and mineral rights leases, the district has collected more than $75 million in the past two years from the oil and gas industry. The money has gone into refurbishing and refitting recreational facilities in the 14-lake district, and toward conservation and environmental protection projects.
Page Options
Print this page
---
---