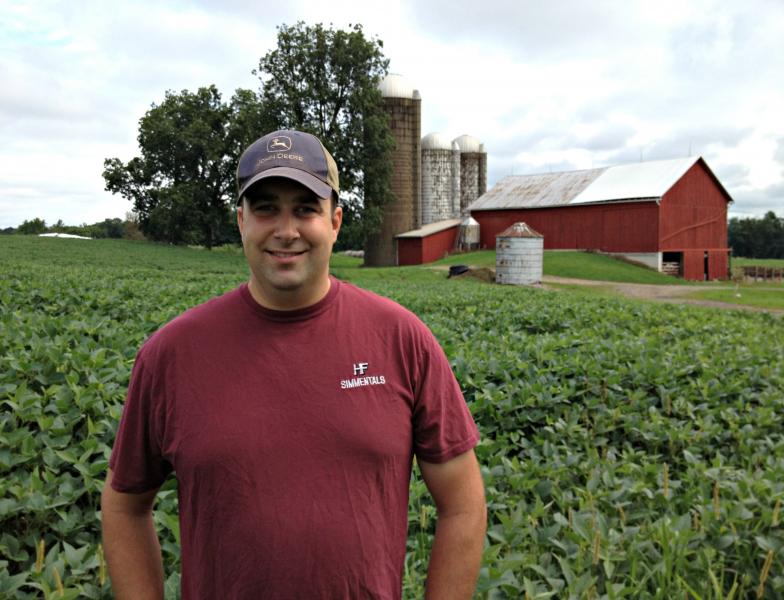 On a breezy autumn morning in West Salem, Mike Haley pulls back leaves in his soybean field, admiring how the crop has outgrown the grass and
weeds underneath.
"Right now we're looking at soybeans that are about a foot taller than the grass. The soybeans were able to get above the canopy the grass was creating to the sunlight and absorb the full effect of the rainfall."
These are soybeans that grew from genetically-modified organisms or GMO seeds.
Genes modified for higher crop yields
The seeds are genetically-altered to resist Roundup, the world's most popular herbicide, marketed since 1976 by the food giant Monsanto.
In the mid-90s when Monsanto first modified soybean seeds to stand up to Roundup, Haley bought the new seeds even though they were a little more expensive. He saw it as a way to increase his yield and stay competitive.
"Over in the corner field, there's a little patch of giant ragweed. That's where I missed spraying a spot. Don't criticize me too much for that. But that weed was almost impossible to control in soybeans before Roundup. I remember growing up my Mom's job was walking the fields and hand-spraying the giant ragweed with Roundup."
Today, Haley says Roundup-ready seeds save him time, money and painstaking labor.
"We can go in there and we can spray the weeds in the field without hurting the soybeans."
Haley says GMO seeds also helped him weather last year's drought, and improve his soil quality.
"In order to control the weeds we'd have to do a lot more tillage which would mean more erosion. The way we've adapted our farm we feel it's a lot better for our farm than it was 30 years ago."
He's heard others express concern about GMOs.
"Is there a reason for concern? It's hard to say. I think that as the technology evolves we're going to see a lot more benefits, not just to the farmer but also to the consumer."
An organic farmer has another opinion
About 50 miles southeast of the Haley Farm, at Creekview Ridge Farm in Minerva, organic farmer Kip Gardner couldn't disagree more.
"GMOs help preserve a system of agriculture excessively dependent on chemicals. That is damaging to our soils and our environment. That system needs to change if we're going to continue to feed our population."
Compared with Haley's 2,000–acre spread, Gardner's farm is tiny, just 26 acres. He keeps 100
chickens, and grows fruit, vegetables and alfafa for hay.
Unlike Mike Haley, Gardner wasn't born to farm. He's an ecologist and molecular biologist teaching environmental science at Stark State College.
Three years ago he moved his family to a farm
that dates back to 1875.
"When we bought the farm, it was a conventional corn and soybean farm. We are transitioning it to a diversified, certified-organic farm."
His chickens lay about six dozen eggs a day and Gardner's customers tell him they're glad he feeds the hens only non-GMO grain.
"And they know that conventional chicken feed, because of the huge percentage of soybeans and corn that's grown GMO, is going to contain GMO grain."
There's a nutritional difference in the eggs Gardner's hens lay compared to what you get in the supermarket. Research shows chickens raised without GMO feed lay eggs with higher omega-3 fatty
acids.
No tests on humans
Gardner says the uncertain impact on human health is his biggest problem with GMOs.
"Here in the United States, we've pretty much allowed them to develop unregulated. There are currently roughly 100 crops approved for use in the United States, more in the pipeline, many we don't know what the effects are going to be."
Although GMO staple crops like soy and corn have become ubiquitous, there have been no human trials of GMO foods.
"In the United States," says Gardner, "most of the research is done by the companies that develop the crops."
A French study last year on rats showed those fed GMO grain developed tumors earlier than and twice as quickly as a control group.
"There've also been concerns about some anecdotal reports of allergic responses and other things,"
says Gardner. "So we don't know yet."
Consumers can't tell GMO from non-GMO
Most of the European Union outlaws GMOs and where they're legal, they're labeled.
Maine and Connecticut recently enacted labeling laws and 20 other states are considering it.
Sens. Elizabeth Warren and Mark Udall last month urged the FDA to require labels on GMOs marketed as food.
But back in West Salem, Mike Haley remains confident that GMOs are good for his soil and his crops.
"We're able to move forward way faster with using bio-technology than with traditional breeding because they're able to evaluate the different genetics and work with them so much quicker instead of working years to isolate the genetics through traditional breeding techniques."
He says the latest innovation is heart-healthy.
"Omega-3 soybeans. They've altered the oils in the soybeans so that it's heart healthy. So when French fries are deep-fried at McDonald's, it's going to
be heart-healthy oils, very similar to an olive oil. So I'm kind of excited about being able to grow more nutritious crops because of the new technology that's coming around."
But research scientist-turned farmer Kip Gardner wonders at what cost to the environment.
Still uncertain: the long-term environmental impact
New weeds that even Roundup can't kill have been popping up.
"So now they're talking about creating GMO corn and soybeans that are resistant to more powerful herbicides like 2-4-D. Now we're going to see that back in the environment, where the use of 2-4-D has been pretty severely limited in recent years."
Gardner empathizes with farmers who think chemicals and GMOs are essential. He just thinks they're wrong.
"For those folks who are in that system of agriculture, it is solving some immediate problems. But we're saying we are working on a different model, hopefully one that we can demonstrate is as effective."
Organic farming is growing stronger with consumers increasingly concerned about nutrition and food safety.
But with 7 billion of us on the planet now and another 2 billion expected by 2050, the higher yield potential of GMO's attracts powerful support.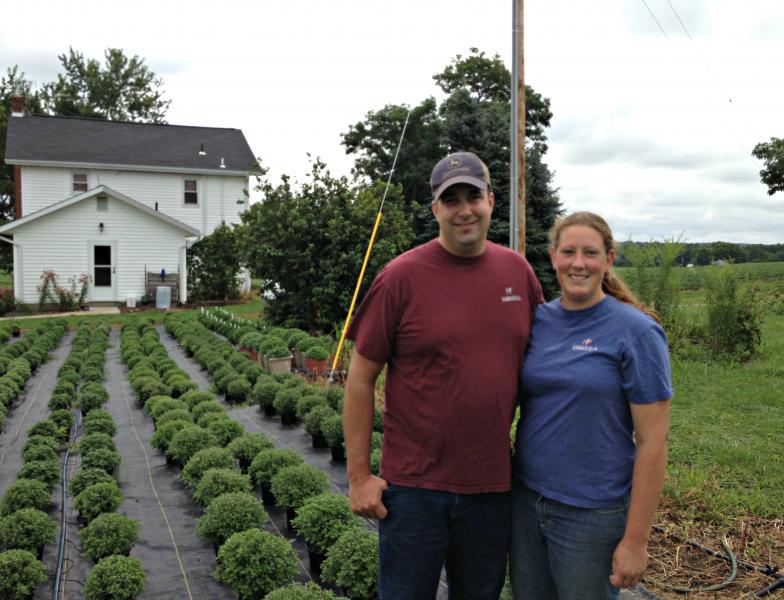 Last month, the editors of Scientific American came out against labeling GMO foods, saying the U.S. Food and Drug Administration has proved they're neither toxic nor allergenic. The editors write: "In the growing battle over GMO foods, science is being used as a weapon."
And that's this week's Quick Bite. Next week, on a lighter note, and before it gets too cold, the topic will be popsicles.