Tim Knorr's motto is "freezin' with the season." He makes artisan ice pops using seasonal fruit.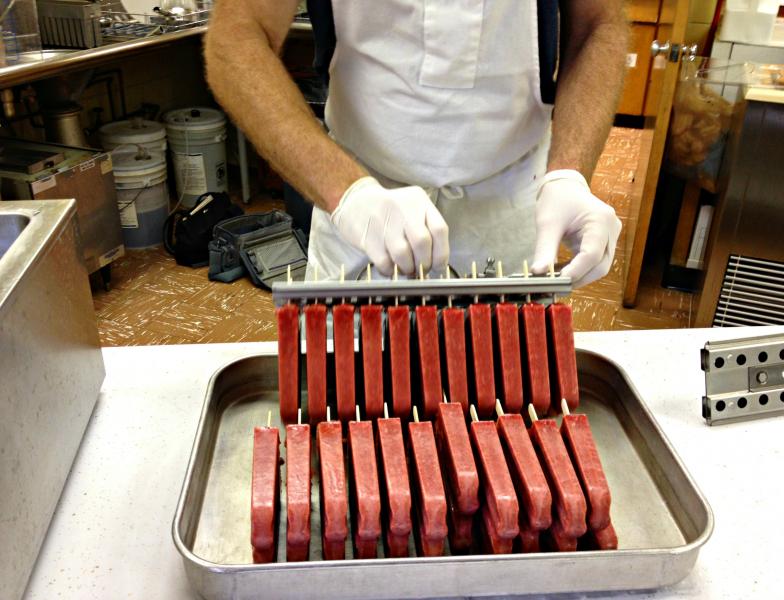 "Some people call me the Popsmith," says the lanky, soft-spoken former farmer with a quick grin, "but it isn't necessary, really."
He may be riding the crest of a new wave in the local foods movement. Small-scale specialty mom and pops are forming when food producers connect with small family farms.
Knorr relies on local fruit farmers for the fresh ingredients of his gourmet popsicles. He blends locally sourced herbs and spices into the fruit.
Icy, trendy, and gourmet
"It's a great new trend," says Knorr. "Americans have been missing out on good quality ice pops for many, many years, and it's finally come and we're happy to be part of it."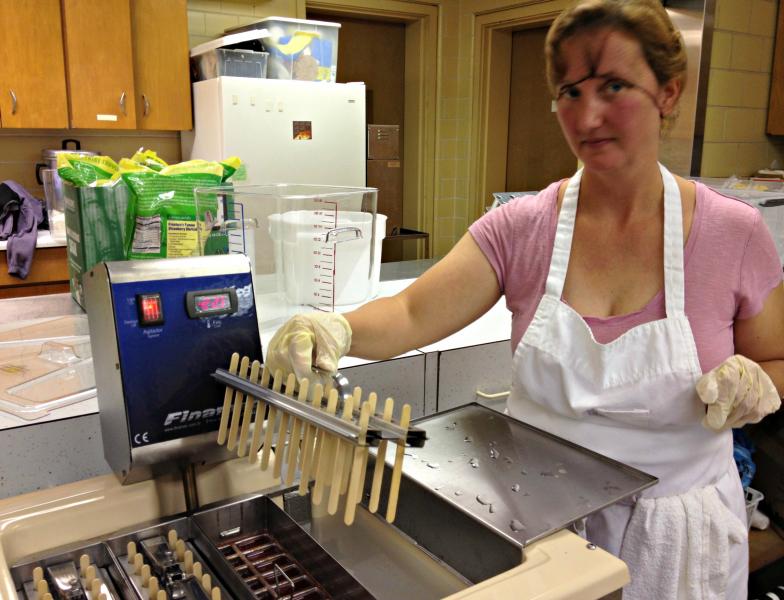 Knorr and his wife, Beth, started making popsicles just for something fun to do with the kids. But after getting creative with exotic flavors, Tim and Beth took a chance that others might go for it.
"We knew that we loved them and our friends love them," says Beth, "but we were going out on a limb, and it was a big chunk of our savings. But the response has been really great even for a relatively cool summer."
They found the machinery they needed by surfing the net.
"They have popsicle equipment here in the United States," says Beth, "but it's made for very large scale operations. But in South America and Mexico they have a lot of mom and pop shops that make paletas. And so we were able to find smaller-scale equipment from Brazil."
Sweet, fruity memories

Their winter honeymoon in Huahaca, Mexico, served as inspiration.
"There were paleterias all over the place there doing the popsicles, and the shaved ice, and even the sorbets and that kind of thing. The flavors were fantastic, and they were using the fruit that was available. And little mom and pops were making them and they were delicious."
As manager of the Countryside Conservancy's local food programs Beth Knorr spends most of her working life at farmers' markets. Popsmith buys from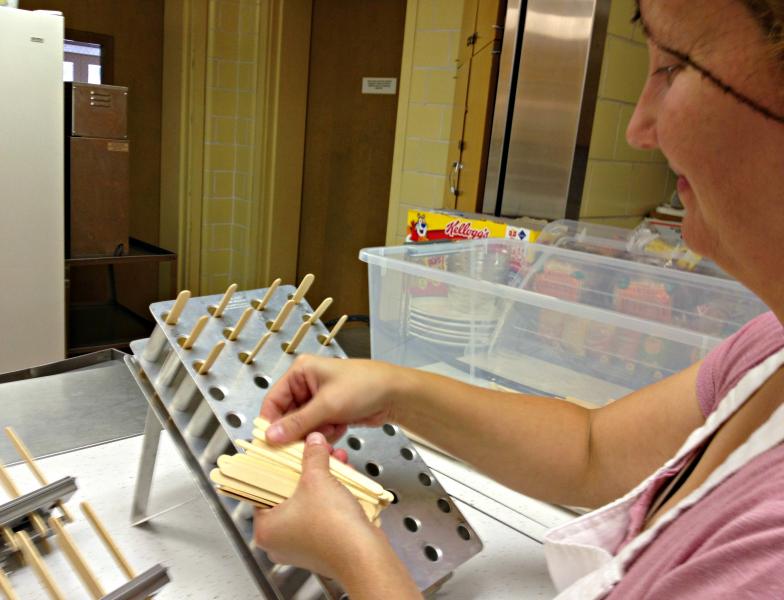 market vendors and sells from a push-cart right next to its suppliers.
"Just Northeast Ohio farmers," says Beth. "It's pretty convenient to pick up the fruit then and there while we're there. But it's really important to us to support our local farmers, and seeing as we were farmers for a long time we know how important it is."
Farmers at heart
The Knorrs farmed for many years at Crown Point Ecology Center in Bath where Tim was farm manager.
For him, Popsmith's been a natural transition.
"I've always wanted to work in food. And I did farming for 15 years and that was farming vegetables, so that was in the healthy business, making people healthy for 15 years,. But I guess I decided I just wanted to make people happy instead."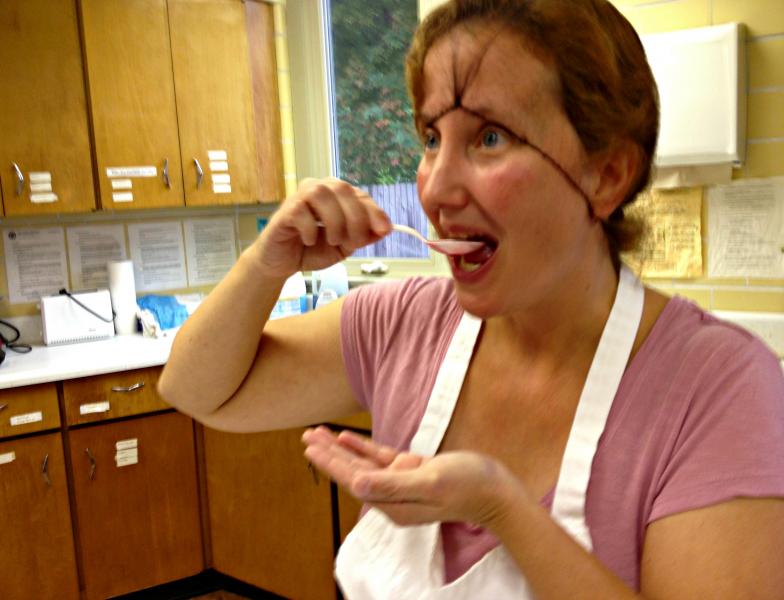 Beth had her own motivation. "Doing something I believe in," she says, "a lot."
It helps that she knows the ropes. "With my vendors if they have questions about processing their product, questions about how to source local food, I act as a helper with that. And it was really helpful when we were starting this business because I knew a lot of people at the Department of Agriculture to speak with and figure out what we needed to have in place to make this happen."
Family time spent freezing
Nine-year-old Maggie and 6-year-old Gus help, too.
"They're definitely excellent tasters," says Beth.
Gus prefers the blackberry watermelon ice pop and Maggie's favorite is the rhubarb orange blossom.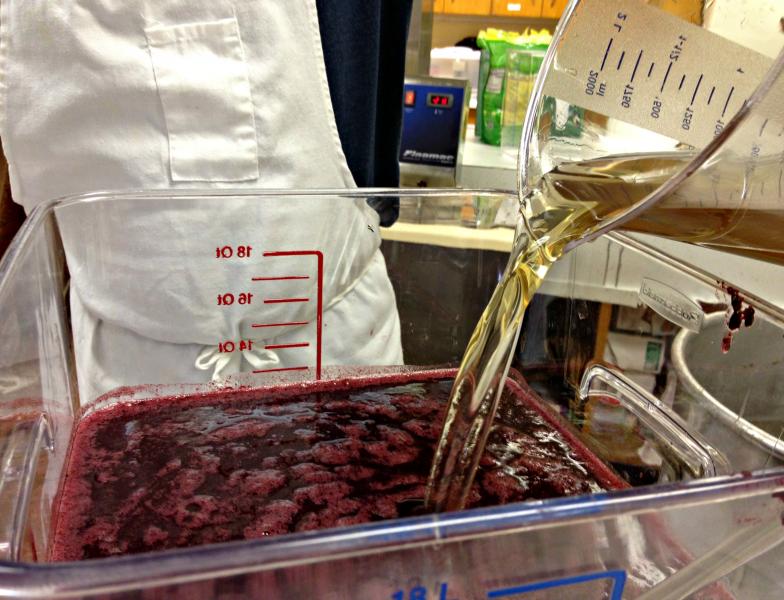 "They're great salespeople, too."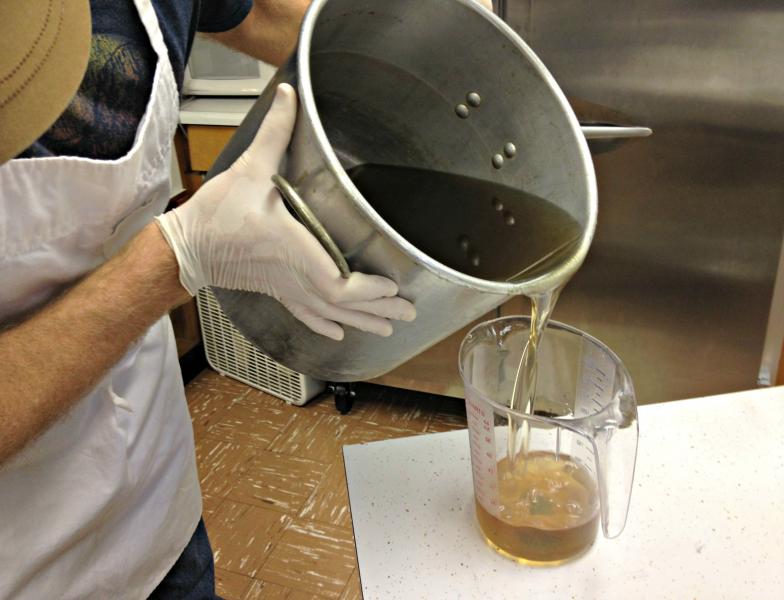 The Knorrs work hard but happily in the kitchen of a church on West Market Street. Tim is there for about half the week and Beth joins him on her day off and for their Friday night "date night" in the kitchen.
It's Beth's job to place flat wooden sticks into a custom-designed aligner. Then the stainless steel molds filled with sweet liquid dip into an alcohol bath of food-grade propylene glycol that can get down to minus 21 degrees Celsius without freezing.
After 20 minutes in the freezer, the pops are solid.
"We have a hot-water bath. When we take the molds out of the freezer we put them in here. That melts the sides a little bit and enables us to pull them out smoothly."
Fruit from all over Northeast Ohio
Among their local sources are Huffman Fruit Farms in Salem and Morning Dew Orchards, about 8 miles south of Salem; Rainbow Farms, and Woodworth Farms, both in Madison; Blueberry Hill Farm in Loudonville; and Walnut Drive Gardens in Mogadore.
A guiding principle of Popsmith is sourcing from Ohio growers.
"One exception for the whole year for the main fruit is the sour cherries," Tim confesses. "Although we did buy them from a local orchard that was bringing them in from Michigan, but this is our one cheat."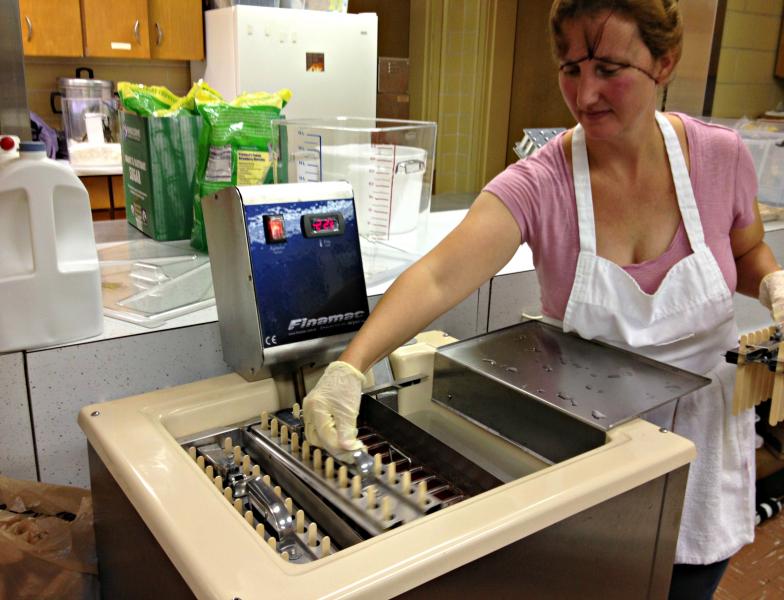 Beth says some of their unusual flavors didn't catch on right away. "We were getting a lot of people raising their eyebrows when we were doing the rhubarb. They were like 'rhubarb?' but strawberry rhubarb is a great combo in pies and they translated well in ice pops."
"We did the cucumber pops," says Tim, "and those were well-received. We tried a sweet corn pop which we both really, really like, but when people see sweet corn on the list of flavors there weren't a lot of takers."
"They are really delicious, though," says Beth. "We'd encourage people to give those a go."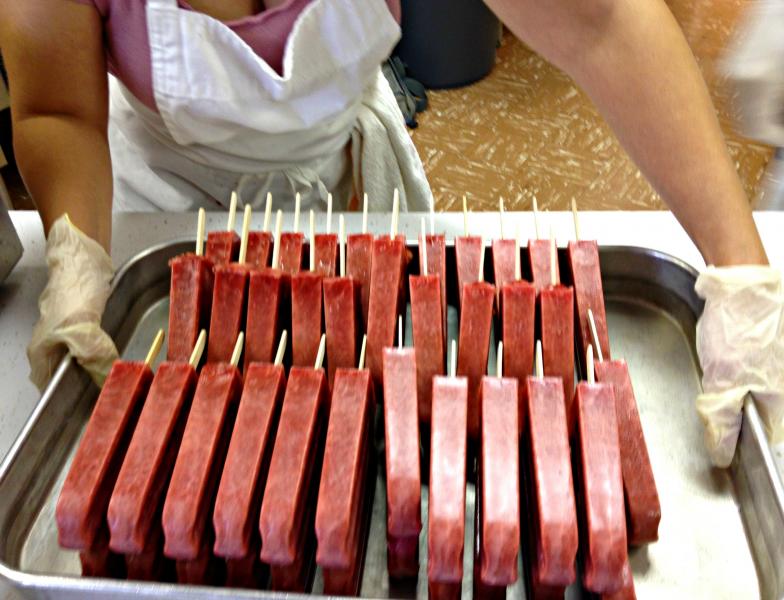 Popsmith ice pops are big, thick, and dense and usually cost $3.
"Unless we have a special flavor," says Beth. "We did some strawberry dipped in a chocolate sorbet and those were $3.50 because they were a little more involved."
Harkening back to simpler times
In a heyday for craft beer and artisan cheese, Popsmith is trendy, but in a way, old-fashioned, too.

"Not to be nostalgic about it," says Beth, "but there used to be a lot of small-scale businesses like this across the country. And so we're really realizing I think as a nation the difference in quality that you get when people are making things in smaller batches and taking care with them as opposed to just mass-producing."
For fall, Popsmith's been getting into flavors like pear, pumpkin, and caramel apple and the warmer than usual temperatures have drawn foot traffic to their cool refreshments as the outdoor market season draws to a close.
But aside from special events and online sales, they've decided to take the winter off and work on their business plan.
And that's this week's Quick Bite. Next week we'll talk with other food producers developing original products in a shared kitchen in midtown Cleveland.