Tim Skaryd has a new business: CCLK, Cleveland Culinary Launch and Kitchen.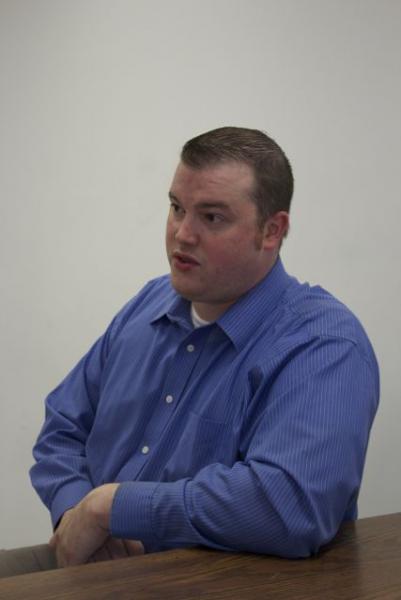 "We work in assisting companies with launching their culinary dreams."
Thirteen businesses including bakers, mustard makers, jam and pickle makers and more pay up to $24-an-hour to develop their products in this 3,400 square foot space.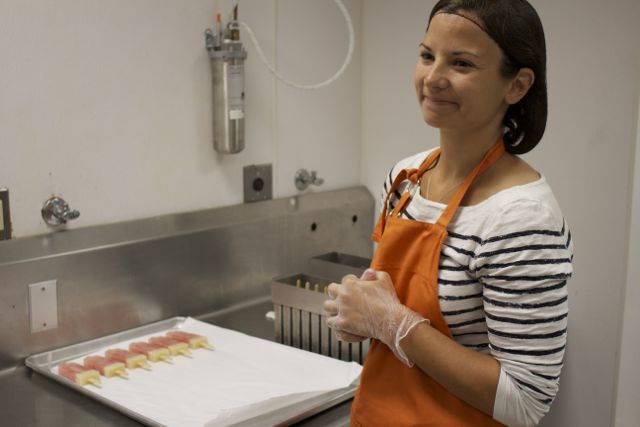 Elizabeth Pryor of Chill Pop Shop uses it to make popsicles.
"This is our watermelon lime. It's very refreshing. We also have a sea-salt strawberry cream and an avocado mint chip."

That's just to name a few.
A cool place to make icy treats
Pryor started her business just last spring.
"And it was so fortuitous that the Culinary Launch Kitchen had started just about the same time. It's been a great place and having a commercial freezer to store our product has been essential."
Pryor says she enjoys the sense of community and camaraderie in the kitchen.
Tim Skaryd says another benefit is not having to sign a lease.
"All you have to do is actually just rent it out by the hour. ... You just bring your bowls, your whisks, your spatulas, things like that. All of the equipment is provided for you."
Now can-do
Shared kitchens have been a trend since the '90s. There are about 300 nationwide, but they don't all offer dry, refrigerated, and frozen storage. And before CCLK opened in June, for canning, it was no-can-do. Tim Skaryd says for that, producers would have to drive to licensed facilities in either Athens, or Bowling Green.
Skaryd worked for many years in food packaging so he can help.
"With their salsas, or their barbecue sauces or their salad dressings, I work a lot with the PH of the products, making sure the product will be shelf-stable."
Food fuels the economy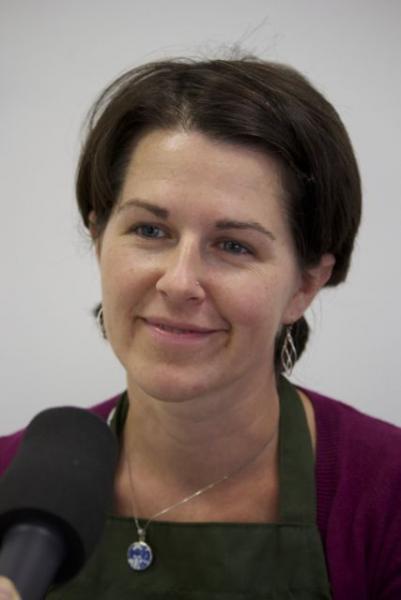 Skaryd's partner Carolyn Priemer contributes her expertise in small business. Her father's company manages the building at 2800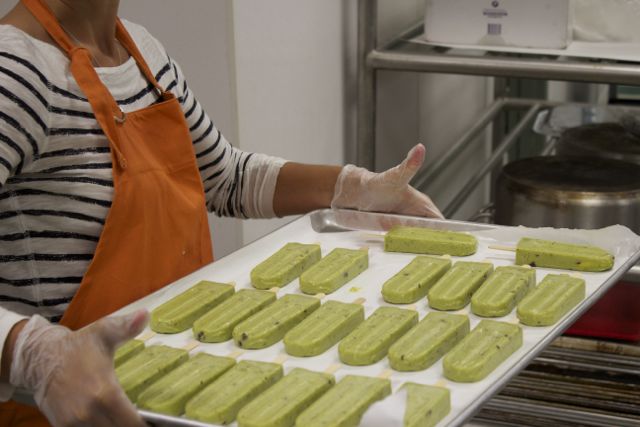 Euclid Ave., and they saw an opportunity when Cleveland State moved its catering operation.
Priemer sees the region's vibrant local food movement as an engine of economic development.
"In this economy, there's this getting back to what's important and valuing our local economy and people who are providing jobs for each other. And I do think people connect this to food."
That's how the third partner in CCLK sees it, too. The Economic and Community Development Institute is a micro-lending organization that moved into the building in July. The non-profit offers start-up funding as well as a food- business incubator program.
Emily Sullivan coordinates the nine-week course.
"We kind of run through everything from food safety to marketing to product development and market analysis."
Sullivan says initially 10 businesses took part.
"And now probably about half of them are going to start seeking financing in the coming months and are ready to expand their
business and take it to the next step."
The institute also runs a shared kitchen in Columbus.
"There's so much support for food businesses. So we pride ourselves that probably almost a quarter of our portfolio between our Columbus office and Cleveland is food-based businesses."
Team NEO reported last year that food manufacturing in Northeast Ohio will be a $3 billion business within five years.
Sweet dreams for a family recipe
Susan Manfredonia hopes to have employees soon, but for now she's the only one producing her Squeeze n' Easy Custard Frosting cake decorating package.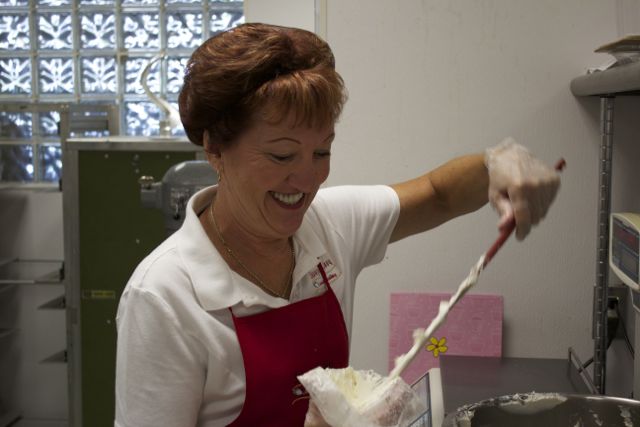 "This frosting has been in the family. I'm third generation."
She's trying to funnel her sweet, creamy creation into a plastic tube to make it squirtable, but it's tedious. So she looks forward to learning to use the shared kitchen's equipment.
"My goal is to get a filler. But since Tim has one here in the kitchen, once we learn the filler, this production will go quicker."
Manfredonia says she was lucky to hear about CCLK.
"Since we've been doing our product here, we are now in a store in Port Clinton called Bassett's Market and doing good. So I'm excited, really."
Churning out more
Jesse Mason of Mason's Creamery is just as jazzed about the business he started in May. He's now selling from a cart at farmers' markets six days a week.
He's a former graphic designer who says he couldn't have got cranking in the ice cream business if he hadn't discovered CCLK.
"I went out and scoured the tri-state area for a batch freezer, and they have been accommodating enough to store it here. It has let us produce in enough
quantities to sell around the area."
So far, Mason's invented 58 ice cream flavors. He rolls out three new ones each week.
Mason might be the first to leave the shared kitchen. He's looking now for a storefront.
A baker sifts through her options
That's what Caitlin Shea dreams of, too. A baker of upscale confections, right now she works in the shared kitchen and sells through word of mouth. In a year or two, she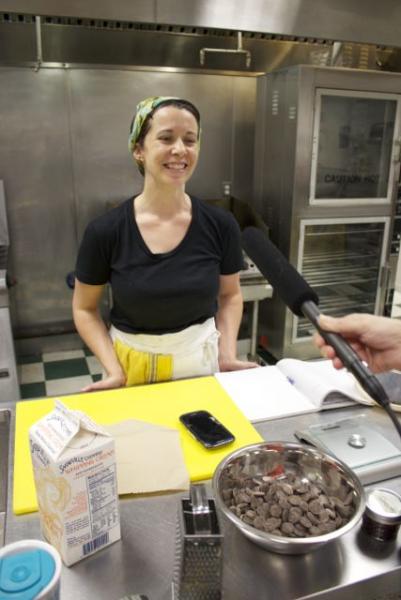 hopes to open the Meringue Bake Shop.
"But that's a lot of money. The overhead is exceptional. Hopefully, through here, we'll get the money rolling and we'll be able to eventually convince somebody that we're a good fit for that kind of business."
Watching her make a macaroon combining fresh orange zest and blackberries with dark chocolate, you can see it comes naturally.
"Ever since I was a kid, that's the first thing my mom taught me how to do. Muffins, pie doughs, breads and cakes. I just can't keep myself from them so I might as well make some money at it. Thankfully through the CCLK, I've been introduced to a lot of people who are helping me figure out business plans."
Collaboration not competition
There's a natural synergy here. Caterers who work in the kitchen have purchased Shea's macaroons for special events.
And popsicle maker Pryor collaborates with the ice-cream maker.
"Our friends Mason's Creamery – even though they're also in a frozen dessert category – we kick around some ideas of what we can use. ... We like to be creative in the culinary sense."
It's an atmosphere in which Jesse Mason's ice cream fantasies flourish.
"My favorite crazy one – and it's not that crazy – was chicken and waffles. It's a waffle-batter ice cream and then deep-fried chicken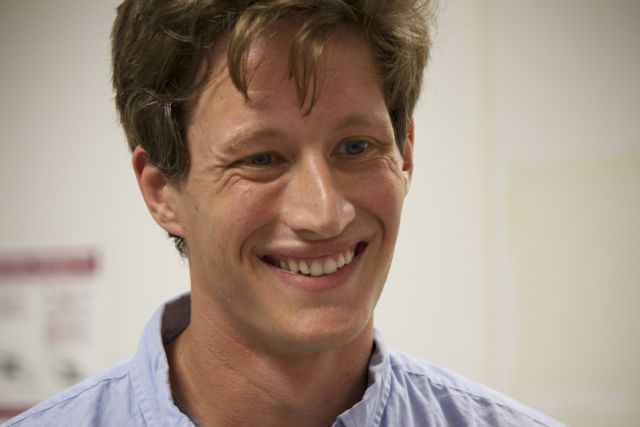 skins, kind of chunked around in there."
Tim Skaryd loves one of Mason's other flavors: fresh-buttered popcorn.
"That one was outstanding. That one was fantastic."
Tempering enthusiasm with a note of caution
Skaryd has seen many flops in the food business, so he flavors the encouragement with a dollop of reality.
"You at least want to let them know of all the business hurdles. But you always want to give everybody the opportunity because some people that I've seen -- where I don't know if it's the best idea -- they go on to flourish and become the next best thing."
The second business incubator class that began earlier this month includes a bagel-maker, a donut maker who uses craft beer in his recipe, a Sicilian-style frozen pizza maker, and three separate businesses specializing in gluten-free pies, cookies and chocolates.
And that's this week's Quick Bite. Next week, no ingredient will have to travel far, as we sit down to a locavore's dinner.