Lois Weir, Jennifer May and their two children, Conor and Megan, are locavores.
"We eat locally, we eat seasonally; we put up as much as we can so that we can eat the stuff in the wintertime, too," says Weir. "We really like eating that way. It's good for the community. It's good for the environment. It's good for us. We eat better. We're healthier."
And thanks to their example, so are some of their friends.
This is the fourth year in a row that Weir and May have served dinner at their home for the Unitarian Universalist Church of Kent's annual service auction.
Meatless and wholly local
This is May and Weir's first offering for the auction that's vegetarian as well as locally sourced. All ingredients come from neighboring farms, friends' backyards, and their own -- including the beans for the bean dip and the basil for the basil-tomato soup.
Lois Weir is not only a gardener and cook; she's also an aerospace engineer.
"Although I have to say lately I'm not employed very much because sequestration has made it harder to fund research dollars. I've had a lot more time to cook this summer. It's been great."
But it hasn't been easy to cook this spectacular dinner.
"This is about the fifth time," says Weir with a sigh, "that we've filled up the compost bucket to take it out back."
Vegetarian cooking can be like that.
But May and Weir don't always cook vegetarian. They call themselves compassionate carnivores.
"We only eat meat from local sources," says Weir, "from farmers that we know treat their animals kindly."
Careful long and short-term planning
Preparations for the dinner continue until the last minute.
"At 7, you've got to put the squash in for the first time," May tells Weir.
"And then we'll be making the risotto while it's cooking?" asks Weir.
"Right," May quickly responds.
Jennifer May is a project manager for Verizon. She and Weir have been cooking all week long for tonight's dinner, but May says some
elements took much longer.
"The pickles were made this summer. The bitters we've been working on for a long time. We really do have to plan what we want to get at the markets. I suppose we could cheat and go to the grocery stores and pick up something we needed but that's not the point."
Do it yourself is the family motto
The couple is DIY all the way. They made their own ricotta and mozzarella cheese for tonight's appetizers.
"So this is a cream of mushroom soup made from some wild mushrooms that I foraged a few weeks ago," says Weir. "Hen of the Woods."
Weir even made her own walnut bitters. Some of it goes into the filling and glaze for tonight's bitter-apple fried hand pies, and some is poured into a classic cocktail, "which is an old fashioned. And we're making ours with local maple syrup and bourbon from watershed distillery in Columbus."
To drink, there's also home-brewed root beer and ginger beer, Taliesen and Titania wine from Myrrdin Winery. And 15-year old Conor May, a Firestone High School freshman, brewed his own English Brown Ale.
"Lois started fermenting with the bitters and stuff," says Conor, "and so I got interested in the fermentation process."
With a sly grin, Conor May says he doesn't mind not being allowed to actually drink his beer.
"I'm happy to sample it for him, says Jennifer May. "It's the price I pay."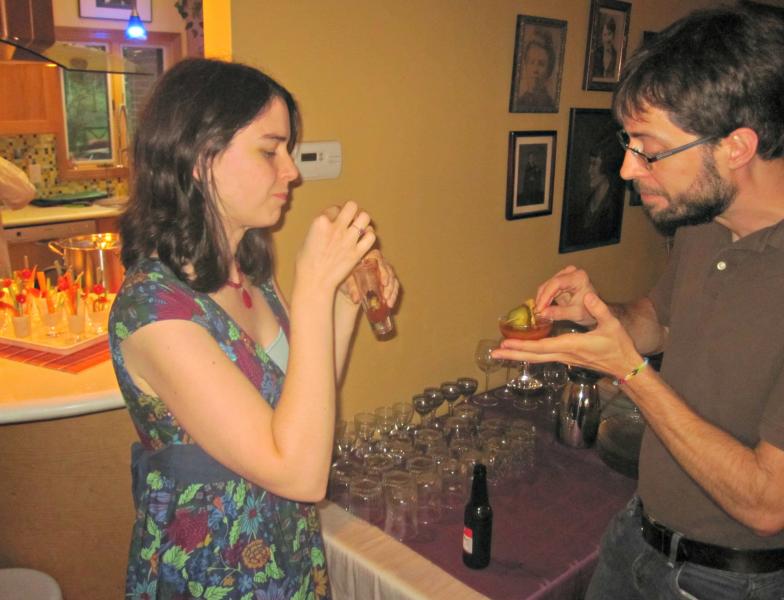 Andrew Rome of Stow couldn't wait to sample it, too.
"Since I have tried some home brewing, this is really exciting," says Rome. "It's the homemade quality of it that sells it."
The children brew, they cook, and they also serve as the wait staff.
Eleven-year-old Megan makes her own gourmet popcorn for the church auction. She attends Spring Garden Waldorf School and learns a lot from her moms at home.
"It's fun experimenting in the kitchen and breaking everything down and making it from scratch components," says May. "The kids have really learned where their food comes from. They shy away from the processed food. They are like, 'Oh we could make that easier.'"
Plenty of appetizers daintily displayed
As guests keep arriving, some start with the maple cherry old-fashioneds, others make a beeline to the appetizers including eggplant
slices rolled into little glasses.
"There's chard pesto inside with the marinara sauce," May informs her guests. "And this is tomato basil soup with grilled cheese. And pickles that Lois made. And these are deep-fried deviled eggs."
Once the eggs are deviled, Megan coats them with panko crumbs and deep-fries them, much to guest Claudia Miller's
delight.
"It's excellent. It is not at all greasy. And I'm loving the looks of those four, five, six colors of tomatoes."
The tomatoes, from Breezy Hill Farm in Homeworth, are for Caprese salad with home-made mozzarella, served along with the wild mushroom soup.
Coming full circle
Cindy Burgio of Cuyahoga Falls came for the healthy local food and to make new friends.
"It's increasingly more difficult, I think, to do that."

The locavore theme resonates with her.
"It was actually a part of my roots when I was a child and it's coming back," says Burgio. "My parents always grew everything. My grandmother always baked everything. It's amazing to me that it's going back full circle."
Most of the produce for tonight's meal comes from community-supported agriculture. Weir and May have a share at Crown Point Ecology Center in Bath.
And they're always looking for something fresh and new at their favorite farmers' market stands.
"Banzhaf Garden and Huffman Fruit Farms and Ledgewood Larder. All of our dairy comes from Hartzler Dairy, which is in Wooster."
A salute to their farmer friends
Eighteen local sources are acknowledged in the printed menu placed on every dinner plate.
But May says they're not trying to proselytize.
"It's not our goal to do that, but a lot of people ask us, 'Where do you go to the farmers' market?' And I think by doing this we just show people how easy it is to have a lot of variety and be gourmet with the foods that you get at the farmers' market."
It also raises a lot of money for the church. Tonight's 10 dinner guests each paid $80 to attend.
Local veggies and shared values

Marion Yeagler says she came not only for the good food and fellowship but also because of her Unitarian values.
"We think that the whole world is connected, so the closer you can get to your food source, the less impact it's going to have on the environment. So a lot of us are trying to eat this way … so when somebody does this, it's a real treat."
Locavores and aspiring locavores are welcome at the next church auction. It'll include food and live music and starts tomorrow at 6 at the United Church of Christ on Horning Road in Kent.
And that's this week's Quick bite. Next week we're headed to Dinner in the Dark, a fundraiser for the Akron-Canton Foodbank prepared by the area's top chefs.