"Welcome to Vaccaro's Trattoria for Akron's first Dinner in the Dark. I'm very, very excited."
Rafael Vaccaro's greeting to 80 diners assembled at his restaurant on Ghent Road shows his delight that his is the first Akron venue for a party that's been going on each month for three years in the Cleveland area.
Vaccaro knows Cleveland's cuisine scene was recently celebrated in the New York Times, but he thinks his town isn't far behind.
"Food is becoming a big thing. It's a form of art, and it's getting bigger and bigger. I think we're all in it together, especially on a night like this."
Great food for a good cause

Jeff Jarrett, the executive chef at AMP 150 in Brook Park, and Brian Okin, chef and owner of the Cork and Cleaver in Broadview Heights came up with the concept.
All money raised goes to a charity picked by the restaurant hosting the event. Tonight's will benefit the Akron-Canton Food Bank.

Diners buy tickets online for $65. They're told where to be and when. They know that about a half-dozen of the area's top chefs will cook for them, each contributing a course paired with a different wine. And the rest remains a mystery. There's not even a menu.
"You have no idea what you're still getting even though you're sitting down," says Jarrett. "You have to wait until the chef describes it to you."
He thinks that's part of the draw.
"If you're not kind of daring and open minded, this isn't for you."
Adventurous foodies

It's for people like Linda and Roland Burke Burke of Medina.
"This is the first time in our area," says Linda, "so we figured we're going to grab on to this."

The Burkes have been at every Dinner in the Dark. They count themselves lucky to be restaurant buffs in a region rich with good ones. Linda can cook, but she says she's better at making restaurant reservations.
"There's a lot out here that are very good. There's Thyme II and we have a lot in Medina, the Medina Steakhouse. In Akron, the Diamond Grill is one of our favorites."
"Ken Stewart's is another one," adds Roland. "Yeah, I guess you could call us foodies. We enjoy all cuisines and are kind of adventurous."
We live in a fairly adventurous region when it comes to food. Dinner in the Dark sells out every month, and tonight's no exception. Jarrett says he often sees familiar faces at the tables.
"But with this one being in Akron, which is our first, we sold out in eight days. So there's a lot of new names on tonight just because we are in Akron. But we still have a lot of our typical foodie people coming down from Cleveland. It's right down 77."
All the top toques

The chefs come from all over, but tonight mostly from the Akron-Canton area.
"We have Aaron Hervey, who is doing first course," says Jarrett. "He is from Crave. We have Josh Schory from Lucca; Jimmy Pintiello from Blue Door Café; Matt Mathlage from Light Bistro; Dick Kanatzar from here at Vaccaro's, the host restaurant; Chris Quinn from US Foods; and then Lauren Shaffer. Now she's a stay-at-home mom, but she used to work for me as my pastry chef so it's nice getting her back into it."
Shaffer describes the apple crisp bar she made for dessert.
"It's brown-sugar shortbread with an apple compote and an oatmeal crisp."
Jarrett has no trouble at all getting chefs to pitch in their time and talent.
Chef Matt Mathlage of Light Bistro is very busy getting ready to open his second restaurant, Peachtree, in Hudson, but he likes doing charity events.
"This is one of my favorite ones to do," he says.
Signature dishes
He's making what he calls "Cleveland Fried Chicken" with a sweet corn panecotta and honey and grits.
"This is going to be the signature dish at Peachtree. It's a confited and fried chicken. It's full of flavor, juicy, pretty amazing. Best fried chicken you'll ever have."
The chefs are competitive. Each one wants to shine, but tonight they are a team.
"Dinner in the Dark is like an open jam session for chefs," says Vaccaro's Executive Chef Dick Kanatzer, as he picks up a microphone.
He's the opening act.
"I'd like to welcome everybody here. First course is going to be a grilled crostini with a spec-wrapped fig. On the bottom of the crustini is a house-made beuratta. We finished it off with a little apple-cider
gastrique and a little pumpkin seed oil and some micro arugula."
The foodies applaud
Kanatzer 's bite-sized appetizer is a big hit with Tammy Mitchell of Akron and Edsel Little of Oberlin.
"It's very rich. And there's a nice balance between sweet and salty. It's a very nice combination of flavors, says Little.
Meanwhile, back in a kitchen full of chefs, it's organized chaos.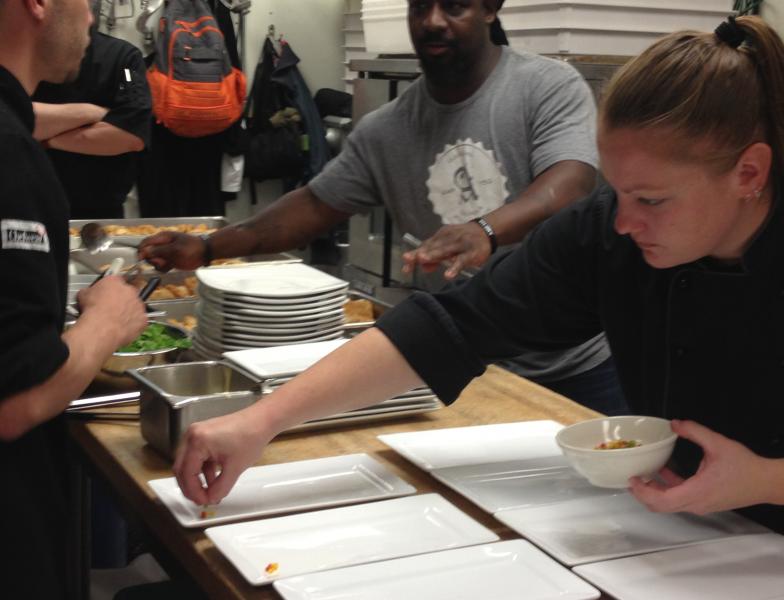 Chef Josh Schory of Lucca in Canton leans over a tray of fried pork skins dotted with twigs of prosciutto, sprinkling on top a powder of porcini mushroom and sassafras leaves. There's butternut squash in there, too, and Ohio maple syrup. Schory calls his concept dish "Fall in Ohio."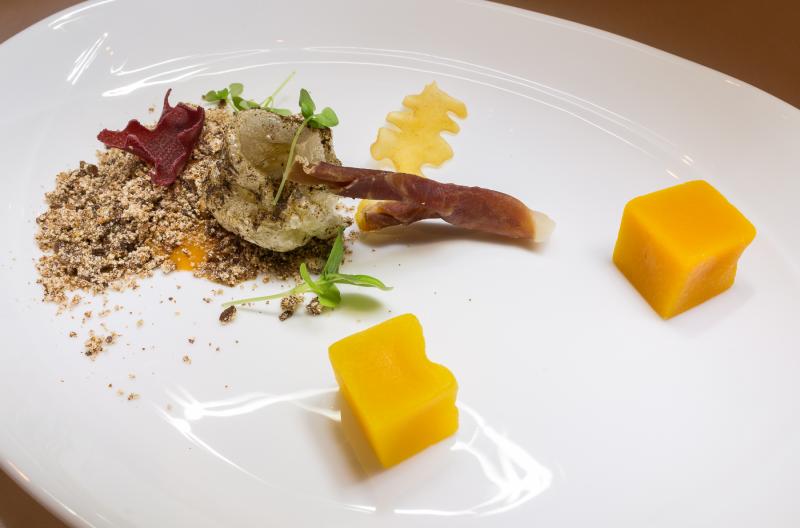 "It's going to make it look like maybe a fallen tree or a log that's been laying down in the woods for a while. It's going to give you a nice crunch and a nice woody, very nutty flavors as well."
That's being served with Thomas Henry Pinot Noir.
Something seasonal to wash it down

Bartender Molly McSweeney of Ken Stewart's East Bank contributes another thirst quencher, her "Almond Autumn Fizz."
"It's Ciroc amaretto, apple cider, lemon juice, two different kinds of bitters. I used angostura and a Fee Brothers Whiskey Barrel Aged bitters- topped with soda water with a brown sugar half rim and a slice of apple. ... I always just try to go with something seasonal."
Something like you'd find at Crave, his downtown Akron restaurant, is Chef Aaron Hervey's offering. "It's a lamb empanada filled with roasted leg of lamb, goat cheese, fingerling potatoes, and caramelized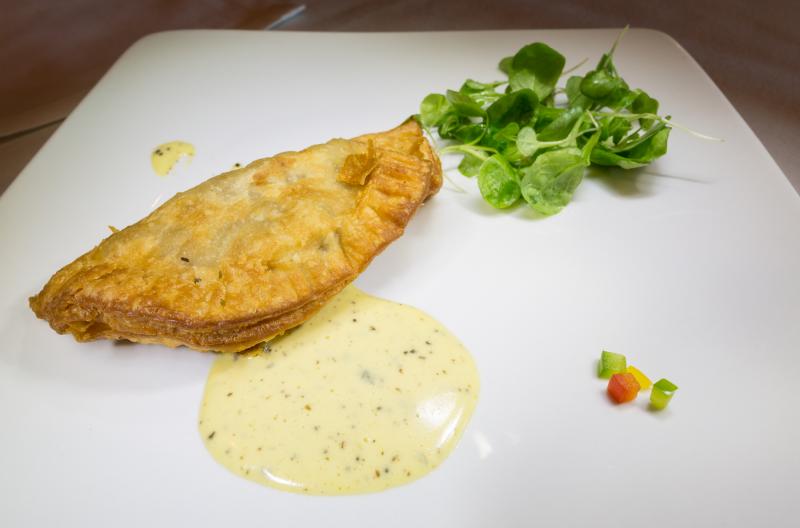 shallots. And there's a black truffle aioli and a little bit of mosh salad."
Chef Jimmy Pintiello also went with something his Cuyahoga Fall's restaurant is known for.
"The Blue Door gets a lot of really good cheeses. ... It's a Vermont-aged goat cheese bijou. I'm doing peach chutney with crispy chick peas, watermelon radish and preserved ginger."
Elder statesman sends compliments to the chefs

Aaron Hervey's only in his 40s, but very impressed with the talented young chefs sharing the kitchen with him tonight.
"In 10 years, a lot of these -- I call them kids -- they're all going to have their own places. It should be really exciting."
And if the New York Times thinks Cleveland's cuisine scene is so hot, Chef Pintiello says Akron's is simmering.
"One of my friends, Zachary Heard, is opening a restaurant called Nuevo, which is going to be like a mod Mex. We're growing and growing, and Akron is very promising."
The next Dinner in the Dark will be in Akron, on Dec. 9 at Crave.
And that's this week's Quick Bite.
Next week, we'll be in Cleveland at a gourmet dinner for hundreds of homeless people, the annual Hand Up Gala.