Otto von Bismarck, the German politician said, "Laws are like sausage. It's better not to see them being made."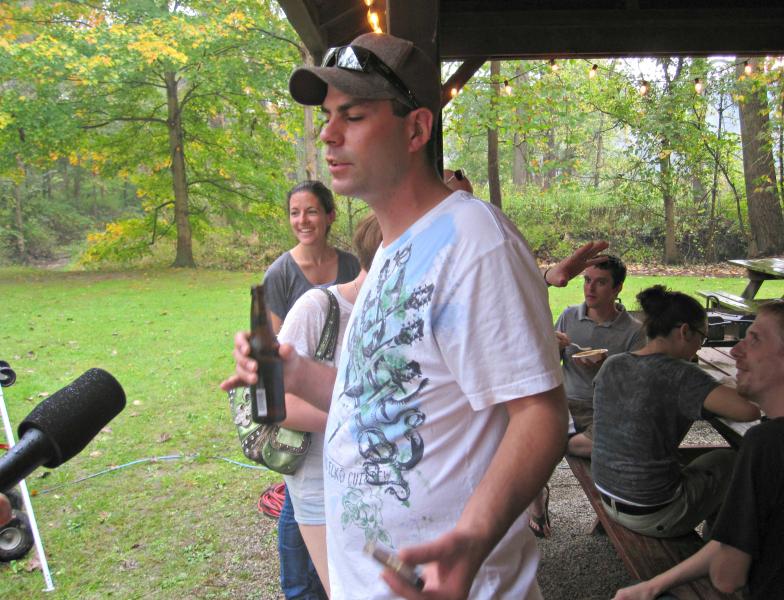 But Ryan Naregon of Munroe Falls loves to see sausage anywhere.
"Sausage all day, all night. As long as there's sausage there, I'm going to be there. I love a sausage fest."
He's at the Par 3 Clubhouse of Brandywine Country Club in Peninsula, on a Saturday in October.
Turnout for the first annual Sausage Fest is good despite the pouring rain.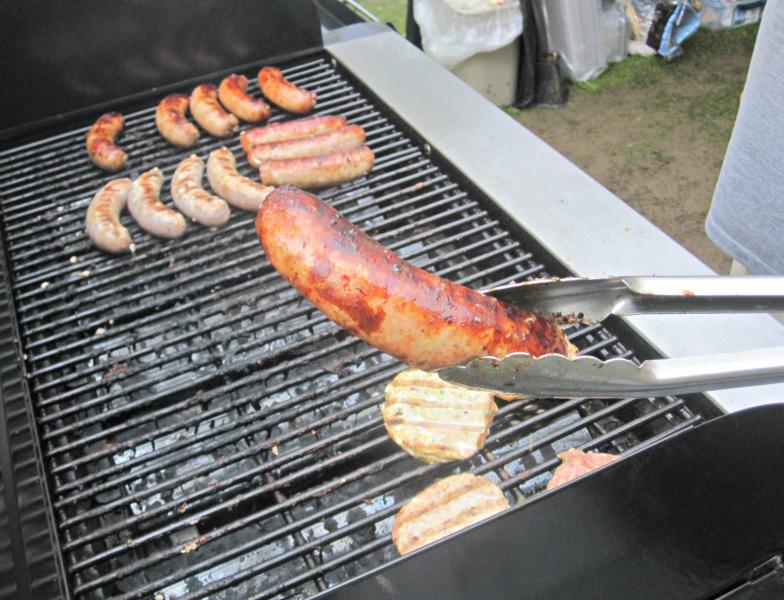 Admission is free and at least a hundred people are ignoring the weather, drinking oceans of beer, and devouring 15 different kinds of sausages.
Most Northeast Ohio ethnic groups are represented
"We have hot Hungarian and regular," says the festival's organizer, J Hudson of Cuyahoga Falls. "Hot Italian and sweet Italian, smoked kielbasa, fresh kielbasa..."
Plus, Hungarian kolbacz, French andouille. Mexican chorizo, and good old American hot dogs.
Hudson came up with the idea for the Sausage Fest when he ran the Hudson Farmers' Market.
"A lot of the vendors that I had there were farmers that were making really unusual types of sausage …And between that and Cleveland where they have so many ethnic sausage makers I thought it would be really interesting to start a festival. But I also thought to myself what goes better with sausage than beer."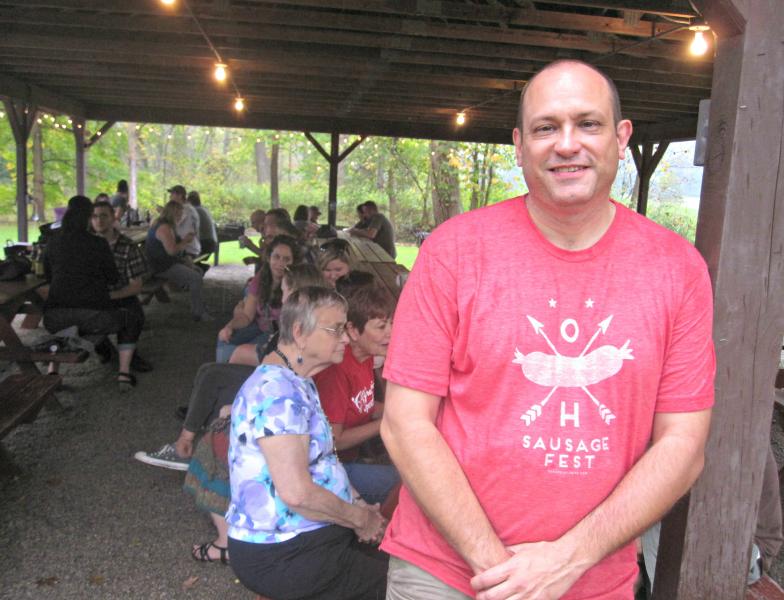 "Nothing," says Dustin Jennis of Akron, "goes better with sausage than beer." Jennis is enjoying a wheat beer.
"And it's quite delicious, he says. "And I had some kielbasa with some mustard on it, and it was wonderful. I'm very happy."
So is his whole family, including his mother-in-law, Terry Szalasko. She drove in from Fairlawn.
"Grew up in the Slavic village area, though, hometown." She says these sausages are as good as the ones she grew up eating. "Absolutely. Vendors are coming from that area or the Akron area which is known for Polish and Slavic people."
Every ethnic group says its sausage is the best
Northeast Ohio has more than 100 ethnic markets, many of them family businesses whose sausages have kept customers coming back for generations.
Each ethnicity treasures its sausage traditions, whether it's Slovenian Sausage from Al's in Barberton or Raddell's in North Collinwood, traditional Bavarian-style weisswurst from Old Country Sausage in Maple Heights, or the recipe the Vinciguerra family brought over from Sicily to Cleveland's Little Italy 60 years ago, now known as Lou's Gourmet Sausage.

Whether it's sweet, spicy, smoked, cured or fresh, ethnic sausage is a delicious aspect of Northeast Ohio's lifestyle.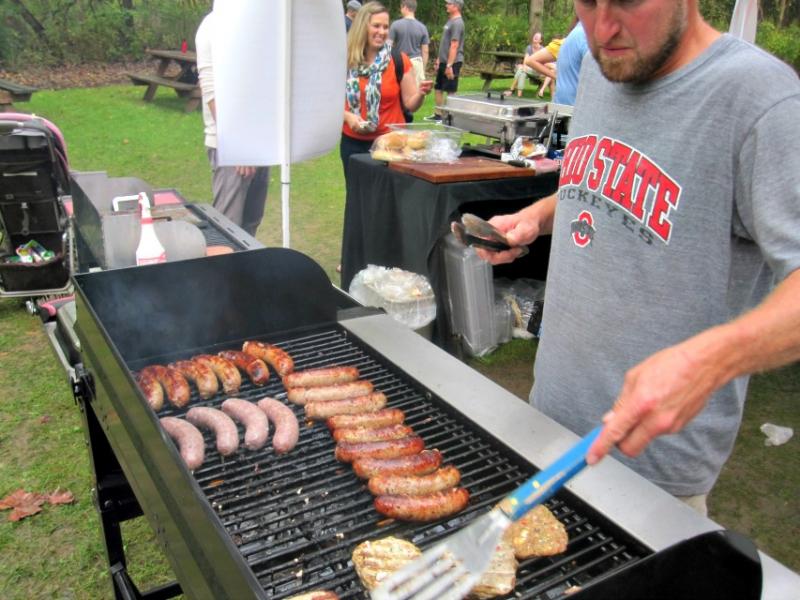 Terry Szalasko says for a Pole like herself, going to a Sausage Fest is almost a pilgrimage.
"My daughter, my son, my boyfriend, son-in-law, we love pierogies , we love our beer, and we love our sausage."
They relish their Polish sausage flavored with marjoram and mustard just as much as Hungarians hanker for the hurka at K. and K. Meats in Maple Heights.
Meanwhile newer immigrants crave the spicy Thai sausage at Mister Brisket in Cleveland Heights, and Filipinos long for longanisa sausage at Sugarland Food Mart in Parma.
Sausage has countless variations with methods …curing, drying or smoking …dictated by climate, and flavoring based on what spices were handy.
Sausage was one of the first methods of food preservation.
When there was too much to eat all at once, we made sausage
The Sumerians are believed to have invented it in what is now Iraq around 4,000 BC, by salting ground-up scraps of tissue, organs, blood and fat and stuffing it into animal intestines.
Delicious, right? And everyone has their favorite. Autumn Johnston is known at the Hartville Marketplace as The Pierogi Lady.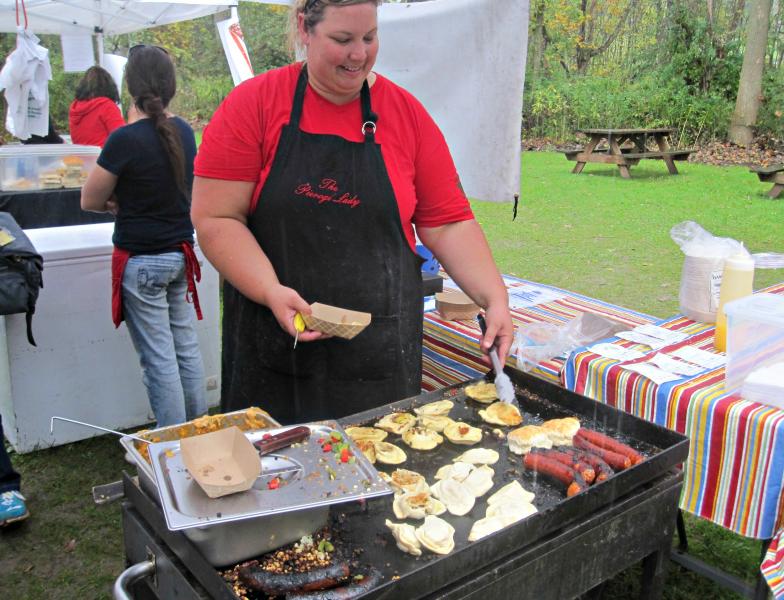 "I'm partial to the Polish kielbasa, the smoked Polish kielbasa from Pressler's. It's really good."
Johnston makes 8,000 pierogi a week, and today in Peninsula in the pouring rain, sausage is her key ingredient.
"Pierogies with chorizo and cheese, hot kielbasa, sausage and sauerkraut, and we also have chorizo and cheese biscuits and gravy."
The Pierogi Lady use Old World techniques and a few innovations.
"The dough is my grandma's recipe. The sausages are from Duma's, Pressler's and the Beefalo people."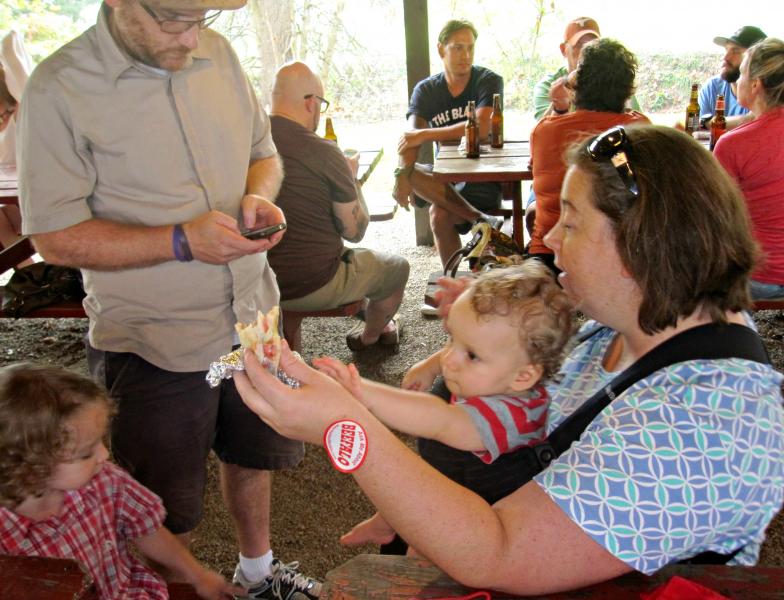 Greasy, fattening? Not necessarily
Beefalo is a cross-breed of domestic cattle and bison. Andrew Hammer of Heartland Beefalo of Canal Fulton makes six varieties of sausage including beer brats, wieners, and maple breakfast links.
He uses no steroids, antibiotics or hormones and says his sausages are good for you.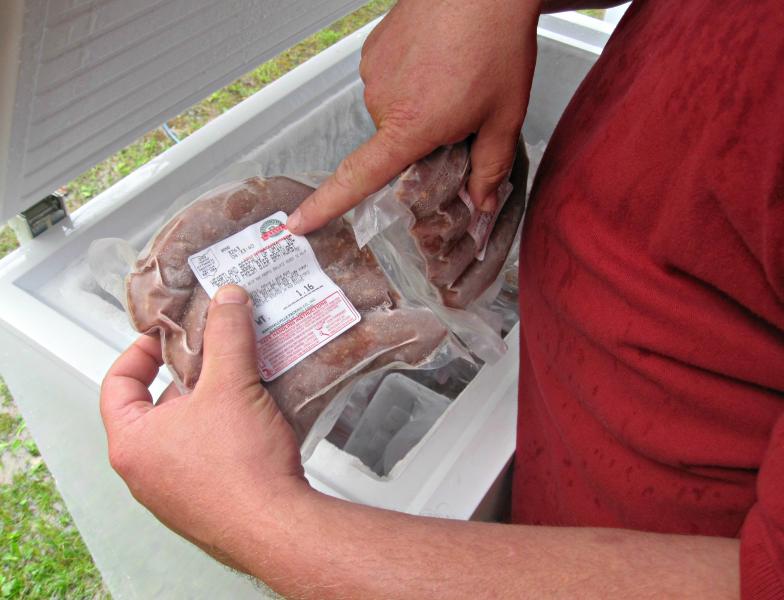 "You get the low-fat, low-cholesterol, high-protein characteristics that come from the bison. But you get the taste and tenderness that comes from the traditional beef."
Tea Hills Farms of Loudonville also claims its sausages are healthy. Jason Tipton says his chickens and hogs are raised on pasture and local produce and organic spices are mixed in by hand.
"I do all the grinding. My girls who work for me do all the twisting, the stuffing. It's all done by hand so it's a quality product, whereas other places are going to be mechanically done."
Tea Hills uses hog intestines for its bratwurst and lamb intestines as casings for its maple breakfast sausage. Large-scale sausage manufacturers use artificial casings like cellulose, collagen and even polymer.
Jason Tipton says that can taste rubbery, just what you don't want in a sausage. You want that casing to snap with your first bite. But you have to grill it right, too.
Grill it carefully
"I like it just to the point where it starts to break," says Tipton, "where the juices start really coming out of there. You don't want to overdo it because it'll get dried out, and you don't like to have a dried-out sausage."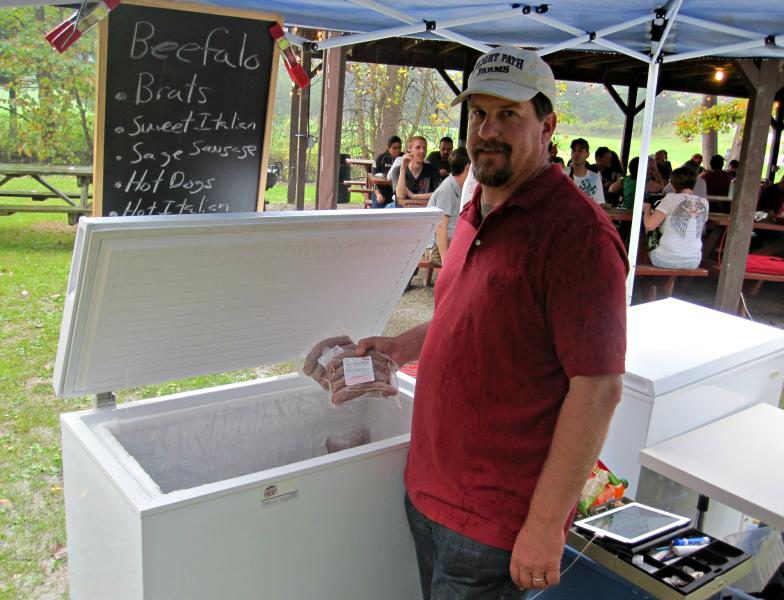 Jay Hudson is carefully watching what he has on the grill.
"One's called Merguez which is a Moroccan lamb sausage, and the other one is Boerswurst which is a South African beef sausage. And both of those are actually kosher sausages and they're made by Boris's Kosher Meats in University Heights."
The Merguez Hudson is grilling is very piquant, but you can get a less spicy version at Brunty Farms in Akron.
Or you could make it yourself.
"Y'know they say you should never see how two things are made, laws and sausage, says Hudson. "I plan to change that at least about sausage."
Planning is already underway for the Second Annual Sausage Fest.
Terry Szalasko can hardly wait.
"We're going to get louder, and happier, because we have sausages, we have pierogies , beer and family, and we're Polaks, so what better mix can you have than that on a Saturday afternoon that's raining."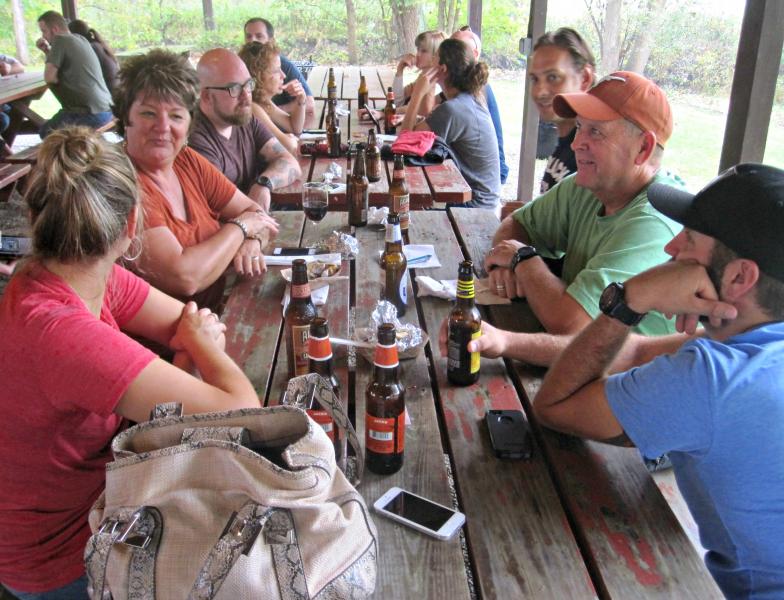 The weather might be better for the second annual Sausage Fest. J Hudson hopes it'll be in late May and plans to have even more sausages, more craft beers, and a bigger venue.
And that's this week's Quick Bite. Next week our topic will be artisan cheese.