Of course, sauerkraut is a popular item for New Year's. But the ping-pong-sized sauerkraut ball is a specialty of the Rubber City – at New Year's or any time of year. Listen to what traveling food writers Jane and Michael Stern told Lynn Rosetto Kasper on our Sunday show the Splendid Table.
"Sauerkraut balls were invented in Akron, Ohio, and a in many restaurants around Akron a favorite hors d'oeuvre is a sauerkraut ball. It's a small sphere of sauerkraut and ground up meat that is breaded and deep fried, ... a wonderful kind of tangy, tart savory hors d'oeuvre."
Going back to at least the early '60's, crispy fried sauerkraut balls have been a favorite appetizer at Akron bars and restaurants.
Keith Kropp, the CEO of Or Derv foods in Akron, says "sauerkraut balls are to Akron like Buffalo wings are to Buffalo and Philly sandwiches are to Philly. "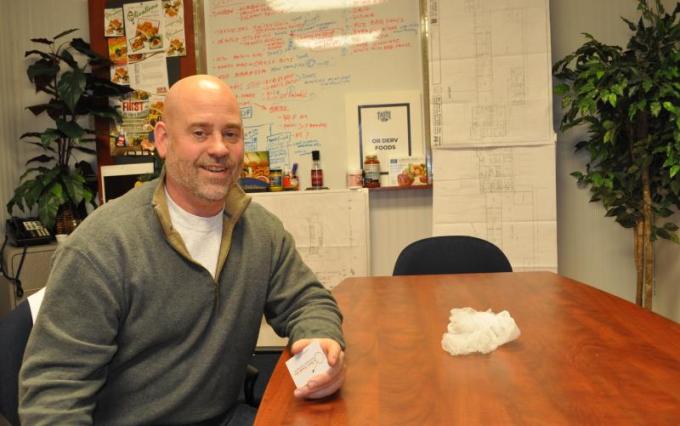 Origins a mystery
His company has been the leading producer of sauerkraut balls going back 50 years, when it was known as Bunny B foods. Kropp bought the company eight years ago and doesn't know how the snack came to Akron.
"Some people say it's German, some people say it's Polish but I'm not real sure on the true origin. I've never been able to find out. But Akron and Northeast Ohio seems to be the place where they're sold. You go outside this area and not many people know what a sauerkraut ball is.
Or Derv sells a couple different versions. Ham is most common, but ground beef is also used.

People commonly eat them as bar food with no condiment or with shrimp cocktail sauce, but Kropp says some people prefer mustard. Deep frying makes them crispy, but they can also be baked on a cookie sheet.
The main supplier
A few Akron restaurants make their own sauerkraut balls, but most get them frozen from Or Derv. The company also makes them for Acme and Heinen's. It all comes together in a very loud kitchen in Akron that the company calls the "ballroom."
Or Derv's Quality Assurance Manager Sadie Dietrick shows us how the balls are rolled from a mixture, breaded and then dropped onto a conveyor belt.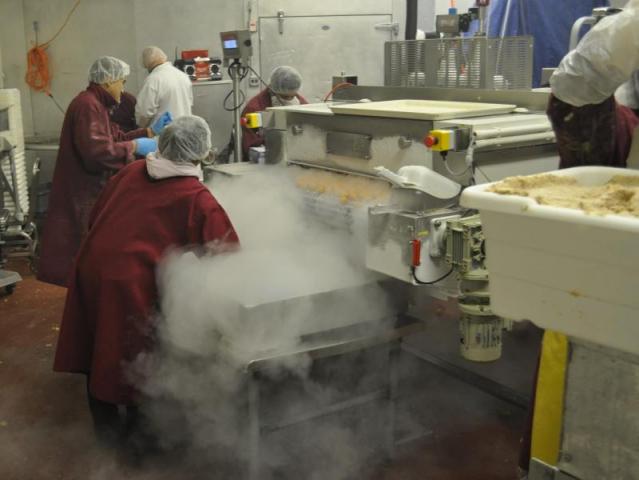 "They make their way through a fryer which is about 350 degrees. It's about 2 minutes in the fryer, so it's a par-fry -- it's not fully cooked -- because the consumer is going to fry them again before they eat them.
This equipment was turning out as many 30,000 sauerkraut balls an hour to meet the demand for the holidays. Dietrick says their Connoisseur brand is a newer, larger ball.
"The Bunny B is the original Akron sauerkraut ball back when they were founded in 1964. This one is a little smaller and has more parsley flakes in it."
The company also makes a Reuben version with corned beef rather than ham.
New headquarters
After the balls are fried and inspected, they are carried along the conveyor to a tunnel cooled by liquid nitrogen.
"They go from a 350 degree oil to being frozen in five minutes. "
The company isn't trying to spread the word about sauerkraut balls outside Northeast Ohio. They have other products to sell like falafel balls and meatballs In fact, Or Derv's recently landed a contract with Olive Garden restaurants. It also is bottling sauces and salsas for other companies.
With a recent investment from Bob Shearer, former CEO of Shearer's potato chips, the Or Derv company is moving into a new 20,000 square foot building in the Ascot Industrial Park near Blossom Music Center. Keith Kropp says he'll definitely increase payroll from the 18 employees he has now. And maybe someday word about this Akron snack food will spread even further.