Northeast Ohio temperatures plummeted well below zero two weeks ago, breaking 130-year-old records. And – a few days later – breaking dozens of water mains.
Most of the pipes, installed well before 1980, are made of iron with no cement lining. That causes two big problems: Cracks as changing temperatures make it expand and contract, and corrosion from the inside.
The University of Akron has mapped out a specialty in corrosion engineering. Chief scientist Joe Payer says there have been advancements in spotting trouble – but a simple solution to the aging infrastructure is not in the works.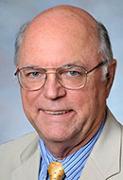 "I don't anticipate there's any magic wand. We tend to make progress in these areas in more evolutionary – learning how to do it better, keeping better track of conditions, trying to replace things before they get to the point of failure. But the fact is, we have … miles and miles of pipelines and things like very harsh, cold weather just give them an extra strain, extra stress."
The breaks are often not discovered until sinkholes open up in streets or sidewalks. The annual cost of repairing water main breaks in North America is estimated at more than $3 billion.