The final step - service
At the 2012 AA young people's convention in St.Louis, a young man tells his story…
"I took my first drink when I was in sixth grade. I found a bottle of rum in the basement…"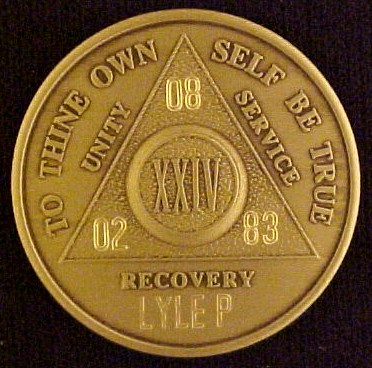 His name is Chad - remember there're no last names in Alcoholics Anonymous - and he says by the time he was 16 he was in a psych ward. Then he became part of AA.
Chad is sober now, but shares his ongoing struggles with the rigors of the 12 step program.
Especially number 12.
"I hate service work" acknowledges Chad, but he says, "if I do those things I'm unwilling to do, eventually they become part of who I am."
Self-will run riot
Case Western Reserve University's Maria Pagano studies addiction in young people. She says self-centeredness is at the core of drug and alcohol abuse, and "was designed to treat the narcissistic root of addiction."
"The alcoholic," She says, "is self-will run riot. King baby. Me, me, me."
And helping others, she says helps the addict avoid the dangers of self-absorption. It's one of the three sides of the AA triangle - unity, recovery, and service, but Pagano says it's the least studied.
Pagano says when we turn to scientific literature or even our clinical treatment approaches today, "we don't see any whiff of service encouraged or promoted."
Pagano is about to release results of a two year study of 200 teens in treatment at the New Directions center in Cleveland.
She found that even simple tasks like greeting people at the door, making coffee, or putting away chairs after the meeting helped kids move along the path toward sobriety. Helping others, she says gets kids out of the morass of selfishness and into the group of peers seeking help.
"Service links you more to be in the herd," and Pagano says deeper integration in AA activates other benefits of the program.
Pagano says service and helping others can even counteract depression and allow kids to break through the fog of recovery.
She says, "Get active and your thoughts will change."


Toward spiritual maintenance
And she says service makes kids more open to one of the other crucial tools of AA, a growing sense of spirituality.
That's the focus of her research partner Matthew Lee, chair of the Sociology Department at the University of Akron.
Lee says a spiritually awakening is central to overcoming the self-centeredness of addiction, "and the sense that I'm a victim and I'm not going to accept life on life's terms."
It's something recovering alcoholic Chad encountered when at the age of 16 he hit rock bottom, convinced that his life was over.
Chad says he heard a voice, "and it said you're not going to die, you're going to live."

Matthew Lee says acceptance of a power greater than oneself is a crucial step in trading the short term pleasures of drugs and alcohol for long-term spiritual maintenance.

He says spirituality is the goal, "and sobriety is a side benefit of walking that path."

Professor Lee measured teens' daily feelings of connectedness, inner peace, or thoughts of God. He found that a growing spirituality was linked to increased sobriety and caring for others.

Lee and Pagano's research will be published later this year in the journal Alcoholism Treatment Quarterly.




THE TWELVE STEPS OF ALCOHOLICS ANONYMOUS

1. We admitted we were powerless over alcohol—that our lives had become unmanageable.

2. Came to believe that a Power greater than ourselves could restore us to sanity.

3. Made a decision to turn our will and our lives over to the care of God as we understood Him.

4. Made a searching and fearless moral inventory of ourselves.

5. Admitted to God, to ourselves, and to another human being the exact nature of our wrongs.

6. Were entirely ready to have God remove all these defects of character.

7. Humbly asked Him to remove our shortcomings.

8. Made a list of all persons we had harmed, and became willing to make amends to them all.

9. Made direct amends to such people wherever possible, except when to do so would injure them or others.

10. Continued to take personal inventory and when we were wrong promptly admitted it.

11. Sought through prayer and meditation to improve our conscious contact with God, as we understood Him, praying only for knowledge of His will for us and the power to carry that out.

12. Having had a spiritual awakening as the result of these Steps, we tried to carry this message to alcoholics, and to practice these principles in all our affairs.