The Mayfield Curling Club is in a small lodge tucked off a quiet road at the Mayfield Sand Ridge Country Club. Inside, a boisterous group is getting ready to take to the ice. Dressed in layers of fleece -- many teammates matching -- they're equipped with brooms and special Teflon shoes for sliding.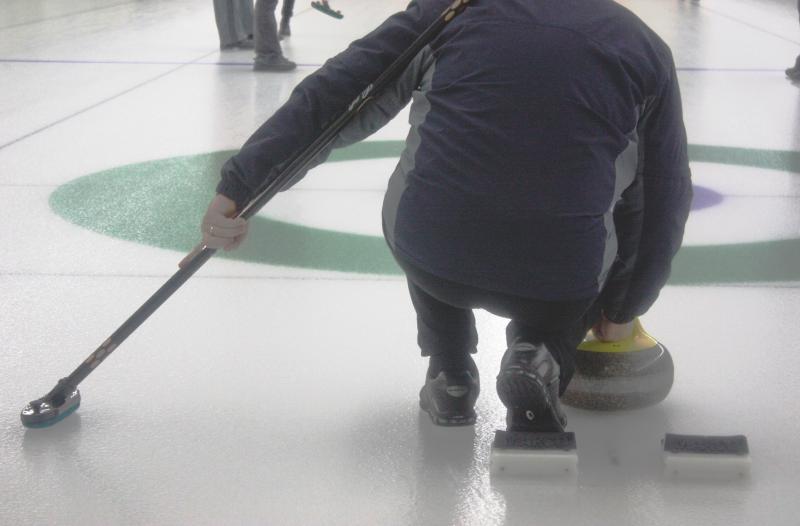 A diverse group
Jeannie Borland of Kent is a Mayfield curler who this month becomes president of the United States Women's Curling Association. She's been curling with her husband for 12 years, She says the curling spans the generations.


"You can see young boys out here, and we have white-haired people. We have a lady at our club – she just passed away. She was 89 and just before Christmas she was out curling with us."
Curling gains popularity, fosters relationships
Borland says she's seen a big jump in new members in recent years. Some of that has to do with the Olympics. Curling officially became an Olympic sport in 1998. In 2010 it surged in popularity at the Vancouver Winter Games. The women's gold medal match was one of the closest medal games in Olympic competition as Sweden took the gold and Canada the silver. For the men's event, scalpers wanted $500 a ticket to see Canada defeat Norway.


But a lot more of what makes curling so popular has to do with relationships. This is the Mayfield Curling Club's 51st year…And it's packed every day with families, couples and friends.

Bob Bellamy of Lakewood has been curling for eight years. He says he got addicted to watching it on TV and decided to give it a try. "It makes the winter fly by. We're almost two-thirds of the way through the season. And we've had a pretty tough winter this year and I kinda forget about it because I'm inside having fun instead out of in the elements all the time."
Skill, strategy and practice
Curling it's as easy as it looks. It involves teams of four alternately sliding roughly 40-pound, granite stones down a 146-foot sheet of ice to earn points for whoever gets closest to the middle of a large target area. Teammates run alongside as the stone travels, furiously sweeping to add friction that causes the stone to speed up.

"I was a softball pitcher and bowler my whole life, and I thought, 'Wow, I'd be a natural at this,'" Bob Bellamy said. "And it was the most unnatural thing I'd ever tried in my life. Like, [getting down here] in the hack to do the delivery…It looks so nice and fluid, but if you've never tried it before, it's one of the oddest physical acts I've ever done in my life."

Rob Borland of Kent has been curling since grade school in Canada. He found the Mayfield club when his job relocated him to Akron. He says that while most anyone can get the hang of it, the sport is more challenging and strategy-based than most people think.
"You've got to be able to get your stone to go there and stop within a few inches from where you want it. Sometimes being off by one inch can be difference between a great shot and a disaster shot," he said.
A club that's not exclusive
The Mayfield Club has three playing areas, called sheets, with specially-treated ice and painted targets. It's one of only two in the state with a facility entirely set aside for curling. But Bellamy says just because it's on the grounds of the Mayfield Sand Ridge Country Club… doesn't mean their club is exclusive.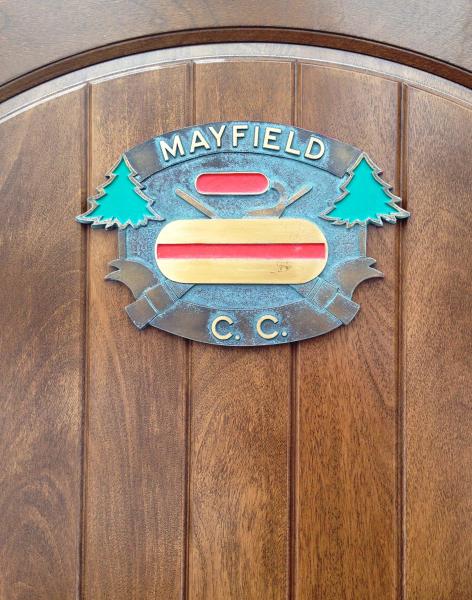 "We've probably only got a dozen at most, maybe a half dozen realistically, people that are country club members that are still curling members," Bellamy said. "But that's the way the sport has changed in the whole country…it used to be just a recreational thing to do in the winter when you couldn't golf. But now especially with the Olympic coverage, it's become a sport on itself."
Sportsmanship and a toast
The sport is also big on sportsmanship. Borland says opponents on the club level cheer each other on. And winners always buy the losers the first round of drinks. At Mayfield, enjoy those drinks around large wood tables looking into the playing area.

The camaraderie is what attracted Lynde Vespoli of Cleveland to the sport, and she found that bond universal when she and a couple of Mayfield members traveled to Switzerland for a curling tournament called a bonspiel. "Curlers, regardless where they're from or what language they actually do speak, we're all the same," she said. "And even though we couldn't communicate verbally, we could smile, we could shake hands, we could raise a toast at the end, we could say, 'Good shot.'"
Anticipating another rush
Vespoli, who chaired the Mayfield club's membership committee after the Vancouver games says they brought in nearly 30 new curlers in 2010. She's expecting about the same, if not more, in March when the club hosts an open house.

Curling in Sochi begins Monday and runs through February 20th and 21st with the men's and women's gold medal games.
Mayfield Curling Club Open Houses:


Monday, March 3, 7-9:00 p.m.
Saturday, March 15, 2-4:30 p.m.

$20 per person to attend

Open House/Membership Contact Infomembership@mayfieldcurling.com