Education



Thursday, February 13, 2014




Cleveland's The Music Settlement is restarting The Bop Stop




Events could begin as early as this spring at the shuttered jazz club


by WKSU's KABIR BHATIA


Reporter
Kabir Bhatia
Saxophonist Bobby Selvaggio says Cleveland lost a major musical asset in The Bop Stop, but budding musicians will benefit when the club becomes a school
Courtesy of BobbySelvaggio.com
Download (WKSU Only)
What was once Cleveland's premier jazz club will soon find new life as the westside satellite of an eastside music school. WKSU's Kabir Bhatia reports on the metamorphosis of The Bop Stop.
Saxophonist Bobby Selvaggio has fond memories of the Bop Stop – not just its sound, but what it meant to local musicians.

"It sounded good. It didn't take a lot to fill the room. It was just a wonderful experience.

"It kind of reminded me of a couple of the tiny little New York clubs. It just had a great vibe to it. ... I was up there multiple times every week, hanging out [and] listening to people play. And that's the kind of club it was: a space for musicians to hang out."


The Bop Stop has been shuttered for more than two years. During the 1990s and 2000s, it was considered one of the finest rooms between Chicago and New York, a place for listening and not just background music. Founder Ron Busch says he opened the original club at E. 40th and St. Clair as an outgrowth of his career playing the vibraphone.

"There isn't a whole lot of call for that instrument. Pretty much, if you're a vibraphonist, you have to get your own band and get your own gigs and do your own booking. So I figured, 'Heck if I gotta do that, why don't I just have a club?'"

Moving sidewalks
That first incarnation of the Bop Stop gave way to a second, in the Warehouse District. The third location -- in Ohio City at W. 29th and Detroit -- was custom-built for Bop a decade ago. But it closed in 2011 due to tough economic times and difficulty booking the right mix of talent.

Last month, Busch donated the club to the University Circle-based Cleveland Music Settlement, which provides musical instruction to people of all ages.

"They do wonderful work. They have a great faculty. And they have a great administration. Of course, all the arts can use all the support they can get."

The deal includes the 4,100-square-foot building, with its kitchen and 120-seat listening area, plus all the contents – from sound and lighting systems down to metronomes and music stands.

Curb appeal
Music Settlement CEO Charlie Lawrence is excited about the brick building's curb appeal, with its rounded exterior and mid-century accents.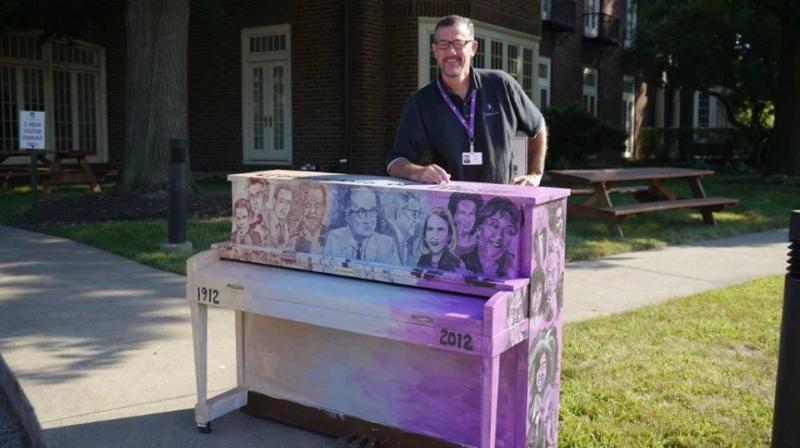 "It's an architecturally arresting building from the outside, which is great fun because it immediately draws your attention. It's built with a semi-curve on one wall that becomes the reverb wall -- the wall backing the stage. One thing I've heard is that there are no bad seats."

Parts of The Bop Stop – the name won't change – will be used for classes, while the main, melon-shaped performance area will host recitals and other performances.

"It has a very bright, engaging sound. And it overlooks Lake Erie and Edgewater Park."

Plus, Lawrence likes the fact that the Bop Stop is in the diverse Ohio City neighborhood.

"People of privilege; people who are more blue-collar. And we're very excited that it has one of the highest populations of Spanish-speaking residents. Because we have rebuilt our music program around jazz and American music, and we want to expand into Latin music."

Going hi-tech
Another area for expansion: technology. Lawrence says the school will make The Bop Stop its tech home.

"We have identified a need in our curriculum and our current facilities for a fully professional recording studio. Up until the week before Thanksgiving, we were looking for spaces in our campus in University Circle. The Bop Stop is set up as a recording space."

The Music Settlement is getting that space debt-free. Lawrence estimates it will cost about $150,000 a year to operate. A Bop Stop open house is slated for early summer, with classes starting in the fall.
Page Options
Print this page
---
---