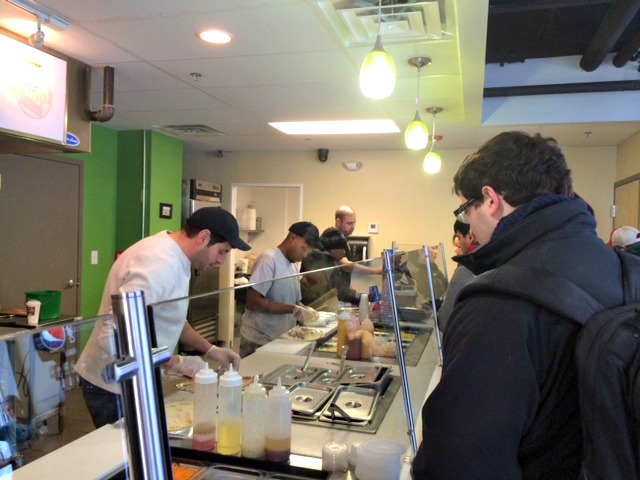 The lunch rush is starting at WRAPZ, a Mediterranean pita bar that opened in December in Uptown, a new arts and entertainment district just east of Cleveland's University Circle.
WRAPZ Owner David Jaber calls it the healthiest lunch spot in the neighborhood.
"We use a lot of olive oil in our food, a lot of whole grains, like our falafel is chick peas and fava beans. We use organic chicken, natural fed beef, very healthy, but we do have something here that is very unhealthy as well."
Poutine.
It's a whopping plate of crispy French fries, dotted with fresh cheese curds and smothered in hot, brown gravy.
Cheese curds are the solid parts of curdled milk, best when fresh enough to squeak against your teeth. In some places it's called "squeaky cheese."
Canadian comfort food
If you've never heard of poutine, you've probably never been to Quebec. It's a classic Canadian snack, favored by late-night revelers in Montreal who claim it prevents hangovers and warms the innards when those north winds blow.
But as close as we are to the border, it's surprisingly hard to find poutine in Northeast Ohio, and that's where David Jaber saw an opportunity.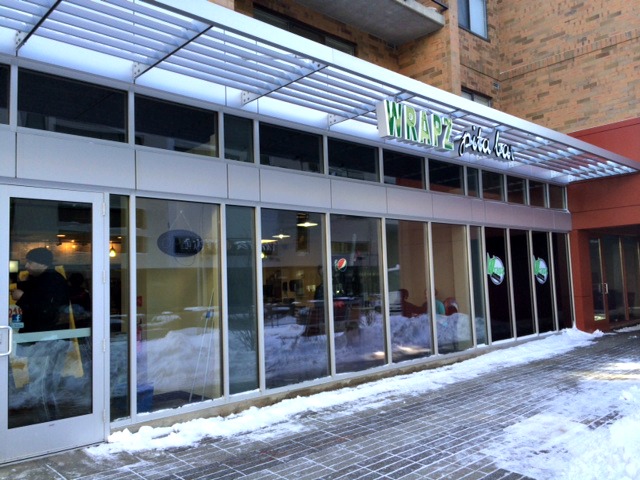 "I'm pretty shocked that it's not widely available."
It sure is back where he came from.
The gloppy, messy, snack has long been popular at street stands and diners, as well as Wendys, Burger Kings and McDonalds all over Canada, but you'll also find it gussied up with foie gras, duck confit, truffles or lobster in fancy restaurants.
At La Banquiese in Montreal they serve 28 varieties and hold an annual poutine festival.
At downtown Cleveland's Greenhouse Tavern, Chef Jonathan Sawyer serves something called "Gravy Frites" that looks like poutine, but instead of pork lard he fries his potatoes in duck fat; he also uses mozzarella cheese, and veal gravy.
At WRAPZ ,David Jaber uses a thick, brown gravy you can stand up a fork in, known in Quebec as "sauce brune."
"It's a mix between a beef, a chicken and a tomato-based gravy, so there's a lot of different things in that recipe."
Do you want authenticity with that?
And he puts only cheddar on his poutine, as they do in his native Canada.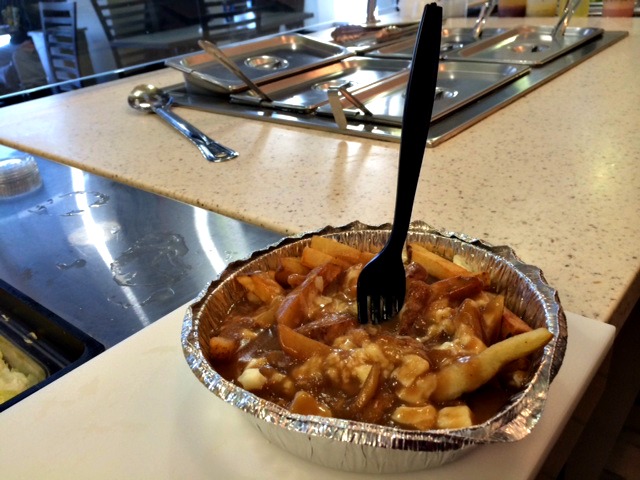 Jaber's had no culinary training.
"I don't consider myself a chef. I'm just a glorified cook."
But he's proud to offer a poutine he calls authentic. And he says the difference is in the cheese.
"The white cheddar cheese curds, and a lot of people use variants of that. They use mozzarella and I'm using straight, white cheddar cheese curd."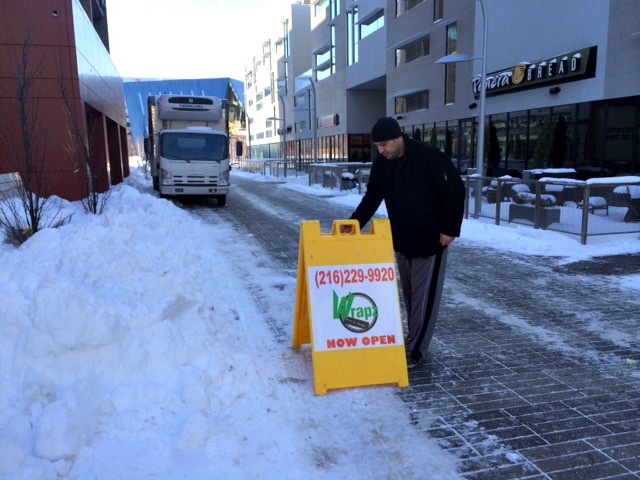 David Jaber is a native of Ottawa but concedes that poutine was created in 1957 in Warwick, a small town northeast of Montreal.
"In those cold months it'd be minus 35, minus 40 degrees Celsius in Quebec. They needed something to warm up with, and poutine was their answer."
Big tasty mess
One of many stories of poutine's origin says Warwick restaurateur Fernand Lachance made it for a truck driver hauling cheese curds who sprinkled some on his fries and asked for gravy to keep it hot to go. Lachance said in Acadian slang that'll be a poutine, a big sloppy mess.
It's an apt description.
The hot brown gravy melts the cheese curds sending out stringy white strands over the fries.
It looks really terrible and even Jaber will admit it's terrible for you unless eaten in moderation.
"I don't think there's very many health benefits to poutine."
But it's strangely delicious and selling as well as the healthier options at WRAPZ.
College crowd likes the gloppy mess
When it's busy there, Jaber pitches in at the counter.
We watch him pile on tomatoes, cucumbers, pepperoncini peppers, and kalamata olives to make a Greek salad for Jim Mitchell, a regular customer who works at University Hospitals.
"I like this type of food," says Mitchell, "that Greek, Mediterranean type of food. It's definitely quick and more quality than fast food. It seems to be pretty healthy as long as you avoid certain things."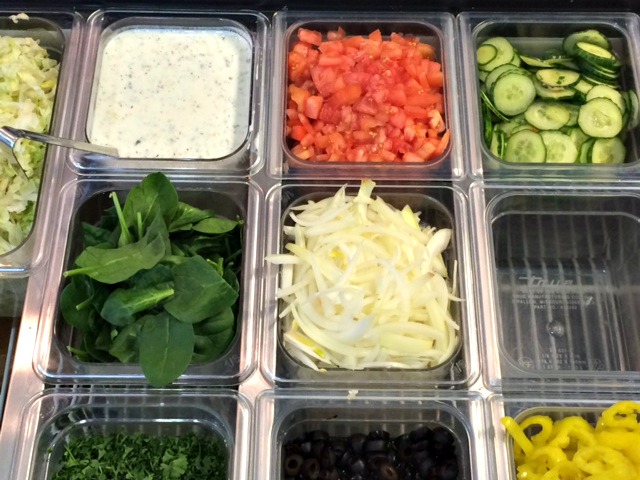 Like poutine.
But Jaber says rather than avoiding it, many Case Western Reserve University students seek it out and happily devour it.
"I feel it's more of a diverse crowd and the poutine is accepted by kids because they've travelled abroad and they've seen it around."
And come spring more college students will see more poutine in Cleveland. Jaber plans to open his second WRAPZ, April 1st near Cleveland State University.
That's this week's Quick Bite. Next week, just in time for St. Paddy's Day, we'll start a series on locally- made whiskey.