Three of the Cleveland district's 90 operating school buildings are in "Cluster 9" on the city's eastside near the University Circle neighborhood. All are elementary schools.

Harvey Rice was built in 2009, and the district believes it should stay open. But the nearly 40-year-old Buckeye-Woodland school is slated to be closed, as is the 90-plus-year-old Sunbeam school, where the district's medically fragile students attend class.


At the Benjamin Rose Senior Center, the district's chief operations officer, Patrick Zohn, told the gathering of about 30 people that the district is also considering tearing down the vacant Jesse Owens and Bell buildings, and putting up a new school.
Old to be replaced with new if the community agrees
"Then that would leave the old Sunbeam building closed, which could be torn down and incorporated into the Skyline development that's being discussed with Benjamin Rose and others in this area."
"Is it already determined that Jesse Owens will be torn down?"
"No, we're asking you tonight if you think this is a high priority, mid priority or low priority in this neighborhood."
Zohn says the district envisions moving the Sunbeam students to a new building on East 55th Street which he says is more centrally located.


Crumbling buildings but a reason to stay
Pamela Brown teaches first grade at Sunbeam. She acknowledges the old building is in bad shape, but she doesn't want her students moved to a new school, where the proposal calls for them to be mixed with students from Case Elementary and others.
"I have girls in wheel chairs and with all kinds of different issues. And they're blended into my classroom, and the regular ed kids are so kind and caring to the special ed kids. That's why I'd hate to see them leave because if they build a new school somewhere else and they pull in Case kids who haven't been around these kids for years, I don't know if they'll be as kind to them."
Brown was one of a handful of teachers who attended the open house. The other attendees ranged from building contractors to neighborhood residents without kids in the schools, who want to see what changes might be coming. But no parents with school-age children could be found at the event.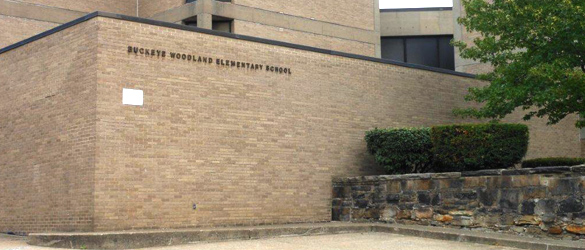 School board will decide on revised master plan and bond renewal
Eleven more school cluster hearings will be held in city neighborhoods, with the last one scheduled for June 19th. District official Zohn says all the public input will be considered and the administration will then present the revised master plan to the school board at its June 24th meeting.
"And as a resolution asking the board to pass a new master plan, and if the board does do that they'll also be asked to place on the November ballot a renewal of the current construction bond."
Zohn says to make the November election, the bond renewal must be put on the ballot by July 7th. The original bond was approved in 2001, and has generated about $1 billion in local funding and state matching funds for school construction.
Open Houses:
May 29: Clara Westropp - 19101 Puritas Road 5:30 – 7:30 pm
June 3: Harvard Community Services Center – 18240 Harvard Avenue 6:30 pm – 8:30 pm
June 4: Cudell Recreation Center – 1910 West Boulevard 5:30 – 7:30 pm
June 5: Glenville High School – 650 E. 113th Street 5:30 – 7:30 pm
June 10: Cleveland MetroParks Zoo, Reinberger Education Center- 5500 Wildlife Way 5:30 – 7:30 pm
June 11: Lincoln West High School- 3202 W. 30th Street 5:30 – 7:30 pm
June 12: Central-Kinsman-Mt. Pleasant Friendly Inn Settlement – 2386 Unwin Road 5:30 – 7:30 pm
June 16: Boys & Girls Club of Cleveland – 6114 Broadway Avenue 5:00 – 6:30 pm; Almira School- 3375 W. 99th Street 7:30 – 9:00 pm
June 17: Goodrich-Gannett Neighborhood Center – 1368 E. 55th Street 6:00 to 8:00 pm
June 18: Collinwood High School – 15210 St. Clair Avenue 5:30 – 7:30 pm
June 19: Tremont Montessori – 2409 West 10th Street 5:00 – 6:30 pm ; Paul L. Dunbar – 2200 W. 28th Street 7:30 – 9:00 pm