As technology touches more and more aspects of life, and all manner of companies race to design new apps, mobile platforms, anti-hacking systems and the like, one outcome is certain: more tech jobs.
Openings for software developers are growing at a far faster rate than most occupations, and the Labor Department says that is likely to continue for years to come. Tech entrepreneurs see an opportunity in this.
What if you did not need to spend four years in college studying computer science to get a job as a software developer? What if you could learn what you need to know to write code in just three months? That's the idea behind so-called "coding boot camps" that are springing up around the country.
A career reboot
At the Software Craftsmanship Guild In Akron, a half-dozen students are busy learning to build a web application. The classroom is bare bones - just tables, chairs and computers. Rebecca Pollard is working out a new algorithm with her project partner.
"This is something I'd wanted to do for some time," Pollard explains. "So I researched my options and landed here at the Software Craftsmanship guild."
Pollard, who is 47, came here from Buffalo to take this 12-week course in computer coding. She is a former high school teacher who decided it
was time for a career change.
It has been a grueling 12 weeks, she says: class every day from 9 to 4, then another 5 or 6 hours of project work each night. With just a week to go before completing the course and earning her certificate, she says it was well worth the $10,000 tuition plus room and board. She has already got a job lined up.
"I have a job at Foundation Software in Strongsville, Ohio, and I am really looking forward to working with them, Pollard says. "It's a great company."
Software Craftsmanship Guild has been up and running for about a year. It is a private company, and similar boot camps have been opening around the country at a rapid clip.
"The coding boot camp space is sort of exploding right now. They started off in San Francisco…" explains Eric Wise, founder and CEO of "the Guild," as he often refers to it.
"A lot of these east coast, Silicon Valley, west coast kind of things, they're teaching a language called Ruby, which is a pretty hot language for startups," Wise says. "We went the other way. We teach C-Sharp and Java, which are more established traditional enterprise languages."
And they are the ones most used across the business community.
"If you go out and do your research on the number of jobs available, the Fortune 500 companies and stuff are all running Java."
Wise says the idea to launch his own boot camp came to him when he was a software development manager at the Hartville Group insurance company in Canton.
Software development professionals were in short supply, and college graduates were not coming out of school with the skills he needed. In a fit of frustration, he decided to train a couple of people himself to write code. He picked them out of the company's call center. And it worked even though they did not have formal training in computer technology.
Most of the students in Wise's course are in their twenties and have college degrees, just not in high demand fields.
Lauren George earned her degree in history at the University of Virginia.
"I knew I didn't want to go into teaching or research," she says. "And if you have a history degree, there's really nothing out there for you."
Daniel Sass came out of the University of Akron with a degree in economics, philosophy and political science. It made for a very interesting four years of study, he says. But he just could not market it.
"So I wound up being directionless and not knowing what to do next," Sass says.
Universities struggle with software demand
With all of the jobs in software development, why aren't universities turning out more graduates ready to take them? We put that question to Rajiv Ramnath who teaches computer science at Ohio State.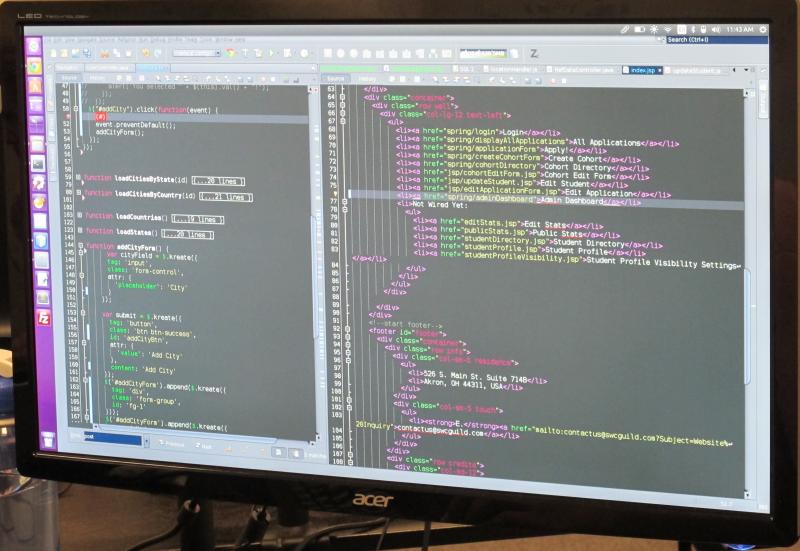 "We really have a capacity issue" Ramnath explains. "Our classes are full and have been for the last, oh, twelve years. Our enrollments have constantly been increasing. Our faculty sizes haven't been growing. Just from that perspective, we are unable to turn out enough."
Jodi Tims, chair of the Computer Science Department at Baldwin Wallace College, points to another explanation: For many students, learning software languages and coding is a lot harder than they thought.
"We'll see a student come in the door and say oh, they want to be a software developer," Tims says. "They'll take the first couple of classes and it'll start to get really difficult problem-solving wise, and they'll say 'You know what? I think I'm going to go over here and do this other aspect of computing instead.'"
There is a lot of weeding out in code boot camps too. The admissions process is usually very selective, and then there are those that drop out mid-stream.
But some people who had never previously planned a career in technology are discovering they have the aptitude and the mettle for it, at least enough to learn the basics for an entry-level job as a software coder.
A note of caution, though, for those considering making a similar move. Some boot camps have longer and better track records than others, and, as with just about any career advancing endeavor, there are no guarantees.