At first glance, the Ravenna High School gym looks like it's done up for a science fair.
But mixed in with the tables and easels, maps and charts are lieutenant colonels in full uniform, and videos with messages that are both ominous and optimistic.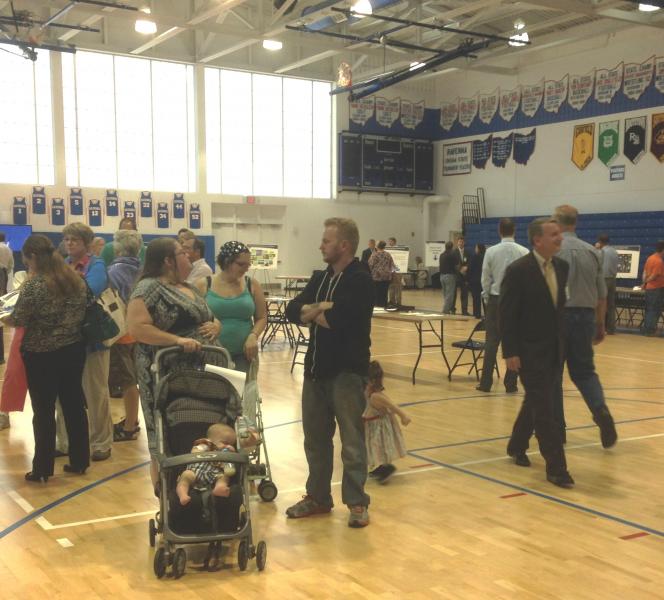 About a hundred people are circulating among a dozen tables, raising questions about initialdoms like GMD and EKVs and terms like "boost-phase defenses."
Lt. Col. Dan Martin is here to field some of those questions.

"We want to intercept any of those threats in outerspace in the Exo-atmosphere," he explains to a man questioning the number of ICBMs in existence.
Three other contenders
This same scene will be playing out over the next few weeks at Fort Custer in Michigan, Fort Drum in New York and something called the Kittery Survival, Evasion, Resistance and Escape Facility in Maine. Each is being considered by the Missile Defense Agency to become a Continental United states Interceptor Site – joining the two existing sites on the West Coast.
Lt. Col. Chris Snipes is the program manager for the ConUS interceptor site for the Missile Defense Agency.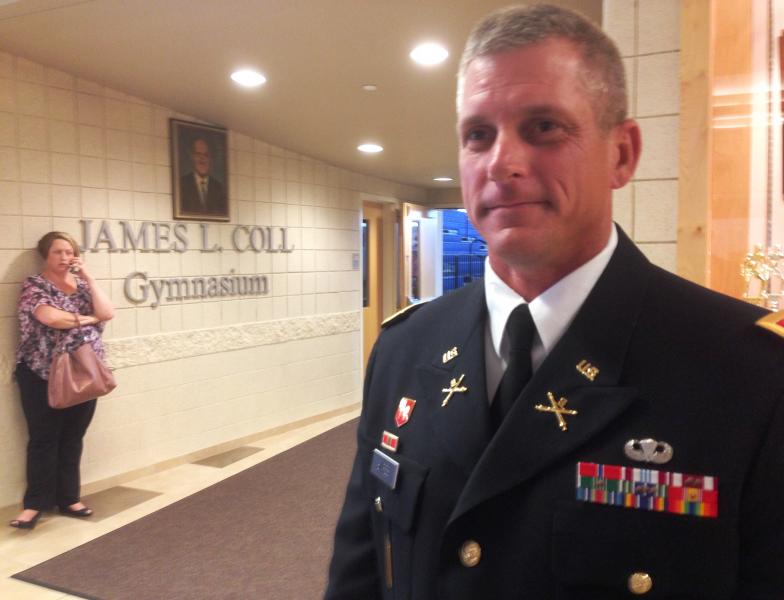 Part of his job is trying to figure out what a site would do in each of those communities. And that means environmental studies.
A broad definition of environment
"In the simplest of terms, we're looking at bugs and bunnies."
But there's a lot more: What the project would do to groundwater, terrain, air – on the base and well beyond.
"In our socio-economic pieces, we'll look at potential jobs that are coming in, how is that going to affect the traffic. We're going to have more traffic coming in and off the post, things of that nature. So it looks at it holistically. We look at air quality, look at all the permits we have to gain."
Would the base paint a target on Northeast Ohio?
But many of the public's questions and concerns are about the concept, not the details.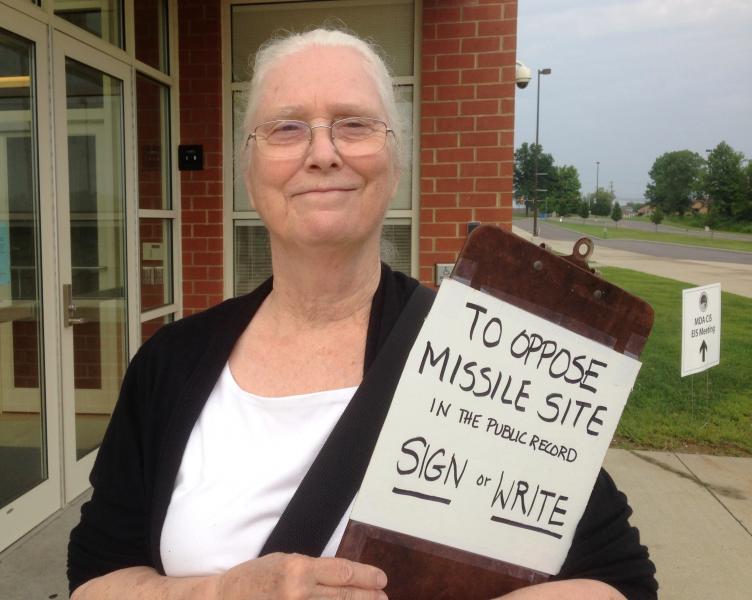 The biggest one has to do with – as Mary Greer, armed with an anti-missile clipboard puts it – making Portage County a target in a hostile world.
"We fear that even though there will be economic impact in the short term from construction, if the site is chosen, that really we're painting a bullseye on Portage County."
Snipes says he heard that concern repeatedly. His response?
"All Department of Defense installations are a target; there's really no way to specifically say that somebody is more of a threat than others or more of a target than others because there's so many different factors that would come into that."
Only in case of national emergency?
Back at his table, Lt. Col. Martin says the interceptor system is crucial to security well beyond Ravenna.
"The only time we would use this system is if a nation would fire an intercontinental ballistic missile against the United States."
So has anyone ever been used?
"In tests, yes. In reality, no. and we hope it is never used in reality."
Dan Fejes says those answers aren't the ones he needs.
"There's no way to look at the money that's been spent on it. There's no way to look at the failures that the program has had in tests that have repeatedly failed even in tests that were designed to succeed. So overall I came skeptical and I'm leaving pretty opposed to it."
Ambivalence and North Korea
But others, including Ravenna Councilwoman Sharon Spencer, remain ambivalent.
"It would bring some jobs here; it would beings some opportunity here. But then you have to look at the big picture and all you can think about are the missiles. And I know it would only be engaged if it was a national emergency. But then you have to think, 'It's right here in our back yard. Is this going to be a target of something?'"
Lt. Col Snipes says three crucial things will play into the military's decision: Cost, schedule and something called "performance metrics," which is "the ability to neutralize a threat from a specific location. What we're projecting as our future threats is North Korea and Iran. So we're using performance metrics from those countries to get to those four locations."
Snipes insists no decision has been made, saying there's even a possibility the entire project could be mothballed if none of the sites work out.
If Ravenna is chosen, the 21st Century system, would be installed at what's now an Ohio National Guard base – but which most people around here still call the Ravenna arsenal – a place where 14,000 people worked in World War II and which last turned out weapons in the Vietnam War.